Are you having a hard time tracking the progress of your team members? If your answer to this question is Yes, then coming up with a reporting mechanism can help you monitor the weekly dynamics and challenges that your members may encounter.
The importance documentation should not be understated. Any institution or endeavor requires proper and streamlined documentation in order to instill awareness and at the same time giving value to your weekly milestones. In line with this, you can refer to our list of weekly report templates that ready for download. Each report template to learn more about the different types of weekly reports and how to use them accordingly.
Employee Weekly Report
Free Weekly Report Card Template
Free Weekly Report Card Template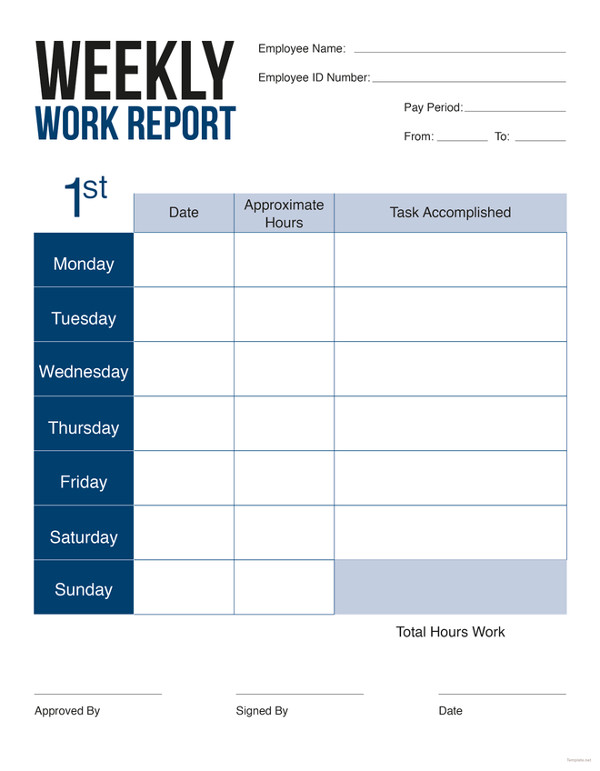 Free Weekly Report Template
Weekly Time Report of New Employee
Employee Weekly Time Report
Employee Weekly Time Report Example
Why Use Weekly Reports?
When one is busy and juggling a variety of tasks, time passes by quickly. In the end of the week, there's a tendency that you'll feel burnout and overwhelmed. Because of such, weekly reports are made in order to record and ensure that no relevant detail or event will be wasted because the human mind also has its limit. To concretize the notion why weekly reports are significant, you may refer to the reasons below:
On an organizational or business level – in an organization or business, weekly reports can help managers and executives know the activities, accomplishments and challenges encountered by their department within a certain week. The subordinates or the employees will also be aware of the outcomes and results of their department's activities. As you may observed in report examples, reports are also considered as a tool in evaluating and assessing the efficacy of a certain activity with respect to a certain time frame.
On a personal level – For individuals, weekly reports are also used especially for students. There are teachers or professors that require their students to come up with a weekly journal or diary incorporating the latter's weekly milestones and challenges. Furthermore, there are also report samples that are tailored fit for individuals.
Construction Weekly Report Templates
Weekly Construction Progress Report
Weekly Construction Site Report
Project Weekly Report Templates
Weekly Report for Contractor Project
Weekly Project Progress Report
Weekly Sales Report Samples
Weekly Sales Activity Report
Blank Weekly Sales Report
Sales Representative's Weekly Report
Weekly Report of Sales Manager
Weekly Report of Sales Person
Common Forms of Weekly Report Templates
Weekly report template are applied in diversified field that suit different contexts and practices. The following are common forms of weekly report templates:
Employee Weekly Report Templates – In an employment setting, reports are always at place. Reports are used to disseminate information, magnify areas for improvement, and recognizes valuable efforts. If you want to enhance your weekly activity report templates , you can use the samples as basis for your improvement efforts.
Construction Weekly Report Templates – These reports are written by contractors especially their project managers and are given to the construction firm and to the clients as well. The reports are made to ensure that the terms and conditions of the construction contract are complied with. You can use the report in tracking the weekly progress and accomplishments so that the contractors remember the targeted schedules.
Project Weekly Report Templates – For your project report, you can divide your report into relevant sections to ensure that the details are sorted out accordingly. Examples of such sections are the major activities completed, weekly statistics, weekly inspiration summary, gaps and challenges, and many more.
Weekly Sales Report Samples – Salespersons and representatives come up with sales reports to document the sales dynamics of your team in a certain week. Sales reports are one of the key documents use in assessing how well the sales team of a company is doing especially in meeting deliverables and targets. Your sales report may include sections pertaining to the sales accomplishments, sales statistics and numbers, and some even provide comparative analysis that comparing different weekly sales report statistics.
Bi-Weekly Report Templates – For those who are looking for reports that use bi-weekly formats, these templates provides a variety of styles from expense reports to time reports. They are mostly applied in employment setting and academic premises such as schools and universities.
Bi-Weekly Report Templates
Bi-Weekly Internship Report
Bi-Weekly Expense Report
Bi-Weekly Time Report
Bi-Weekly Report Example
Manager Weekly Report Templates
Weekly Report of General Manager
Marketing Weekly Report Samples
Weekly Commercial Marketing Report
Weekly Standard Marketing Report
Weekly Status Report Templates
Weekly General Status Report
Weekly Project Status Report
Weekly Status Report Sample
Blank Weekly Status Report
How to Write a Simple Weekly Report
To supplement the contents and formats provided by sample weekly report templates, it is also advantageous on your end if you know how to write and outline a simple weekly report. Refer to the following points:
Prepare and consolidate all needed documents for the report. In making weekly status report templates, project managers should encourage their employees to submit their reports promptly so that he will have ample time reviewing them and ultimately finalizing them.
Value important dates. Dates are very significant in a weekly report. For record-keeping purposes, dates are used in counter-checking if the designated task was accomplished on time especially when dealing with weekly sales report templates that would require date of negotiations, the date of the sale, and many more.
Start the report with weekly milestones. It is always good to start reports with good news. Let your superiors know that you're doing your job.
Highlight gaps and issues. Concerns and issues are as important as weekly accomplishments. Weekly project or work-related problems must be channeled accordingly. Weekly student report templates also contain these section in order for teachers to know what part of the syllabus students wanted to clarify.
Summarize your report. A good report will always end with a concise and cohesive salary.
Weekly Progress Report Templates
Student Weekly Progress Report
High School Weekly Progress Report
Weekly Academic Progress Report
Free Weekly Progress Report
Weekly Activity Report Templates
Weekly Seller's Activity Report
Preschool Weekly Activity Report
Student Weekly Activity Report
Weekly Program Activity Report
Office Weekly Report Templates
Free Office Weekly Report
Student Weekly Report Samples
Student Athlete Weekly Report
Student Weekly Academic Report
Weekly Student Progress Report
Blank Student Weekly Report
Teacher Weekly Report Templates
Teacher Weekly Behavior Report
Weekly Progress Report for Teacher
Student Teacher Weekly Report
Teacher Weekly Report Example
How to Enhance the Quality and Format of Weekly Reports
You have to take note that weekly reports are more than just documentary works. They are the basis for awards, promotions, and other career and project-related advancements. To enhance the quality and format of your report, consider the following tips:
Download and use high quality weekly report templates. Rather than starting from scratch, weekly report templates can give you the boost to kick-start your report. If your dealing with expenses, you can research for sample expense report templates. If you're into management reports, then management report template can provide you with ideas and strategies.
Consider the pre-formatted report formats of your company. Most companies already have their own report formats and just let employees fill them out. In this case, you should refer to them as a matter of protocol and procedure. However, with the express permission from your superiors, you can also make a report following your own style especially in projects that are entrusted to you.
Come up with comprehensive headings and subheadings. The headings of the report ensure the organization and cohesiveness of your report. Choose appropriate headings. Adding an executive summary is also advised depending on the nature of your report.
Hence, reports are not really complicated if you have the consider them as an invaluable resource.