Whether you're a teacher in school and you need to know who's attending your classes or an event organizer who needs to know who's participating in the event, you're going to need to have an attendance sheet that will give you all of the information that you need in regards to who's there. You may also like simple attendance sign-in sheet.
With the help of a well-made attendance sheet,  you'll be able to keep track of when a person arrived, who arrived, and the number of people in total that are there. So this article is going to focus on how you are going to go about in creating such a document.
Attendance Sheet Template
Daily Attendance Sheet Template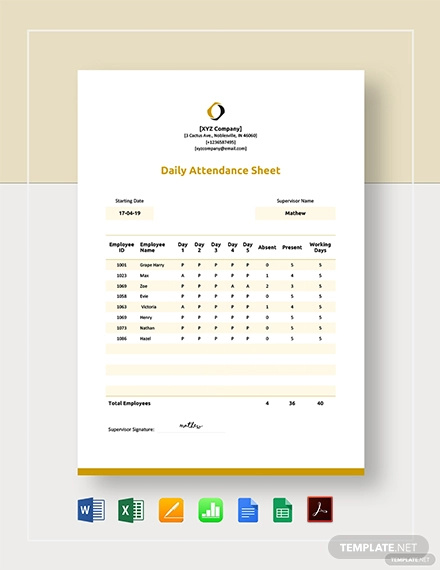 Employee Attendance Sheet Template
Attendance Sign in Sheet Template
Daily Attendance Sheet PDF Format Free Download
Student Attendance Sheet Example PDF Template Free Download
Weekly Attendance Time Sheet Excel Format Free Download
Attendance Sign in Sheet Example Template Free Download
The Importance of Having an Attendance Sheet
While it's pretty obvious that the entire point of having an attendance sheet is to keep track of the people that are on the list, it can go a bit deeper than just that. So here is a list of reasons why having a sample attendance sheet can be really beneficial if made and used properly:
1. To be Used for Managers and Supervisors to Keep Track of Employee Attendance
Both managers and supervisors have the responsibility of making sure that every single employee that's under them come into work on time and leave once their shifts are done. So let's say that an employee doesn't show up for work one day. That would instantly mean that the person in charge of the employee will need to mark him or her as absent on the recording sheet. Also, it's important that both the manager and supervisor go through the sheet and record accurately so that problems in terms of attendance can be avoided in the near future. You may also like a sign in sheet templates.
2. For Carefully Marking Excused Absences
Remember that an employee has the right to file for a paid vacation leave whenever he/she is no longer under the probationary period. So once the employee files for one and takes leave, he/she would expect that his/her absence will not be filed in the company's attendance records. So if an employee spots that he/she has been marked for inactivity on the day that he/she has taken a paid vacation leave that was approved by the manager, then the employee will have every right to bring this issue to management where the problem should be solved and will heavily favor the employee. So if you're a manager or a supervisor that's in charge of keeping track of the attendance sheet, make sure that you know ahead of time as to when any of your employees are going to be taking their paid vacation leaves to avoid any unnecessary problems in the near future. You may also see meeting sign-in sheet template.
3. To Perform the Right Disciplinary Actions on Those Who have Incurred Too Many Absences
Let's say that you have someone who hasn't been showing up multiple times at work. If your attendance records show that person has had way too many absences, then that would mean you're going to have to perform the right kind of disciplinary action to punish the employee (just remember to follow your company's policies in that regard). It works for other situations as well. If a student were to be seen to have too many absences on the sheet, then you can call that student in and discuss the matter. So it all depends on what your situation is and the severity of the number of incurred absences.
4. To Easily Keep Track of Who's There and Who's Not
While this is should be pretty obvious right from the start, one should never forget or underestimate how useful an attendance sheet is. With it, you can list down every single name of the employee that works for a company, the names of the students attending a class, or even the names of participants for a specific event. If you know the person who isn't there and you need to mark that person as inactive or absent for the day, then all you have to do is find it in the attendance sheet (which is made much easier if you organized all names alphabetically). It's simple to use and you can even download an app that will help you keep track and possibly edit the sheet on your smartphone whenever you need to update the sheet wherever you may be and at any given point in time. you may also see Employee Sheet Templates.
How to Create an Attendance Sheet
If you decide that you're going to make this type of document, then the best application that you can possibly go for to help you would have to be Microsoft Excel. While there are also other applications that you can use to make an attendance sheet, Excel is one of the best, as it's simple interface, makes it much easier to use. Once you have the application, here are the steps that you're going to have to take to ensure that you are able to create a proper attendance sheet:
1. Fill in Basic Labels
The first step you're going to take is to open up Microsoft Excel and start by adding labels for both the attendance and the names. You can place whatever name you want in the name slot, but it's preferable that you do so in alphabetical order as that will make it much easier for you in the long run. Place as many names in every box as you need and remember to organize it to the point where you won't have a hard time of knowing whose name is where. You may also like daily timesheet templates.
2. Add and Format Dates
The next step is for you to add the dates and format them. If your event or your schedule does not include any weekends, then it's best that you don't include them in the attendance sheet.  Start by entering a date in the following format of month, date, and then a year. Once you're finished doing that, all you have to do is right click on the date and click on "Format Cells." You may also see attendance sign-in sheets.
Then you have to choose the number tab and click on the option "custom". Doing this will allow you to add the day of the week to the date format so it will something like this: Tuesday 2/7/2018. In order for you to achieve this, you're going to have to input the day of the week, followed by the month, day, and year within the type field. You may also see sample employee sheet templates.
You can go about this in whatever way you please so feel free to mess around with it. So if you think that you should place in the name of the month instead of just placing the number, then go ahead and do it. Just make sure that the dates recorded in the attendance sheet are understandable once it's all said and done. You may also see employee sign-in sheets.
3. Add Column for the Total
While you could always go to the far right section of the worksheet to have the total attendance tally, it's much better than you place it right beside the name of the person in the document. This is entirely up to you as you can always go and place it on the far right side, but most find it easier to just place it right next to the numbers to their respective names as it makes going through everything much smoother.  So, highlight column B, then right-click and choose "Insert" to add a column. Label this column as "Total," then you should add some lines as well as some color so that you can easily distinguish the total number of their attendance from each of the different people that are on the list. This will help avoid any confusion or mistakes that could be possibly made such as marking someone as having 0 attendance even though he/she is always present. You may also like monthly sheet templates.
Next is that you're going to have to select the entire area of the sheet and keep a few empty slots for additional names that you might just want to put in. Once selected, go to Grid (under the Home tab) and select "All Borders." You may also see excel sheet templates.
Once you've done that, now is the perfect time for you to add some color into the attendance sheet. Remember that adding color will help you distinguish the names from the total columns, as well as the dates. When you're done adding color, next is that you're going to have to create a formula to total up the attendance of every person on the list. In the first slot for Total, enter =SUM( and click on the first date box. After that, use Shift + Right Arrow to scroll to the end of the row, then press Enter. If you want, you can also use the mouse to click and drag everything. Once you're done doing all of that, you'll see that the total for the first name that you have entered will be equal to zero. Now drag that box down from the bottom-right corner to the last entry (this includes any of the blank slots that you have allotted for future names that you might place on the sheet). You may also see sheet template samples.
To see if the formula works, you can test it out by adding one to any of the boxes. If you see that the total has come up, then you shouldn't have any problems. You may also see monthly timesheet templates.
4. Create Printable Area for Final Tally
When you think that you're ready to print out a sample tally for every person, simply select both columns, then go to the Page Layout tab and select "Print Area," then "Set Print Area." Then you'll finally have the attendance sheet that you'll need to help you! You may also like weekly sheet templates.
If you would like to learn more on how to create an attendance sheet or anything related to this particular policy, then all you have to do is go through our site, find the articles that contain the information you need, and utilize what you are able to gather to help you out. You may also see daily sheet templates.