Retirement Templates
11+ Retirement Budget Worksheet Templates in PDF | DOC
We start working to earn a living and to secure the future of our family but there will come a time when you will have to retire. It is really important to have a proper plan for your future as well as for the future of your family. You must think about the daily needs and how are you going to fulfill all these after getting retired. From where will you get these funds? Making a retirement budget worksheet is the best way to jot down all your planning for a retirement budget.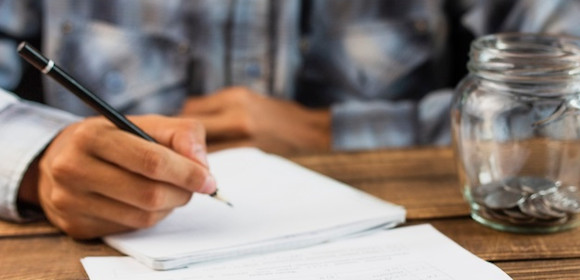 Table of Content
5 Steps to Create a Retirement Budget Worksheet
Step 1: Collect Your Financial Records
You will have to know where you stand before making a proper budget plan. Take out your checkbook as well as your credit card statements to access your records for the past years. Several credit card companies offer a yearly summary to make this step easier.
Step 2: Create a List of Your Monthly Expenses
Make a list of your expenses that usually stays the same every month. This may include the rent of your house, a car payment or a medicare payment and whatever you do that gets billed in your monthly amounts. Make sure you include every extra expense like getting a gym membership or anything else.
Step 3: Evaluate the Non-Recurring Expenses
Apart from including the daily expenses make sure you include those expenses that are non-recurring like going on a vacation or buying a new car or bike. It is considered to be a special expense and it requires some planning. Other than this, other bills are not paid regularly but just once or twice a year like membership dues or insurance bills.
Step 4: Differentiate Your Annual Income and Total Expenses
Make sure you make a comparison between your total expenses and your annual income to have an idea about how will you arrange your budget plan after retirement.
Step 5: Periodic Check
Make sure your budget periodically to ensure whether you are on the right track. You can test out your budget plan check whether it will work accurately or not and that you are going to follow it or not.
11+ Retirement Budget Worksheet Templates in PDF | DOC
1. Retirement Budget Worksheet
tiaa.org
A lot of income is taken from the retirees when it comes to their essential expenses. It would be wise to create a budget to help in getting a general idea of what you are spending. Using a retirement budget worksheet would make things easier for you and there are fewer chances of getting any mistakes. This template will help you get the exact idea of how you can prepare your next worksheet without going through much trouble. Just download and go through the table and criteria that it covers. This worksheet can either be made in Word format or any other formats of your choice.
2. After Retirement Monthly Budget worksheet
getsmarteraboutmoney.ca
You must know what you spend after getting your retirement t if you want to have good financial planning. You can try out this budget worksheet if you want to see any difference in your costs before you retire and after you stop working and getting the regular income. Download this editable template that has ready-made content for your instant use and also check our other worksheets in Google Sheets format if you are looking for more varieties.
3. Retirement Expense and Budget Worksheet
wellsfargomedia.com
Use this worksheet to get some help in creating your strategy for managing your income or funds after retirement that you may create in Excel or any other formats. This standard and professional template will help you to outline the expected income and expenses during retirement so that you can identify if there are any gaps in your plan. Make sure that you also set aside the money that will cover the unexpected expenses while this budget will help you make a budget for essential and discretionary retirement expenses.
4. Retirement Planning and Monitoring Budget Data Worksheet
raymondjames.com
In case you are looking for a target starting point for assessing what the expenses might be in retirement and you are uncertain about where to begin, you may consider using a rough estimate of your essential expenses along with the discretionary spendings. Monitor your goal planning and monitor your budget data with the help of this worksheet that consists of tables that deals with personal and family expenses along with personal insurance expenses and home expenses. Grab it now! Besides this, if you are particularly looking for more templates in Pages format then check our sheet templates in Pages format.
5. Retirement Income Planning Budget Worksheet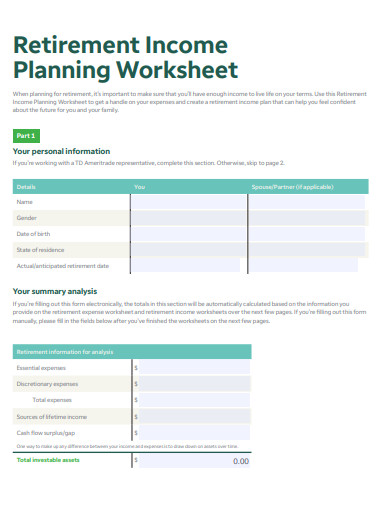 tdameritrade.com
You must know what you earn and what you spend if you wish to start a budget plan. It is important to make sure that you will have enough income to live your life on your terms. To make it more trustworthy, you can use this retirement income planning worksheet to get a handle on your expenses. It will help you create a retirement income plan that will help you in getting some confidence about the future for you and your family. Take the help of our sheet templates that consists of various varieties of worksheets to help you out.
6. Retirement Cash Flow Worksheet and Budget
retirementoptimizer.com
If you want to improve your peace of mind and decrease your stress about money in the long run after your retirement, you should start planning your finances with the help of a retirement budget worksheet. The given template consists of a retirement cash flow worksheet and budget that you can refer to while drafting your retirement budget plan. The document is divided into three parts to make it easy for your understanding including. The first part explains the retirement income estimation worksheet followed by the retirement expenses estimation worksheet and describes the retirement assets as well.
7. Employee Retirement Budget Worksheet
intentionalretirement.com
When your retirement is just around the corner and all your plans come into focus, you should start creating a detailed retirement budget. You can use this form to outline your anticipated income and expenses before you quit your job and start practicing living on your new budget to make sure whether it is real or not. After getting retired, you must periodically review your budget to make sure that your income and all other expenses are in shape and also make adjustments if required.
8. Sample Retirement Budget Worksheet
agis.com
The given template will give you a rough idea about how much income you will need after retirement. It is a sample retirement budget worksheet that lays out the regular expenses followed by the occasional expenses and other one-time expenses in a typical year. Make sure that your expenses in retirement may be quite different from current expenses as your habits and routine life might change after retirement.
9. Fidelity Retirement Budget Worksheet
twentyoverten.com
It can be a huge challenge to spend money because most retirees have little income outside of their savings. Even though there are social security benefits, it is not enough to live off in case you plan to travel. It becomes a necessity to create a plan for how you will space out your spending to ensure that your savings do not get over too soon. Make a retirement budget worksheet to note down your plan including all the expenses monthly as well as annually.
10. Printable Retirement Budget Worksheet
therecordkeeper.com
You must take time to figure out the difference between your current expenses and your estimated expenses after your retirement along with your current income and retirement income. Planning your retirement can sometimes be a tedious task to do but not when you have us with our professional and ready-made template to help you out. Take a look at this printable template that can be downloaded in any device of your choice and printed as well. Get it now before its too late!
11. Retirement Budget Worksheet Example
jbtaxandfinance.com
Check this template that consists of a retirement budget worksheet example that includes a whole table where you can include all the expenditures after your retirement and keep a record of everything. You can copy this sheet in Google Docs and work toward a reasonable spending plan or just use it instantly after you download it and edit it according to your requirements.
12. Budget Worksheet Example in DOC
americasaves.org
This budget worksheet will enable you to use your resources wisely and prudently. You must keep some factors while planning for the retirement like inflation, earnings and interest rates that are earned on a savings account, rents received on a property, etc. This sheet will help you in estimating a retirement budget without any hassle and you can download it for free.
More in Retirement Templates