A Sample sign in sheet makes it possible to collect names, phone numbers and email addresses and organization title of any person who attends your workshop, seminar, or a meeting attendance. Most organizations use daily sign in & signup sheet template to record the time a visitor comes, leaves a premises, and at times may inquire the purpose of the visit. For your organization, you should request for the information necessary in making statistical analysis to help you in formulating strategies on how to improve your operation.
When formulating a weekly sign in sheet you should consider the privacy of your clients mostly if you are in the medical specialization. Mostly the patients may not be willing to give their reason of visit. To make easier collection of comments, you may require your visitors to choose from a set of general visiting reasons. You should consider downloading the best sign in template to make the formulation easy.
15 Easily Editable Sign in Sheet Templates for Word users
> Keep a Track of Who is Coming in and Out with Your Very Own Sign in Sheet
A sign in sheet is a great way to keep a track of your employees, visitors, students and colleagues in a busy work environment. A signup sheet is basically a list of names where the person signs right next to their name on the sheet as a mark of attendance. These are in great use during meetings, large gatherings such as seminars or presentations, at large outings such as class trips. It is also used by many companies and organizations as an attendance register for their employees.
> Using a Sign in Sheet
Using a sheet is very easy to use. It is actually a list of names where the people have to sign in the sign allocated for their signature right next to their name. A sign up sheet may be of both simple and complicated format but the use of these is actually very simple. Imagine you walk into an auditorium to watch a performance, finding a place you take a seat and after a little while you are handed a piece of paper from among the crowd. You quickly scan it to see that it is a list of the names and address of the attendees and people have signed next to their name. It is so easy.
Free Student Signin Sheet Template Word
This free student sign-in sheet template makes it possible for you to collect the names and signature of students who have attended your seminar or workshop. The sheet is in tabular format with columns for student names and signature.
Blank Attendance Sign In Sheet Download
This blank attendance sign in sheet template has space to specify the type of class, instructor's name, and time / date location of the class. Names of people present, their e-mail address and signature can be taken in a table.
Visitor Sign In Sheet Template
Keep a track of people who have visited your building or premises by using this visitor sign-in sheet template. At the top you can mention the day and date, and below in the table name of the visitor, company represented, person to meet and signature can be taken.
Childcare Sign In Sheet
This childcare sign in sheet template enables you to keep a record of children who had been at your center. The tabular format contains columns for date, time in, parent's signature, time out and parent's signature.
Printable Company Visitor Sign In Sheet
This printable company visitor sign in sheet template enables you to keep a record of people who visited your company. Name of the visitors, ID type / number and their signature can be taken in a tabular format.
Course Sign In Sheet Template
Keep track of all those who sign up for available courses using this highly editable and easily downloadable sign in sheet template.
Employee Sign In Sheet Word Format
The sign in sheet template allows you to keep a track of your employees by making them fill out the time they got in, the time they will be leaving, their signature and name. This is a highly editable and downloadable template.
Employee Sign In Sheet Template Doc
Make sure your employees cannot skip a day by using this highly editable and downloadable sign in sheet that gives space for the employees to write their name, department and give their signature.
Meeting Sign In Sheet Template
Take accurate attendance of those who have showed up for the meeting with this free to download easily editable sign in sheet template that provides enough space for the people t sign their names and fill other details.
Business Meeting Attendance Sheet Template
Tired of seeing people skip business meetings? Wave goodbye with the help of this sign in sheet template that is available on the internet for free download. This template is quite editable and printable and provides more than adequate space to fill up details.
Parents School Meeting Sign In Sheet
This template is quite handy for parent teacher conferences. The template has spaces provided to fill up the name of the students, the names of his/her parents, the class and signatures. The template is easy to use, highly editable, easily downloadable and quite printable.
Patient Sign In Sheet Template
This patient sign in sheet template is perfect for keeping track of the appointment of the patients in a Doctor's chamber. There is space provided to fill out the particulars of the patient. This is a very editable and printable template.
Generic Sign In Sheet Template Word Download
The generic sign in sheet template is like water, it can assume any shape. This is the most editable template. It can be customized to your specific instruction. It is easily downloadable and printable.
Template For Employee Sign In Sheet
Keep a track of whether your employees are showing up to work on time or not with this employee sign in sheet. The template is quite downloadable and editable and very easy to use.
Free Printable Patient Sign In Sheet
This patient sign in sheet template is perfect to be used in a Doctor's clinic r chamber. The perfect way of keeping appointments is to print out the patient schedule in this highly editable patient sign in sheet template.
Trainning Sign In Sheet Template
This sign in template is very easy to use and is used mainly as student sign in sheet. It provides enough space to fill out the details. The template is easy to send via email and is its very editable and downloadable.
Open House Visitor Sign In, Sign-Out Sheet
Using a minimalistic approach, this template believes in less is more. With spaces for names, comments and times this template is quite easy to use and it is quite printable and downloadable.
Sample Visitors Sign In Sheet PDF Format
This sample sign in sheet is available if PDF format. It is super easy to use and has spaces for Time In, Time Out, Name of the Visitor and the Reasons for Visiting. The template is highly editable, printable as well as downloadable.
Free Volunteer Sign In Sheet Word Doc
A simple and crisp sign in template this template is the most minimalist one. There is space provided to fill up names, organization and signatures. The template is easy to use and highly downloadable.
Training Sign In Sheet Template PDF
This sign in template is perfect for schools or colleges. This has space for writing the course name, the lesson plan and space for the names and signatures of the students. It is very editable.
Open House Sign In Sheet Template
This is the perfect sign in sheet template for real estate agents. There is space for the name, address and contact details for all those who come to visit the open house ceremony and space to fill out their real estate needs in brief. This is highly editable and printable. zipform.com
Free Printable Client Daily Sign-in Sheet
foodbankwny.org
Staff Meeting Sign-in Sheet
ccdservices.org
Vendor Sign In Sheet
govbids.com
Registration Sign-in Sheet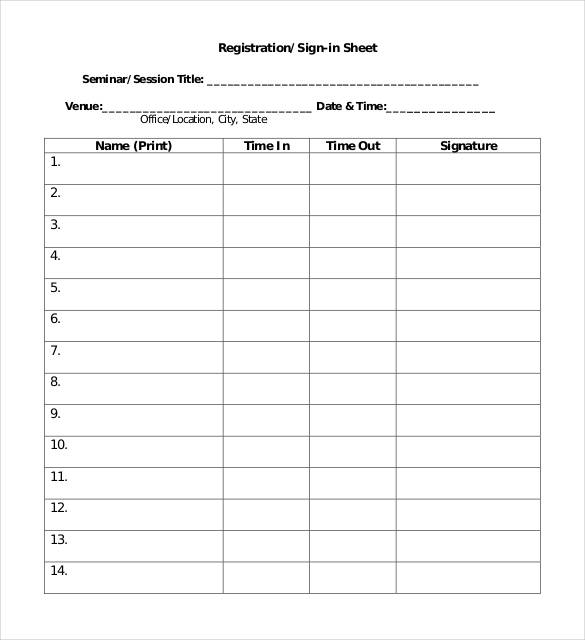 vitalsmiles.com
Annual Time Survey Training Sign in Sheet
maderacoe.k12.ca.us
Office Hours Sign in Sheet
info.umkc.edu
Required Training Completion Log Sign-in Sheet Template
web.claibornecountyschools.com
Funeral Liturgy Planning Sheet
holytrinityhartington.com
Basic Signature Sign-in Sheet Template
bradshamis.com
Federal Work Study Program Sign-In / Sign-Out Sheet
troy.edu
Basic Inservice Sign-In Sheet
scusd.edu
Student Advisory Board Meeting Sign-in Sheet
thelatrust.org
Safety Training Sign In Sheet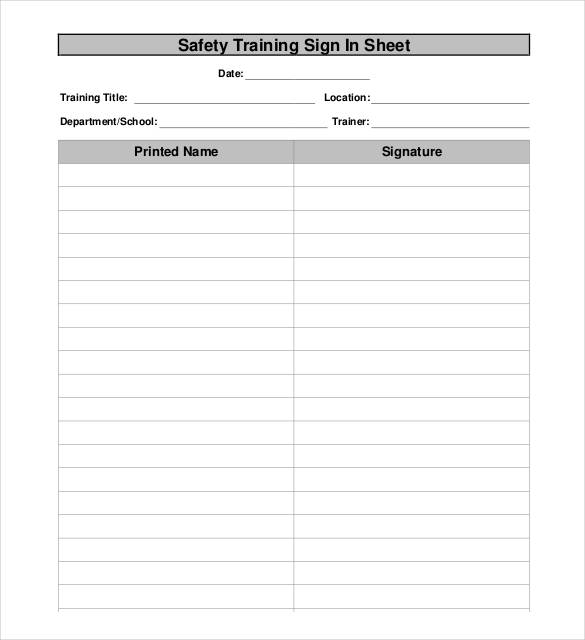 purdue.edu
Name Email Phone Number Sign in Sheet
alameda.peralta.edu
Student Application Sign In Sheet Form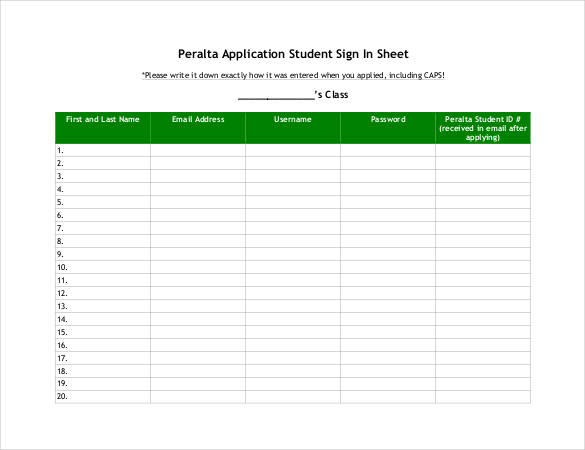 ousd.org
Guest & New Member Sign-In Sheet
ullr.org
Jobsite Daily Sign-In & Sign Out Sheet
performance-1.com
Customer Sign in Sheet
erakeyteam.com
Dental Visit Sign-In Sheet
headstart.seta.net
Appointment Sign-in Sheet
springhillequine.com
Template for Daycare / Childcare Sign in Out Sheet
itcnccdf.org
Server Room Sign in Log Sheet
aganaarch.org
Day Camp Sign In/Out Sheet
sandiegogs.org
Construction Site Sign in Sheet
suffolkcountyny.gov
Job Fair Candidate Sign-In Sheet in PDF
news-journalevents.com
Printable Support Group Sign-In Sheet
vestibular.org
Simple Preschool Sign In/ Out Sheet
itcnccdf.org
Parental Guardian Classroom Instruction Sign-In Sheet
massrmv.com
Family Reunion Sign in Sheet
foulke.org
Waiver and Electronic Waiver Sign-up Sheet
jumponinfun.com
Professional Monthly Sign In/Out Sheet
elc-naturecoast.org
Birthday Party Sign in Sheet
skaterollinghills.com
Standard Gym Sign in Sheet
cymvolleyball.com
Community Service Hours Sign in Sheet
tamiu.edu
In a small business the customer payroll sign in / sign out sheet template is used in following the track of employees and customers. This makes it easier for the business managers to solve the problems relating to the organization. Class Sign In Sheet Template, Student Sign In Sheet Template, Event Sign In Sheet Template.
A volunteer sign sheet gives you information about every area of your business making it easier to recognize the areas that needs your attention. The areas that get more visits may be your stars and using more money on them would mean that your profit increase is assured. A numbered TimeSheet Template with a comment column makes it possible to get information about the services that are highly demanded by the customers.
How to Make a Sign In Sheet in Excel?
With a varied range of sign in sheet templates like Event Sign In Sheet Templates available online, it is really not that difficult to design a sign in sheet for every day nursery or for the army or payment collection. However, if you are thinking of designing one without any help, you can do this in MS Excel. Want to know how? Read on.
Open a New Excel worksheet.
Give relevant headings for each column in the first row like Name, Date, Attendance etc.
Now, under the Names column, enter the name of all the people who need to sign in.
The rest of the columns can be updated as and when required.
You can also add in other columns in case added information is to be included like in the case of paycheck registers.
Uses
Sign in sheets can be designed using the Free Sign In Sheet Templates that are readily available online. Remember that most organizations and agencies make use of a sign in sheet for a varied number of reasons. Let us take a look at some of the common uses of sign in sheets.
In schools/offices to get the attendance of the staff/employees
By accountants when clearing invoices and payments
By charity foundations to record the donations made in person
By reimbursement agencies to get the signature of the person at the time of settlement
By event organizers to get an estimate of the people who have attended the event
> Tips to Create a Sign in Sheet
You can design your sign in sheet from scratch but if you want to save time and work with minimal effort I would suggest you use one of the preloaded templates from template.net to good use. A few things should be kept in mind when creating a sign in sheet. There should be ample space for the people to give their signatures as well as all the other details that are required. Not everyone has the same handwriting so keeping aside enough space is of paramount importance. An order must be followed when creating the list, either alphabetical or chronological, so that it is easy to tally the excel sheets template later.
> Simple Do's & Don'ts
Here are a few things that you should adhere to when creating a sign out sheet template for your students, colleagues, employees etc. Make sure that the sheet is printed in a clear and easy to read font, in a good size. No one likes to squint and look for their place to sign in a dimly lit auditorium or hall when something else entirely is engaging their attention. Next keep adequate space for the person to sign his name, email id and any other details that may be required. Now we come to arrangement. The names on the list must be neatly arrange alphabetically either according to their first name or last names.
Creating Sign In Sheet Templates is not nearly as difficult as they once used to be. Go old school and create your list from scratch or take the easy way and put to work one of the professionally designed superior templates available on template.net to ease your burden. Just keep to the simple list of do's and don'ts and follow the tips as they have been laid for you and you will have no difficulty.