Church Templates
10+ Church Contribution Statement Templates in PDF
Charity is a noble action and most of the people do it for the cause of mankind. As part of the church board, you understand how contribution statements help motivate more donors and work for charity. When people are appreciated, they feel encouraged to continue donating to charitable institutions. With the help of ready-made statement templates, you can now easily draft multiple contribution statements without any hassle.
Table of Content
How to Draft a Church Contribution Statement?
Communication is the key to success. Through contribution statements, you are communicating with the donors in a way that makes them feel special. Moreover, donors also require a written document of the contribution made for their federal income tax statements. Therefore, an appropriate write-off is necessary. You can the following essential sections in a contribution statement to make it more professional:
Step 1: Church Information
Start with the details of the church. Such a statement must include the institution's name, address, and contact number. You can add these to the letterhead or in the document as well. Don't forget to mention the date and year of contribution for which the donation was made.
Step 2: Donor Details
Add the information of the donor such as his name, residential or work address and his phone number. The contribution statement should be sent to each donor, including his name, address and the total amount of contribution made to your institution.
Step 3: State the Fund
Include a statement of the total amount of contribution after the donor details, mentioning whether the donation was made in cash or any other type. You also need to add if the donor received any benefits in return to have a transparent receipt.
Step 4: Appreciate the Donor
the main purpose of a contribution statement is to appreciate the donor. Include a brief token of appreciation for the contributions made throughout the year. You may also explain what is happening with the money and how people have been benefitted by the contributions.
Step 5: Share a Motivating Story
The best way to show gratitude to the contributor is to share some success stories of people associated with the church who have received the donation. This will make the donor proud and motivated to make future donations.
10+ Church Contribution Statement Templates in PDF
1. Church Contribution Statement Template
tfpby.org
If you are running a charitable institution, you need to pay attention to the number of donations made to your church and write time-consuming contribution statements to make better impressions. This Church Contribution Statement Template in PDF format is a better way of formatting such documents since you can simply download and use this ready-made layout for your convenience! Therefore, hurry and get it now!
2. Church Contribution Statement in PDF
taxcrusader.com
Wondering how you can manage multiple donations to your institution with ease? Reduce your job by just downloading a comprehensive Church Contribution Statement in PDF without any hassle at all. With church contribution statements you can easily initiate communication with your donors and make a better relationship for future such transactions as well. If you are interested in other file formats, then you would like our statements in Pages to do your Apple devices!
 3. Church Contribution Yearly Statement
supportimages.fellowshipone.com
This Church Contribution Yearly Statement is a quite convenient way to format the church contribution income statement that you can send the donors. The file is a highly compatible template that you can download and access in all kinds of portable devices. It is the best way to have a comprehensive layout with suggestive content that will enable you to make a difference in the lives of millions with your kind words.
4. Church Contribution Statement Example
iconcmo.com
Create a church contribution account statement for your institution with a professional structure where you will be able to format the content and add your church details and make it personalized. With the assistance of this Church Contribution Statement Example on your device, you can now pay gratitude to your donors without having to format one from scratch. So start downloading!
5. Church Annual Contributions Statement Request Form
holyinnocentschurch.net
Mosty churches have to release annual contribution statements for their donors. Now you can also send variable such statements without wasting your time. Just get this editable Church Annual Contributions Statement Request Form which has been custom-made especially by our experts for church owners like you to help you bond a secure and transparent relationship with your donors! Check our website for other file formats to edit as well!
6. Sample Church Contributions Statement
gracebiblechurch.com
Checking out samples of account statements to draft one for your institution? Then your search is over. Download this Sample Church Contributions Statement with an official framework which has already done your research work so that you don't need to spend extra time anymore. Explore our website to get some of our amazing other statement templates in Word to provide you the best experience with templates!
7. Church Contributions Income Statement
squarespace.com
If you are looking for any such statement where you can add the account details of all the contributions that have been made to the church. This Church Contributions Income Statement has been designed by our team of experts to provide you with an easy-to-use layout without any commotion. Our templates also give you authentic content and compatible files for all your editing devices. So hurry and grab this opportunity now!
8. Church Contributions Statement Request Form
greatergracec.org
The best mode of communication with the donors that you can use is this ready-to-download Church Contributions Statement Request Form that comes with a professional groundwork with one of the most convenient content structure for use. The best part about this template is that it is quite comfortable to edit and change part of the information with accurate data. This church contribution annual statement will help you get a better impression with the donor!
9. Church Contribution Statement Format
wabashconference.org
When your church institution has been donated with the various contribution you should draft account statements to appreciate the donors. This Church Contribution Statement Format in PDF format is a feasible file template that you can use to include all kinds of information so that it becomes personalized for your donors. So hurry and download now!
10. Church Contributions Annual Statement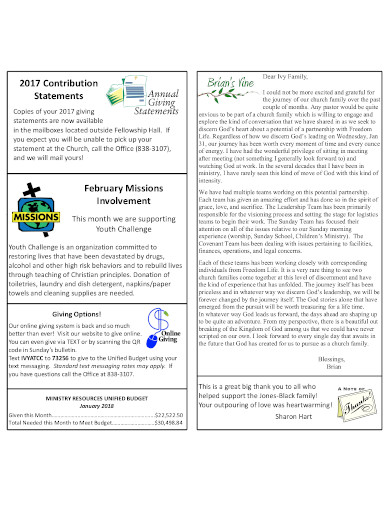 ivymemorial.org
A letter from the pastor of the church makes it easier for the donor to stay connected to your church. Our latest product with customizable features like this Church Contributions Annual Statement can be downloaded in PDF format so that it is convenient for you to make changes without trying too hard. Its compatibility is quite fascinating for you to edit the file in any PDF editor that you have. Therefore, download and start editing today.
11. Church Contributions Income Statement in PDF
irs.gov
Are you looking for an easier way to communicate with your contributors? Then you ar ein the right place. This Church Contributions Income Statement in PDF file is one of the top-notch templates with authentic headings that you won't find on any other website, so we recommend getting this template right away! Moreover, we also have a wide range of statements in Google Docs if you need to edit them!
More in Church Templates