Church Templates
10+ Church Welcome Letter Templates in PDF | DOC
A church welcome letter, as the name suggests, is a letter used for welcoming people in the institution. Such letters are used for a variety of purposes and events. The letters may be addressed to parents, potential donors, and volunteers, organizations helping in charity purposes and more. It becomes necessary to create such important letters with the utmost care for making a good impression on the reader. That is why we have prepared our professional letter templates to help you create such crucial documents conveniently.
Table of Content
5 Steps to Create a Church Welcome Letter
Step 1: Prepare an Outline
First of all, prepare an outline of the letter. Mention all the things that need to be addressed in the letter in the rough work. Make changes and corrections in it until you find the result satisfactory. This will also help you find out how the letter will turn out in the end.
Step 2: Create a New MS Word Document
You can create a letter in a variety of applications. Let us take the example of MS Word for the time being. The document is easy to create and can be edited multiple times as well. You can also save it in multiple formats according to your requirements. Creating printouts for hard copies is also easy.
Step 3: Maintain a Formal Tone
State all the information in a formal language. Welcome letters are representative of the church institution as a whole. Therefore, it becomes necessary to prepare one properly. Make sure you maintain a formal tone while giving out all the necessary information.
Step 4: Mention Additional Information
You can mention additional information regarding an event, project or any other aspects in the letter. Using a table of contents or a list format can help state all such information. Such formats are effective in providing important instructions and guidelines as well.
Step 5: Provide Stamps and Signatures
Once completed, make sure to double-check the letter multiple times to make sure everything is alright. Following it, the official stamps and signatures of the authorities of the institution are necessary to provide authentication to the letter. This aspect is a mandatory procedure in all official documents.
10+ Church Welcome Letter Templates in PDF | DOC
1. Church Welcome Letter Template
gracebaptistpa.org
The church can conduct several programs to help inculcate good moral habits and behaviour in young children. If you have been assigned to create a welcome letter for such a program, you can take the help of the given PDF sample for reference purposes. Understand how to construct a simple letter for such purposes and create one along its lines easily. If you are short on time, try our readymade letter templates samples to create such a letter in no time.
2. Kids Church Welcome Letter
connect.barandudacommunitychurch.org
If your institution is conducting a program for kids, we suggest you take help from the provided PDF sample to create a welcome letter for the purpose. It will help in assuring the parents and guardians of potential students that their children are in safe hands. Our letter samples are helpful tools in preparing such impressive welcome letters easily.
3. Church Ministry Welcome Letter
church.stpaulsorange.org
Create a simple yet effective welcome letter for a church nursery ministry by taking references from the example provided above. You will get a good idea about the important aspects of such a letter by going through the given sample. You can make such letters in no time by customizing our professionally designed sample letter templates.
4. Baptist Church Welcome Letter
carlingford-baptist.org
Prepare a welcome letter for a kids' church program by using the given PDF sample as a guide. Get a good look at the format used and the content of the letter to make a similar one along its lines easily. You can always make adjustments while creating a letter for yourself to suit the specific requirements of your institution.
5. Church Family Ministries Welcome Letter
static.squarespace.com
If you have been assigned to create a welcome letter for a church family ministries, you have come to the right place.  Download the PDF file provided above to gain access to an impressive sample of the same. It is a well-detailed letter that provides all the important aspects of the program. Use it as a guide for forming a similar one with the help of our pre-built welcome letter templates today.
6. Nursery Church Welcome Letter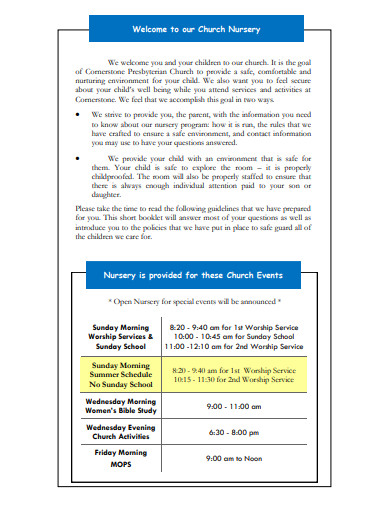 cornerstonepca.com
Prepare a well-detailed welcome letter for your church program by taking references from the sample provided above. The letter uses a useful table of contents for providing all the required information clearly and in a well-structured way. We are sure it will help you create such well-defined letters easily.
7. Church Sunday School Welcome Letter
flcduluth.org
Wondering how to prepare an effective welcome letter for your church's Sunday school? Do not worry. Simply download the provided PDF sample and use it as a guide for preparing a productive one easily. We have also created a wide range of professionally designed church templates to help you form meaningful documents for several purposes in a jiffy.
8. Children's Church Welcome Letter
newlifenewlenox.org
It is imperative to gain the trust of parents and guardians for them to entrust their children in the hands of your church. A warm welcome letter can be of significant help for this purpose. You can use the given sample as reference material for preparing such a letter in a time-efficient manner.
9. Church Ministry Staff Welcome Letter
static.spacecrafted.com
Often the new members of a church find it hard to feel at ease initially. It is natural for them to feel apprehensive regarding new jobs and tasks in this stage. Therefore, creating a heartfelt letter can help them feel welcomed and at ease. It can also be used to cite the purpose of the various operations assigned to them as well. You can also use our professional templates to create productive church conference welcome letters easily.
10. Church Welcome Letter in DOC
dwldrtsuujb.cloudfront.net
Welcome letters are a pre-requisite for starting new programs extended by the church institution. It is used for providing a gist of the operations and objectives of the program to the individuals or the parents in the case of events made for children. The above given welcome letter in the DOC file will provide you with a good example of such a letter. You can use it as a guide for creating a similar one conveniently.
11. Church Conference Welcome Letter
static.squarespace.com
Create a church conference welcome letter with the help of the sample provided above. The letter sample is easy-to-follow and the format used is basic as well. With its guidance, we are sure you will be able to create such letters in no time. You can also use our pre-formatted templates to form a productive church welcome letter for visitors to various events and programs as well. Check out our free letter templates to prepare impressive letters efficiently and for free.
More in Church Templates