Strategy Templates
IT Strategy Template – 13+ Word, PDF, Documents Download
Typically, an IT strategy is a long term action plan for achieving a goal. This goal can be set in a scenario where the technological environment is undergoing rapid change. Any IT strategy can be effective if it is measurable and has links to a perfect business strategy. The templates mentioned in this article will help you have a series of designed strategy plans that can be of great help to you.
IT Strategic Plan Template
An Information Technology plan of strategy acts as a guide in putting together the needed data to make the best IT strategy needed for your entity's business operations. This plan is important as it shows the priorities of your business when it comes to information technology and helps you identify the IT projects that your business should invest in. This template is one such plan document that will be of great help to you. All you would have to do is download the plan in Word template, edit and modify to suit your needs and preferences, and you are good to go. Try it out now!
IT Strategy Plan Sample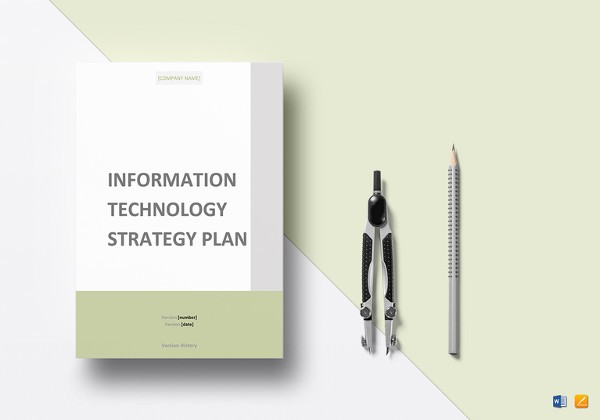 Layout the clear strategy for your IT department with this IT strategy plan template in Google Docs that is mentioned above. This 9-page document comes with standard business fonts, so it is very easy to make it for professional use. Open and edit using your favorite software application. IT is also available for download in many file formats like MS Word, Excel, Pages, etc. so you can pick the one that is most suitable for you. Don't miss this opportunity. Download the template now!
Strategic Plan For Trent University

trentu.ca
This template here presents graphical data on the main parameters of a strategic test plan for a university and the pictorial presentation helps the reader to have a thorough idea on the document just at a glance.
These strategies must be revisited once in a while to ensure that the right technology investments are being done. The IT strategy templates that have been developed in many file formats like PSD< Word, PDF, etc. can be used to make the best strategy as needed for your organization.
IT Strategic Planning Template

csus.edu
If you have to create a ten-step strategy change cycle, this template here would be handy for you with its readymade cycle on the parameters for both the external environment and the internal environment.
A Structured Methodology For Developing IT Strategy

citeseerx.ist.psu.edu
If you need ideas on how to develop an IT strategy, this template here would be greatly useful for you with its discussion on important elements and the long list of sections that should be included in your IT strategy.
Strategic Plan For Networking Template

cd-docdb.fnal.gov
If you have been assigned to a strategic plan for networking and you need expert guidance on the standard structure, this strategic plan template here would be great with its discussion on the mission, components of networking strategic plan, context & assessment of current state.
IT Strategic Plan Comments Template

www.mass.gov
In case, you have been asked to comment on a strategic plan, this letter template here would be helpful as it contains a realistic evaluation of a strategic plan made by your colleague.
Information Technology Strategic Plan

csuci.edu
This information technology strategic plan template offers a readymade guideline on how to arrange a plan where you will discuss how different groups connected to the university would need to use the web.
Corporate Financial Strategy In SMEs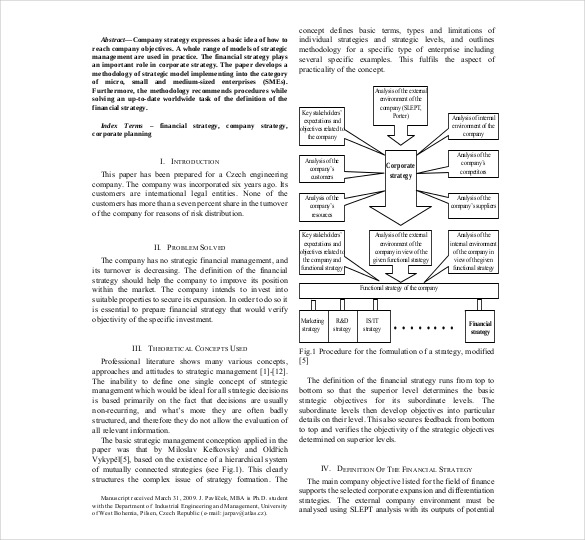 iaeng.org
This financial strategy template provides an expert framework that will help the SMEs to build up a strategy for improving their revenues. You have discussions on strategies to solve the problem, theoretical concepts used, etc.
Developing A IT Financing Strategy

socialenterprisecanada.ca
Business Strategies Templates

ib.vse.cz
Strategic Management Template

542-04-70.ru
Corporate Level Strategy Template

primesmoked.com
Developing An IT Strategy

stratafusion.com
Wrapping Up:
If you are looking for guidance on the various sections to be included in a standard strategic management plan, then the templates mentioned in this article here would be handy for you with its discussion on processes, strategy formulation, and strategy implementation. The templates here describe a course on business strategies highlighting the course objectives, what the course is aiming to achieve and what opportunities are there for students to analyze. Sabe a lot of time and effort from your side as you do not have to make an IT strategy from scratch. These templates ar4e here for your rescue, in case you fo not have the time to make them from bottom up.
When it comes to developing an IT financial strategy, you have to go through different building blocks. You can do so with ease with any of the templates mentioned in this article. They offer a readymade structure on the various building blocks you have to pass through in this regard. All you would have to do is download the template of your choice, edit and modify it to make the most of the template. Another added advantage of the templates here is that they are available in many file formats, making it easier for you to pick the ones you like best. You can download them on any electronic device with ease as they are not just limited to a PC or a computer.