Strategy Templates
12+ Digital Marketing Strategy Templates – Word, Apple Pages, Google Docs
The digital marketing strategy is a channel strategy that defines how various companies should prepare their budgets for acquisition, conversion, retention and growth and other services. An effective digital strategy always helps to take the right decisions to make a company successful online. The digital marketing strategy templates that we provide have been developed by experienced subject matter experts and can help you to manage the various digital touch points.
Digital Marketing Strategy Plan Template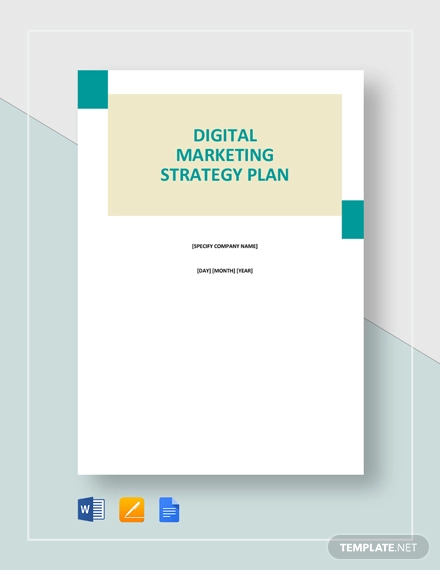 If you are searching for the right plan template that will help you create an effective digital marketing strategy plan, then we got just the right thing for you. It has all the necessary content that you can use as is or modify to suit your business preference. You can view and edit it on your other devices as well such as a tablet and phone. It can be easily edited and customized to meet your needs and requirements perfectly. Increase your potential to boost sales and profit with the use of this above template now!
Digital Marketing Strategy Planning Template

supref.fr
This template here discusses the different steps you have to go through while creating a digital marketing strategy such as opportunity, strategy, action, planning system and what comes under them.
Planning Template Of Digital Marketing

charleswarner.us
You are getting a readymade digital marketing toolkit here focusing on the major aspects of digital marketing planning such as strategy, action, the planning system and you can easily customize the template as per your needs.
Complete Digital Marketing Template

juntaedelane.com
If you are looking for ideas on how to create a standard digital marketing plan, this template here would be handy for you with its pre-constructed sections on the different important parameters of your marketing planning.
Digital Marketing Strategic Plan Template

dynamic.ie
This template here has come up with the key questions for the digital marketing strategy plan of a business so that you can have a hang of the different sections you have to address in such a plan.
Steps in Creating a Digital Marketing Strategy:
Step 1: Goals and Objectives
The first step towards making a successful digital marketing strategy would be to know what your goals and objectives are. This way you will know what you want. This acts as a guideline to reach the goals as you need to know how you can fulfill your goals and objectives in the most effective way. Digital marketing plan templates will be of great help for you to create the right kind of plan for your organization.
Step 2: Analyze Your Organization
Analyze where your position was the previous year and where you stand now. As you learn from mistakes, you have to make sure you do not make the same mistakes again and how can you avoid any same situations that might probably crop up. Evaluate all of your existing channels and see how you can make a difference. Take into account your successes and failures. This way you can make a clear plan on what you should do.
Step 3: Target Audience
It is very important that you know who your target audience is. Make sure that you speak their language, which means that the plan you are making should be easily understandable to the audience. Keep your audiences in mind while creating the plan. Since pleasing the audience and fulfilling their needs is one of the most important things you should do, make a list of what their needs could be. Think from the audience point of view, so you will know what they could possibly expect from you.
Step 4: Budget
The budget plays a very important and is the most crucial part of any plan you make. Marketing strategies that are available online can be of great help to you while creating the right kind of a budget for your organization. Describe your overall budget and make sure that you mention what are your sources of income and expenditure. Creating the right audit can be of most help for you, as it shows what your income and expenses are, and also gives you an idea of where you need to cut down those expenses that are not necessarily required.
Step 5: Make the Plan
Bring all the things mentioned together and make the plan. This will be the first draft, just so you know how to make the perfect plan once you know what changes you need to make. There are many marketing templates that you can make use of to create the right marketing plan for your organization. Even though you have a very carefully constructed plan, you never know how the customer will react to it. So it is always better to keep them in mind while creating the plan.
Step 6: Review
No plan is perfect, so make changes wherever required. Use any possible graphs that you can use to represent your data so that it is easily understandable to those reading it. Review and make changes wherever requires, just so you are sure that you have not missed adding any important information or any details about any client that needs to be mentioned without fail.
Digital Marketing Strategy Template Free Download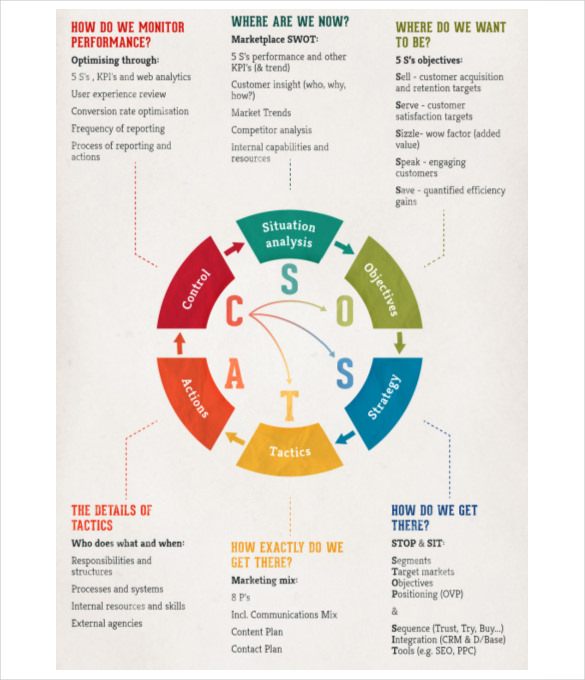 webyogi.co.uk
The template here presents an interesting illustration of the different parameters that you have to cultivate while formulating your digital content marketing strategy such as how to monitor performance, your present stand, your objectives, etc.
How To Develop A Digital Marketing Plan Template

invest.sunshinecoast.qld.gov.au
If you are in need of expert guidance on how to develop a standard digital marketing plan, this template here would be really handy for you with its elaborate discussions on the needed steps.
Building An Effective Digital Marketing Strategy

Failte Ireland.ie
If you are new in the sphere of digital marketing and looking to have an insight on how online marketing would be beneficial for your brand, this template here has discussed in detail about the perks of such a marketing plan.
Digital Marketing Plan For A News Agency

theseus.fi
If you are looking to know what digital marketing avenues would be great for your news agency, this template here offers insights on all the potential channels such as search marketing, PR, online partnership, interactive ads, etc.
Strategic Digital Marketing Budget Template

vizergy.com
Digital marketing involves marketing through several avenues and this template here offers a readymade table on the different mediums you would take and that too how. You will also get space to jot down your marketing budget.
E-Marketing Strategic Template Free Download

nibusinessinfo.co.uk
Final Thoughts:
It is very important that you always have plans ready for you for whatever the situation may be. This will help you make your business better an also, incorporates growth. Business strategy templates are those templates that give you a clear idea of how you are supposed to take the right decisions to make a company successful online and as well as offline.
In this technological advances world, it is very important that you grow digitally as well since everyone will look to have what they see on the click of a button on any electronic device. Digital marketing plays a crucial role in such cases. You will know netter ad to what you can do to share your work digitally and make it better for others and yourself as well. Not all marketing strategies are the same, so make yours the best with the help of any of the above template.
More in Strategy Templates