Strategy Templates
11+ Annual Strategic Plan Templates – Word, PDF, Apple Pages
To know where you are going, you will need a map. If you need to get there faster, you would need to plan your route with the map. The same goes for an organization. To keep it afloat and to realize its mission and vision, the organization needs a plan.
A strategic plan is one of these plans that any organization needs. Strategic planning is an organization's process of defining its strategy, or direction, and making decisions on allocating its resources to pursue this strategy. The strategic plan will become the basis and the bible of the organization when it comes to running the business effectively. To make such plans, we have the right templates in this article, just for you!
Annual Strategic Plan Template
An annual strategic plan is one key element to achieve success in your business. Thoroughly create your strategic plan and properly execute it with the aid of this template, that can be if great help to you. Identify your long-term goals and how you want your company to proceed in the coming year by using this sample plan template. This template helps you in focusing your priorities for the year. Download this template now!
1 Year Annual Strategic Plan Template
Prepare a thoroughly written and effective strategic plan that's good for a year with our 1 Year annual strategic plan template. By making use of this template, it would be easy to develop your strategic plan doable for a year. Be more efficient and productive by having a template that has everything you need. Check the action plan template for more. Since a strategic plan is an essential element in achieving your business goals, creating one is a tough job. Check this template out now!
Strategic Life Plan Template
In a sense, the sample strategic plan or strategy for short will set the signpost for where the company is headed. Strategies are often crafted for the long-term, often for two to three years, however, there is merit in holding strategic plan meetings and having a strategic plan annually.
Business Affairs Unit Strategic Plan Template
utsa.edu
Multi-Annual Strategic Plan
iuma.ulpgc.es
Annual Strategic Planning Meeting Report
cjcc.dc.gov
Holding an Annual Strategic Planning Session
Having an annual strategic plan ensures that the company's plans are on track and still relevant. Holding an annual strategic planning session helps to review the strategic plan and make changes if they are needed. Thus it is important to have a strategic planning session or retreat. This retreat is usually done, but not necessarily, done off-site to avoid and shut out distractions and lasts for at least two days. To facilitate an annual strategic planning session the persons involved follow this process:
1. Begin with a review of the Mission, Vision, and Values
The mission, vision, and value are the main force in a company's identity. These statements are what defines the company. However, as the company evolves, these things may become outdated. There will come a time when the organization will need a new purpose, a new vision per se. One of the first things that the people involved in the planning session should do is to ensure that the mission, vision, and values of the organization are current and still relevant. You may also see free strategic plan templates.
2. Take a Stock of Your Situation
You cannot move ahead if you don't know where you are. This may seem simple at first glance, but it is harder than it looks. Most people, and in a broader sense, organizations see themselves how they want to see themselves. They often ignore or in some cases, not admit to their faults. It is important to assess long-term business assumptions and conduct a traditional SWOT (strengths, weaknesses, opportunities, and threats) analysis to provide a current understanding of the marketplace and true capabilities of your organization.
3. Identify the Long-Term Objectives
If this is not the organization's first strategic plan, chances are there are already long-term objectives set. In that case, a few modifications will be what is needed. You may also see strategic plan samples.
4. Set Short- Term Goals
Do this only if it is possible. Usually, the organizing team does not dwell on the details. That is a job for when it is time to make an operational plan. However, it is a good idea to assign a member who will flesh out how it will get accomplished
5. Compile all of the Work in a Final Document
This final document will contain all the work that resulted in this session. This document should be distributed to all the members so that they know what their responsibilities are and what they need to achieve. You may also see IT strategy plan templates.
Final Strategic Plan Sample
c.ymcdn.com
Electronic Customs Multi-Annual Strategic Plan
emta.ee
One Page Strategic Plan Template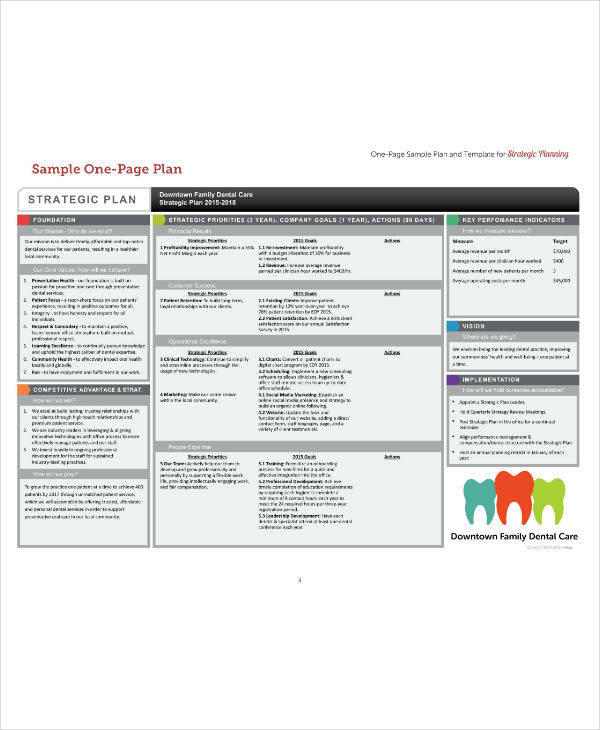 onstrategyhq.com
Annual Strategic Plan Sample
pascocountyfl.net
What to Include in Strategic Plan?
Creating a strategic plan can be an arduous task. This could even be made more difficult if one does not have an idea of what to include in the document. To create an effective strategy one must make sure that the contents of the document will be comprehensive. Here are a few key items that should be included when creating a strategic plan. You may also see school strategic plan templates.
1. Executive Summary
Although it is listed here first, the executive summary should be written last. The executive summary will hold a summary of all the sections of the strategic plan. Having an executive summary makes it easier for other constituents, such as employees, investors, and other team members to quickly understand the strategic plan. With quick understanding follows quick support.
2. Elevator Pitch
An elevator pitch is a succinct and persuasive speech that explains how your organization works or its purpose. It is so named because of its length which about the same length as an elevator ride. Including an elevator pitch in the plan is essential because it helps employees articulate the organization's purpose and description to others. Without a proper definition, there will a higher number of missed chances and opportunities. You may also see strategic planning process templates.
3. Company Mission Statement
An organization's mission statement is what defines its business, objectives, and approach to reach those objectives. It is easy to think that a mission statement is unimportant, that it is just added fluff. That thought is never more wrong. A mission statement becomes the employees' guide in internal decision making. As a member of the organization, the employee will naturally decide for the good of the company and without a mission statement, one can not expect him to do the right decisions. Furthermore, the mission statement can inspire outside parties to align themselves with the organization and work with it.
4. SWOT Analysis
An analysis of the organization's strengths, weaknesses, opportunities, and threats can tell its current situation. A SWOT analysis can help determine which decisions to pursue the best growths of the organization. It can also identify the weaknesses that the organization needs to work on for it to improve.
Sample Strategic Business Plan
spmvv.ac.in
Service Company Strategic Plan Sample
ecdcus.org
Though strategic plans are mapped out for a longer period of time, it is still important to have it reviewed annually for it to remain relevant. Without a relevant strategic plan, an organization might lose its competitive edge and nobody wants that. You may also see a strategic plan samples.
Framework for Strategic Planning
treasury.gov.za
Strategic Planning For Beginners
landcare.nsw.gov.au
5. Goals
Behind every plan, there is a goal that needs to be reached. It is very important to specify what that goal in the plan is so that everyone involved can work towards it. It helps constitute an idea of why something is being done. Setting and achieving goals is what makes an organization successful. You may also see sample strategic planning. The goals set can build up from five year or long-term goals and identify what goals to achieve in a year to work on this long-term goal and so on. A strategic plan can be updated regularly as goals are accomplished to modify this section.
6. Key Performances Indicators (KPI)
Key Performance Indicators are metrics designed to help the organization monitor its performance. These indicators can differ from financial metrics, customer metrics, etc. KPIs are indispensable tools to identify business performance. You may also see church strategic plans.
7. Target Customers
Knowing which customers to target in the strategic plan is essential to ensure its success. Having a target can fine-tune the approach an organization takes towards implementing the plan. Knowing the target makes it easier to create direct communication with customers. Also, take a look at the non-profit strategic plan templates for more.
8. Industry Analysis
Akin to taking stock of the organization's position, it is also important to take stock of the organization's industry. However, this analysis does not need to be in-depth. Knowing the situation of the industry and where it is headed can help create strategies that are ahead of the curve. Furthermore, it also helps if the industry is a sinking ship and if the organization needs to steer clear and find a new destination.
9. Competitive Analysis and Advantage
Believe it or not, it is a very competitive world outside. Thus, it is important to have an analysis of key competitors to remain competitive in any industry. Having information on their strengths and weaknesses will help keep the organization relevant in its industry. It is also important to keep track of one's competitive advantages to make use of them properly and see what are needed to create more advantages.
10. Marketing Plan
Just as it is important to have a strategy, it is also important for an organization to plan on how to market itself. A good marketing plan includes how to attract prospects and then convert them into customers that can lead the organization to grow.
11. Team
A plan is useless without a team to implement them. A strategic plan should indicate in it the people who would be responsible to ensure that the plan's goals are met. Including the team in the strategic plan can also help determine if there is enough manpower to execute the plan or if hiring newcomers will be needed. You may also see sample strategic action plan templates.
12. Operational Plan
An operational plan will detail how the goals set in the strategic plan could be achieved. Having a detailed operational plan helps you meet the goals necessary to be fulfilled. The operational or implementation plan should map out priorities, day to day activities, assignments to ensure the strategy becomes a success.
13. Financial Projections
Financial projections can estimate the potential results for each goal you would want to pursue. Furthermore, it can help map out the objectives needed to pursue this goal. A financial projection can help determine how many items should be sold to reach a monthly quota.
General FAQs
1. Define an Annual Strategic Plan.
An annual strategic plan is a process of an organization that defines its strategy, direction, and plans for a year. It helps to make decisions on allocating all the resources to achieve the goal and objectives of the organization that you have made for a year in the most effective way possible.
2. Why is an Annual Strategic plan important?
Annual strategic plans provide a sense of direction and outline all the goals for the entity for a whole year. It is a tool that is useful for guiding annual decisions, activities, etc. for evaluation progress. When your firm knows what to plan, then it gets easier for your firm to accomplish its goals.
3. How do you review an Annual Strategic Plan?
Review annual strategic plans in the following manner:
Review the big picture, which means look at each element of your plan
Review all minute details of the annual plan
Improve your reports wherever and whenever needed
Communicate the changes you make to your organization so that everyone know what needs to be done.
4. What are the major components of an Annual Strategic plan?
The major components of an annual strategic plan are:
A vision statement, which shows what your goals and objectives are
A mission statement, steps to achieving the said goals
Goals and objectives of your organization
An action plan, stating what needs to be done
Mention when your plan will be reviewed and updated, etc.
5. How do you create an Annual Strategic Plan?
You can create an annual strategic plan with the help of the following steps:
Get all your finances in a sequential order
Review operating data and functions
Evaluate the business' position in one financial year
Set priorities
Prepare project plans for the year
Create a budget with annual capital expenditures, etc.
More in Strategy Templates