Building your credibility as a photography professional, you have got to do a fair bit of promotion and publicity of your work and skills so that industry insiders and also the outside public get to know about you. You may also see flyer samples.
One of the most inexpensive and effective methods to get noticed is by designing a stunning photography flyer and having it get circulated at industry events and relevant public places. With readymade print-ready templates available, creating a photogenic flyer for your photography should be easy! You can also see Fashion Flyer Templates.
Photography Studio Flyer Template
Model Photography Flyer PSD Format Download
PSD Beautiful Creative Photography Flyer Template
Premium Photography Flyer Design Template
Excellent Modern Photography Flyer Template
Alternative Photography Flyer Design Template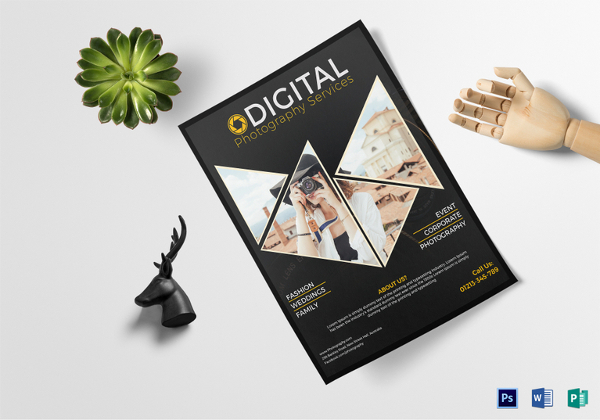 Fashion Photography PSD Flyer
Modern Stunning Photography Flyer Template
Digital Photography Flyer Template Download
Simple Photography Exhibition Flyer Template
Professional Custom Design Photography Flyer Template
Professional Fashion Photographer Flyer
Photography Pricing Flyer Template
Photo Collage Layout Flyer for Photographer
Photographer Photo Collage Flyer
Attractive Photo Collage Flyer Design
Agency Photography Flyer Template in PSD
Business Photography Flyer Template PSD Format Download
Stylish Wedding Photography Flyer
Fashion Photography Flyer Template
Modern Photography Flyer Template
Photography Catalog and Brochure Template with Price list for In-design
Perfect Shot Photography Magazine or Brochure Template in Word

Commercial Photography Flyer PSD Template Download
One of the problems faced by newbie photographers in the business is to have to look for ways to get people to take them seriously. Tell you what, a photography flyer is just the perfect solution. Pick a flyer template which reflects your style and get on with designing a photography flyer right away!
> Why Do We Need Flyers?
Flyers are one of the best tools for marketing. With photography flyer templates, you can do the following things:
If you want people to know about your work, you can arrange some of your pictures in that format and present it to people.
You can also use it as your portfolio and take it along with you when you go looking for jobs.
Attractive Creative Photographer Flyer Template
Perfect Fashion Photography Flyer Template
Retro Photo Collage Layout Template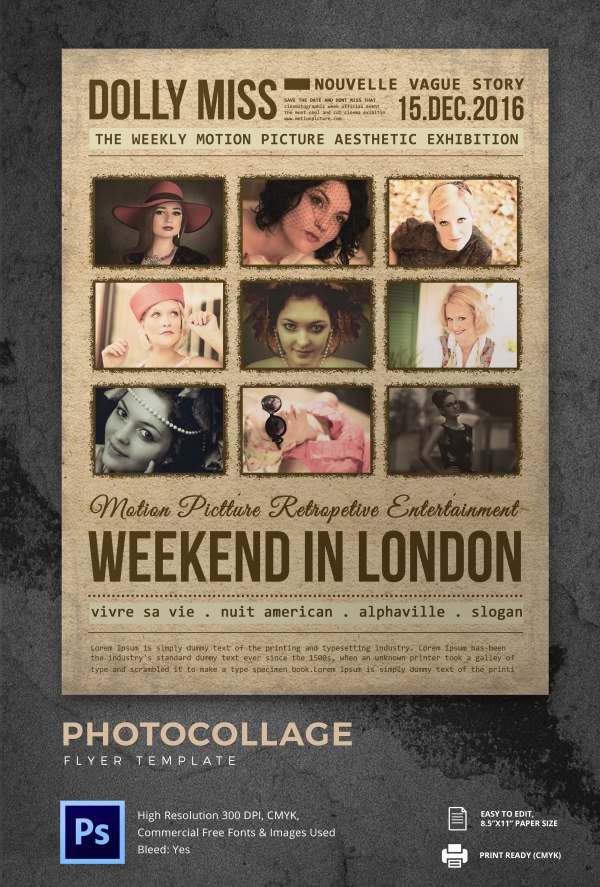 Download psd Photography Flyer
This one comes with a psd file, which is fully editable. Each of its sides is A4 in size. The designs can be easily printed and given to both customers and employers.
Triangle Multipurpose Photography Flyer Template
Super Cool Photography Pricing Guide Flyer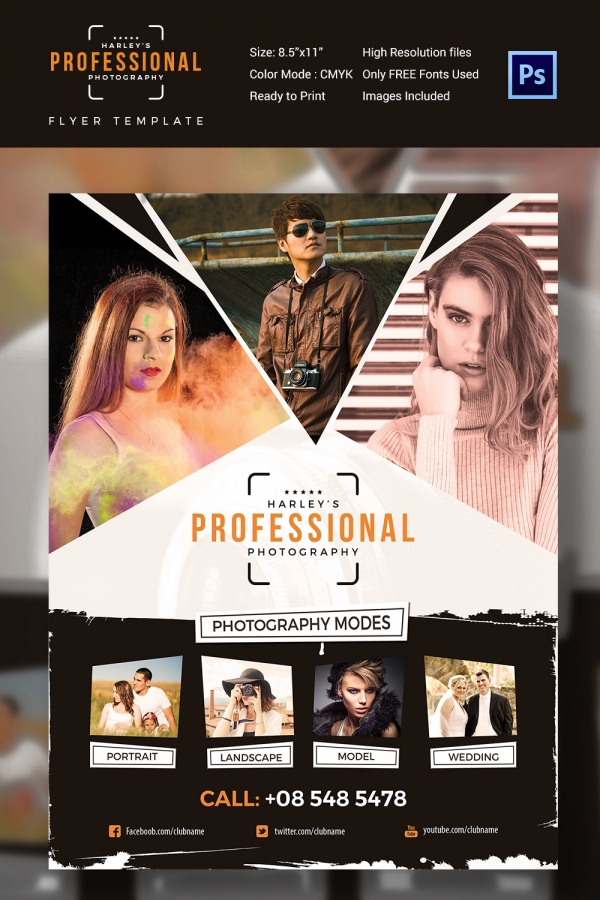 Dark Modern Photography Flyer Design
Try out geometric shapes based flyers to showcase your photographs in cool frames. More controlled design adventures are ideally suited for picking up dedicated photography flyer templates wherein you would find clearly demarked spaces for adding your images, mostly in grids and frames.
After you have a selected a photography flyer template to represent you, make sure that you put some effort and creativity into the existing flyer design so that it looks and comes across as your signature style. As the templates are of the highest PSD quality and fully customizable, you should be able to flaunt your creative flair easily on them! You can also see these stylish vintage flyer templates.
One of the biggest USPs of readymade flyer templates is that they are a complete package. All of the elements and details – backgrounds, fonts, icons, artwork etc. – pre-exists in the templates. The templates follow an assortment of design themes, so there is a lot for you to choose and chew from – so to speak.
> Customization
The best thing about photography flyer templates is that you can customize them as you want. If you want attention to your magnum opus, you can highlight it by displaying it in the middle of the template. The other details like your contact number and your background can be featured on the sides.
> Goal
With a photography template, you are trying to grab people's attention towards your work. Make sure that you do not get carried away and use many bold fonts because that would shift the focus from your work. On the other hand, do not \downplay the use of the template. Use attractive graphics.
> Brand
If you are using your photography flyer template as your portfolio, you need to keep in mind that your brand is reflected on it. You can create a special logo, which will be the image of your work. Since you can modify these templates, making a logo, which suits your image, would not be a difficult task for you.
> Contact Information
Make sure that your flyer template has all the contact details about you. You name, phone number, email id, website, etc needs to be put on it.
> Call to Action
Even if these are photography templates, used as flyers, they will have limited space. Therefore, you need to be direct with your call to action. The message should be strong and clear.