Flyer
25 + Burger Flyer Templates – Word, PSD, AI, EPS Vector
Whether your restaurant or any food establishment has a food contest or you want to showcase your special eating product launch to the public, various restaurant flyer designs can help you grab the attention of the general public. And very specifically, if we talk about burger flyers, then this is what people get attracted to.
If you are looking to do the marketing in the same way then burger flyer templates can help you create a resounding flyer within minutes. Here are the top burger flyer templates that you might find useful for your upcoming event or product. You can also see Pizza Flyers.
Burger Restaurant Flyer Template
Burger Promotion Flyer Template
Burger House Flyer Template
Personalized Bake Sale Flyer Template
Delicious Fast Food Flyer Template
Fast Food Flyer Template
Eating Contest Burger Flyer
This eating contest burger flyer template is one of the top, classy and attractive options that comes with 6 types of rendering options with different lights and 3 different types of preset adjustment layers. This template is quite easy to customize.
Pub Burger Flyer Templates
Pub burger flyer template carries a unique design which makes it a perfect marketer for your bar, restaurant, pizzeria and more. It carries a color-coded structure, 100% print ready format and CMYK color format. You can customize it easily and quickly to suit your design project. You can also see Bakery Flyers.
Hamburger Menu flyer
Hamburger menu flyer is a retro-style burger flyer template for bars, restaurant, pizzerias, wineries and more food shops. It comes with a beautifully designed menu on a red background with yellow and white typography. This is one of the most promising fast food templates available online. You can also see Takeaway Menu Templates.
Classic Burger Flyer
Go for classic burger flyer template if you are looking for a unique and graceful flyer design for your bar, restaurant, food shop or more. This template is in PSD format that can be fully edited to make the template suitable for your needs. Get it downloaded today.
Burger Promotion Flyer Template
Burger promotion flyer template is a modern and attractive PSD design suitable for pizzerias, bars, restaurants and fast food corners. This is a print ready format with all elements designed on a brown background. You can add or remove any of the elements of this template by editing it quite conveniently.
Fast food Burger Flyer
Try this dark fast food burger flyer template and create an appealing flyer for your bar, restaurant, pizzeria or food court. This theme comes with a rich black background on which an elegantly design burger and typography gives an eye-catchy look.
Burger A4 Flyer Template
Burger A4 flyer template is another wonderful option for you to promote your food event or newly launched burger. This template comes with an elegant brown background with multiple sections to elaborate more about the products in an appealing way.
King Donald's Burger Flyer
Try this fully layered King Donald's Burger Flyer template and showcase your brand with your exciting burger products wonderfully. This template is ideal for pizzerias, bars, wineries, fast food providers and more. Download and edit it as per your suitability.
Super Burger Flyer
Download this fully layered and easy to edit Super Burger Flyer template dedicated to fast food businesses, restaurants, bars and more. This is a CMYK print ready template that you can edit to suit your business design. It comes in perfect red and off white color combinations.
Cheeseburger Template Flyer
Cheeseburger template flyer is a classic burger template with a pack of three banners with different burgers. All the three banners have different color backgrounds that are yellow, red and purple. It's a highly appealing and eye-catchy template which is ideal for bars, restaurants, fast food shops and more.
Special Burger Flyer
Get this Special Burger Flyer template downloaded and promote your burger and fast food elegantly. This template carries majorly an orange color scheme with attractively placed elements and graphics combined with a superb typography. Try this easy to customize template now.
Low Price Burger Flyer
Fast Food Burger Menu Flyer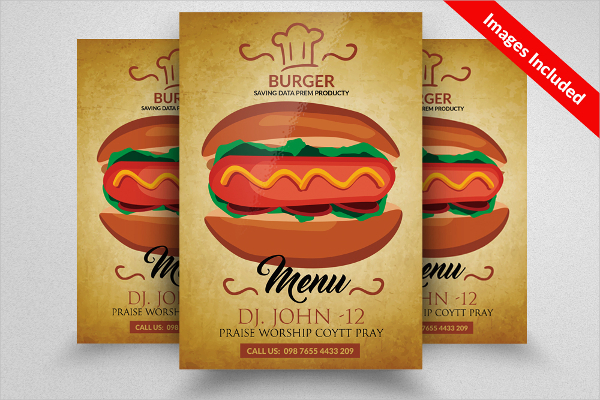 Fast Food Burger Menu Flyer is another burger flyer template ideal for bars, restaurants, pizzerias and more. With this you can edit color layers, text shape layers and more with a few simple clicks. It carries a beautiful yellowish background.
Fresh Burger Food Flyer Templates
This Fresh Burger Food Flyer template is designed especially for bars, restaurants, fast food corners and similar setups to let them promote their special offers on burgers. This template carries an appealing black background with your colorful burger designed wonderfully on it. You can also see Restaurant Flyer Templates.
Free Food Burger Menu Flyer Psd
American Burger Flyer Template
Burger and Beer Flyer Template
Retro Burger Free PSD Flyer Template
All these burger flyer templates are one of the best solutions among all the fast food flyers that have a potential to get your brand noticed elegantly. You can promote your brand, new food product, special weekend offer, festival offer or anything using these flyer templates. So get any of these templates downloaded and utilized in your flyer.
More in Flyer