PSD Christmas Party 3D FlyerThis Christmas is going to be the biggest and the busiest day of the year, and using Christmas flyer templates for your Christmas party invitation is the best way to get started with the commemoration of the birth of Christ. Flyer templates aren't for sending an invitation to every friend in your contact list. They are useful only if you want targeted people to know about your Christmas party. Here is a list of the best flyer templates for Christmas.
Christmas Party Flyer Template
Holding a secret party on Christmas is a good way to cheer the day, but the party won't just be a hit if you don't welcome your friends over. Consider using this template to create the best Christmas invitation flyer.
Christmas Club Flyer Template
Do you want to host a Christmas party for your club members? Download and customize this sample file and share it with those who you would like to invite to the party.
Christmas Invitation Flyer Template
Try the Christmas invitation flyer template for a great turnout for your party. The template is easy to edit, easy to customize, and ready for print.
Christmas Event Flyer Template
If you don't hang out with friends on Christmas, it isn't Christmas at all. Start planning for the season early by organizing early events and using this Christmas Event Flyer Template to create the event flyers.
Christmas Program Flyer Template
Have a special program for Christmas in mind? Would you like your friends to come and be part of the event? You can use this template to create and share the program with people you would like to invite.
Christmas Holiday Flyer Template
This Christmas is going to be a very long holiday, so you can start it early by creating and distributing flyers. This one is the best for personal, family, and commercial use. It is ready for print and easy to customize.
Office Christmas Party Flyer Template
Want to organize a party for the employees in your company? An office Christmas party flyer template can enable you to spread the word to each employee without spending a dime. Download the file, customize it, and then distribute it.
Abstract Christmas Flyer PSD Template Download
Merry Christmas Flyer Template
Send merry Christmas greetings to your customers using this flyer template. Show your customers how much you value them, and they will surely come back to give more business to you in 2017.
Christmas Nativity Flyer Template
Printable Christmas Party Flyer Template Download
Fully Loaded Christmas Party Flyer Template
Christmas Winter Party Flyer PSD Template Design
Christmas Eve Party Celebration Flyer Template
Chalkboard Style Christmas Flyer Template Download
Christmas Wishes Flyer Template Download
Flat Xmas Party Flyer PSD Template
Merry Christmas Event Flyer Template
Beautiful Christmas DJ Music Party Flyer
Cool Christmas Party Flyer PSD Template
Christmas Party 3D Flyer PSD Template Download
Christmas Sale Flyer Template
Do you want to increase your sales of goods and services by 60% this Christmas? A sales flyer can help you reach thousands of consumers without emptying your bank account in the name of paid advertising.
Christmas Concert Flyer Template
People like to party on Christmas. And, this means a great opportunity for you to take money home, a lot of money. So why not use this flyer template to market your upcoming concerts?!
Christmas Toy Drive Flyer Template
Parents take their kids for toy drive every Christmas, so you can take advantage of the opportunity and start selling your services using the best Christmas Toy Driver Flyer Templates.
Blank Christmas Flyer Template
Blank Christmas flyer templates are easy to customize and 100% editable. You can use them for any purpose, whether business or personal, without having to pay a dime for or after download.
Christmas Party Celebrations Flyer Template
Christmas in July Flyer Template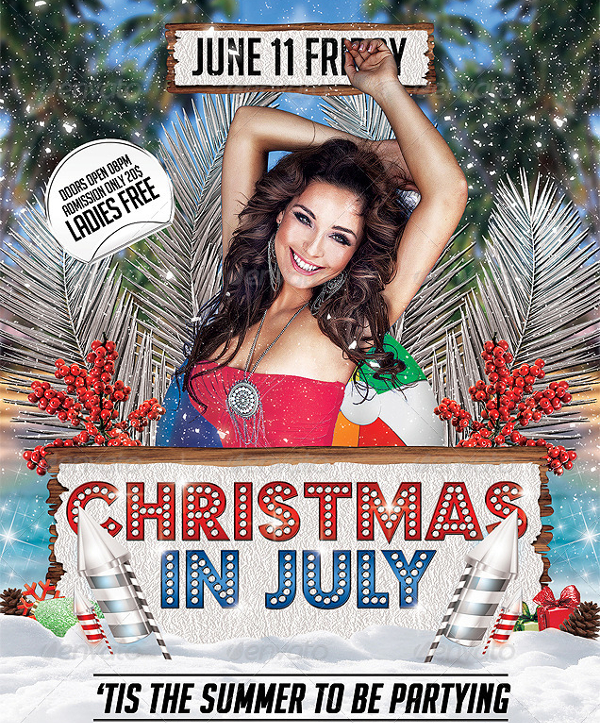 Early Christmas often comes first, and there is no better way to celebrate it than inviting friends over to that special meal. The Christmas in July flyer template is suitable for sending all those invitations.
Christmas Dinner Flyer Template
A dinner outside home with family members and a couple of friends will do this festive season. The Christmas dinner flyer to tells friends what you have in store for them.
Christmas Lights Flyer Template
Christmas is the season when people buy Christmas lights and special Christmas trees. Moreover, this means a wonderful business opportunity for you. Use the Christmas lights flyer template for direct marketing and get noticed by many potential consumers.
Celebration of Merry Christmas Flyer Template
Christmas flyer templates will make the task of creation of your flyers cost-effective and efficient. You can add a few creative options to the sample template you download to create a high quality flyer that will draw the attention of targeted guests to your party.