Flyer
29+ Christmas Flyer Templates – PSD, Word, Vector Format Download
Christmas is one of the most celebrated festivals all around the world. It is the biggest and the busiest day of the year. Choosing to use the flyer templates to make your Christmas party invitation is the best way to get started with the commemoration of the birth of Jesus Christ. Flyer templates aren't for sending an invitation to every friend in your contact list. They are useful only if you want targeted people to know about your Christmas party.
Here is a list of the best flyer sample templates for Christmas. They can be of great use to you as you do not have to make them right from scratch, so you can also save a lot of time and effort on your part for more. Check these templates out and pick the one you like best.
Beautiful Christmas Party Flyer Template
Searching for a template that you can use for the coming holidays? Then you are in the right place! The colors and text are fit for the occasion. It comes in many file formats like MS Word, PSD, PDF, InDesign, etc. You can also take the help of the event flyer templates that are available online for more. So, you can pick the format you like best and design your flyer with your details. Save yourself the pain from preparing a flyer from scratch with the help of this template. Get this template now!
Green Christmas Party Flyer Template
Christmas is the season when we get to enjoy the company of our friends, workmates, families, and loved ones. Get closer to these people by bringing them together for one unforgettable Christmas party when you use this party flyer template as your promotional tool. The color scheme, artwork, and layout are perfect for the season. Also, this template will give you the creative freedom to add or modify anything you want, thanks to its customizable feature. Another added advantage of using this template is that it is not just limited to the computer or PC, but you can download it with ease on any electronic device. Check it out now!
Toy Drive Christmas Flyer Template
Looking for a template that will help you in promoting and advertising your Christmas events? Well, look no more because we have already provided you with the best Christmas event flyer template that you can readily use to jump-start your Christmas event promotions. Check Christmas invitation card templates for more. This template will undoubtedly attract your target customers especially that it contains festive designs that will bring their excitement holidays. You will increase your business' potential to boost sales and profit during the holidays. All you would have to do is download the template, edit and customize it with your details and you are good to go. Try it out now!
Christmas Bash Flyer Template
Christmas Concert Flyer Template
Christmas Gospel Splash Church Flyer Template
Christmas New Year Chalk Flyer Template
Christmas Kicks Flyer Template
Classy Christmas Invitation Flyer Template
Christmas & New Year Party Flyer Template
Christmas Party Flyer Template
Christmas Club Flyer Template
Christmas Invitation Flyer Template
Christmas Event Flyer Template
Christmas Program Flyer Template
Christmas Holiday Flyer Template
Office Christmas Party Flyer Template
Abstract Christmas Flyer PSD Template Download
Merry Christmas Flyer Template
Christmas Nativity Flyer Template
Christmas Sale Flyer Template
Do you want to increase your sales of goods and services by 60% this Christmas? A sales flyer can help you reach thousands of consumers without emptying your bank account in the name of paid advertising.
Christmas Concert Flyer Template
People like to party at Christmas. And, this means a great opportunity for you to take money home, a lot of money. So why not use this flyer template to market your upcoming concerts? Try them out now!
Christmas Toy Drive Flyer Template
Parents take their kids for toy drive every Christmas, so you can take advantage of the opportunity and start selling your services using the best Christmas Toy Driver Flyer Templates.
Blank Christmas Flyer Template
This template that is mentioned above is completely customizable and can be edited as per the needs of the user. Not only that, it comes in many file formats, so pick the one that you like best. Check creative flyer templates for a varied list of flyers that you can make, regardless of what occasion it is. You can use them for any purpose, whether business or personal, without having to pay a dime for or after download.
Christmas Party Celebrations Flyer Template
Christmas in July Flyer Template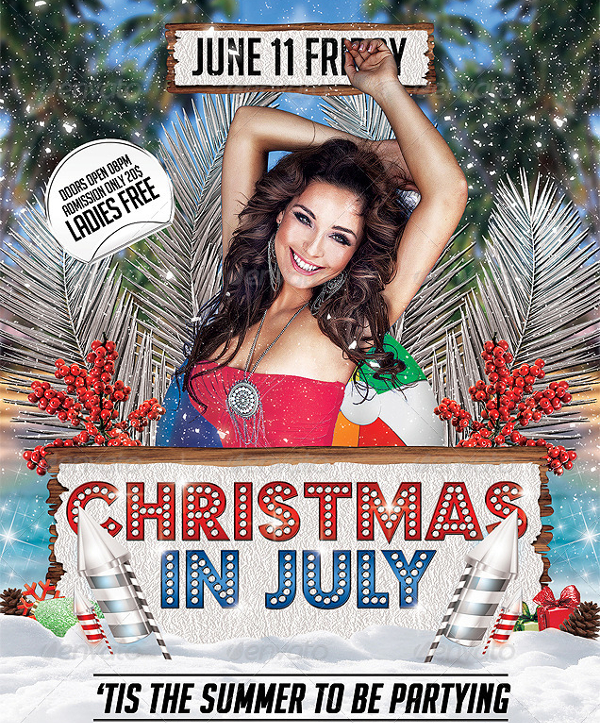 Early Christmas often comes first, and there is no better way to celebrate it than inviting friends over to that special meal. The Christmas in July flyer template is suitable for sending all those invitations. Simple flyer templates that are available all over the internet on the tab of a button can be used to make custom made flyers as per your needs and requirements. Check it out now!
Christmas Dinner Flyer Template
A dinner outside the home with family members and a couple of friends will do this festive season. The Christmas dinner flyer tells friends what you have in store for them.
Christmas Lights Flyer Template
Christmas is the season when people buy Christmas lights and special Christmas trees. Moreover, this means a wonderful business opportunity for you. Use the Christmas lights flyer template for direct marketing and get noticed by many potential consumers. Check out sample flyer templates as well.
Celebration of Merry Christmas Flyer Template
Conclusion:
Designing a flyer right from scratch can be a tedious job for you to do. To make your job easier, we have the right flyers you can use in this article and many more on our website. This way, all you would have to do is edit and modify the templates as you like, so that it has your details in it.
You can add a few creative options to the sample template you download to create a high-quality flyer that will draw the attention of targeted guests to your party. Christmas concert flyer template will help you create flyers that are perfect in case you plan on hosting a concert or a music show for your Christmas party this year. Check them out now! Have a Merry Christmas and a Prosperous New Year!
General FAQs