Flyer
25+ Fast Food Flyer Templates – Word, PSD, AI, Vector EPS
Flyer templates have always been one of the most popular marketing mediums, irrespective of the business theme. For ages, restaurants, fast food joints and other eateries have been counting on food flyers to spread the word around.
Whether you have to talk about your latest gourmet deals or hot favorites from your restaurant or any holiday special offer, flyers would be a brilliant idea. You can any day take to pre-designed customizable flyer templates here for your convenience. You can also see Food Drive Flyer Templates.
Fast Food Flyer Template
Burger Restaurant Flyer Template
Restaurant Menu Flyer Template
Burger House Flyer Template
Restaurant Mexican Pizza Flyer Template
Delicious Fast Food Flyer Template
Fast Food Restaurant Flyer Template
Wings Fast Food Flyer
You are getting a delicious wing fast food flyer template here with an amazing vibrant layout that is sure to appeal to all the wing lovers out there. You are getting space for your best deals, address and other contact details.
Double Sided Fast Food Burger Flyer
If you are looking for fast food flyers that would enable you to discuss about your best dishes along with pictures, then double sided flyer template would be great for you.
Fast Food Menu Flyer
You have a cool collection of as many as 6 fast food menu flyer templates here that would allow you to either highlight the hot favorite of your restaurant or the best dishes with pictures and cool infographics.
Fast Food 3x Flyers
You have a smart collection of 3 practical fast food flyers here that offers you enough space to champion the best dish of your restaurant followed by other customer favorites, with pictures and price.
Pizza and Fast Food Flyer
These modern fast food flyers samples could be used for any pizza outlet or any other restaurant. Both the flyer templates offer you a separate space to celebrate your best deal and you can list about 6 other products.
Fast Food Promotion Flyer PSD
You have a fiery multipurpose food flyer template here that is sure to pull your niche towards your store. You can upload pictures, name and price for up to 4 foods here, with the best one taking the center-stage. You can also see Pizza Flyer Template.
A4 Size Fast Food Flyer
The pitch black backdrop and the floral border corners beautifully exude a certain vintage charm. The template enables you to talk about 2 of your best foods at the back and the hot favorite at the front.
Takeaway Fast Food Flyers
If you are looking for fast food flyers to spread the word about your latest special deal that will enable you to advertise in bold with solid pictures and price, look no further than this template.
Restaurant & Fast Food Flyer
You are getting a very detailed multipurpose flyer template for any restaurant or fast food joint here which starts with the special deals at the top followed by other major dishes from your eatery and contact data.
Retro Fast Food Flyer
You have a simple yet smart fast food flyer template here in a retro look that starts with the website URL of your restaurant, followed by the outlet's name, your promotional message and a large-size picture of your new launch.
Restaurant Fast Food Menu Flyer
Asaditos Fast Food Flyer
You have a palatable fast food flyer here which starts with a delicious gourmet picture followed by information on 3 dishes. Your logo and slogan would be placed at the top of the flyer template.
Restaurant Food and Fast Food Flyers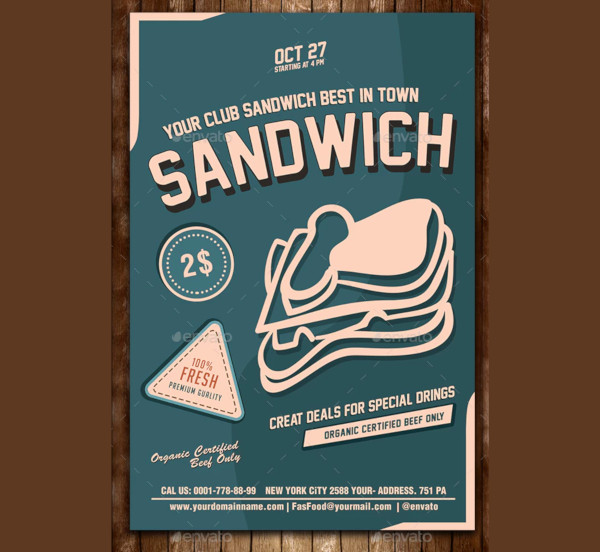 Fast Food Shop Opening Flyer
If you are looking for something contemporary with your fast food flyer, this template with a cool animated look would be the "thing" for you. It would be good to highlight your best dish or latest launch.
Online Fast Food Flyer
If you are on the lookout for a smart flyer that will allow you to mention the map for your store along with the deals on different dishes, this modern flyer template here would be the most suitable for you.
Fast Food Burger Flyer
Best Fast Food Flyer PSD Template
Promotion Fast Food Flyer
If you are in need of ideas for your fast food joint or restaurant flyers, the flyer templates mentioned above would be quite a deal. These templates are especially drafted for eateries with most complementary colors and backdrop. From vintage to classy to animated, you have a versatile collection here. You can also see Bakery Flyer.