Sports flyers are extremely useful in publicizing sporting events, tournaments, clubs, etc. These simple golf flyers can be used in various ways. They can be handed out to people. can be stuck at different places which are most likely to be noticed by people, they can be printed in magazines, distributed online, etc. If you want to show and publicize a simple golf game released event, then you can use any of the below-listed flyer templates.
38+ Golf Templates in Word | PSD | Google Docs | InDesign | Apple Pages | Publisher | Illustrator - START DOWNLOADING
Golf Flyer Template
Whether a golf course, golf lessons, or golf related events are what you want to promote, we have a flyer that will be of instant help to you. The above template is a fully customizable and editable template that will be of great use. You do not need to create a flyer from scratch. You can also check promotional flyer templates on our website for more. With this template, you can finally have a paper advertisement that is proven to be effective in boosting popularity, sales, and profit. Increase your potential for getting more customers by getting this template. Try it out now!
Modern Golf Flyer Template
Golf Course Flyer Template
Do you want to promote your golf court business and attract more gold players and enthusiasts to check out the facilities that you have? If so, then we got this template for you that is a comprehensive yet an attractive promotional tool. Golf scorecard templates will help you keep a score of all the games that are to occur in the event. Apart from its simple yet effective design made with royalty-free graphics, it also has well written suggestive content that you can either use as is or modifies to fit your business. All you would have to do is download the template, edit and customize it the way you want and the way that suits you best.
Golf Fundraiser Flyer Template
Golf Event Flyer Template
Retro Golf Flyer Template
A retro and vintage designed flyer will always catch the readers attention as they are one of the oldest, yet most admired type of design. The above template is one such flyer template that can be used when you need to promote any event or tournament that is happening in your golf establishment. This professional flyer template lets you use high-quality layout, artwork, and graphics files to create personalized promotional material for your business.
Annual Golf Tournament Flyer Template in PSD
Many clubs have an annual golf tournament that takes place every year. During this time, members of the club and also, their guests can take part in playing a golf game against one another. If your club in one such, then you need the right template to create the perfect flyer that will actually encourage your club members to play this fun game. We got you here, with one of the best flyers in town! Here's an Annual Golf Tournament Flyer sample template that's perfect for any yearly contest. Use this fully customizable template to increase participation and registration for your event.
Golf Club Event Flyer Template
Golf Tournament Flyer Template
How to Create a Golf Flyer?
Ever wondered how to create the right flyer for whichever event you are hosting? If so, then follow the following 5 easy steps to create the perfect flyer in the most effortless way possible:
1. Choose a Template
The first step in creating a flyer would be to choose the right template. There are many flyer templates available online for you to choose from the best one. Since the template will be the face of your event, make sure you choose the right one that suits the theme of the event and also the idea you have in mind perfectly. Pick the right size for your flyer.
2. Pick Colors and Fonts
The next step would be for you to pick the right colors and fonts that will go with your flyer perfectly. Remember, do not fill in the flyer with only fonts and texts. The background color combination, graphics, etc. should be in the right manner as they should not look too bright, not too dull, just right. Contrasting colors with the background might make your flyer look even more attractive. Flyer examples will help you understand what you can add in the flyer better.
3. Insert Images
Images play a major role in the flyer, as they speak louder than ay words can. This does not mean that you fill the flyer only with pictures, no. It should be an equal distribution of all of them that make the flyer look elegant and attractive to the reader's eye.
4. Add the Details
The next step would be to add all the details necessary. This means the details of the event, the name of the sponsors who are sponsoring the event, contact details, the location, the address, etc. All this should be clearly mentioned in the flyer so that in case anyone has any doubts, they can contact the right person. Keep in mind your budget while designing your flyer as it shows where you need to cut down costs.
5. Review and Print
Do not forget to fill in all the white spaces in the flyer. This does not mean you fill it totally and make it look clumsy either. Make it look attractive to your reader's eye. Digital flyers are most widely used as they gove the right look and condition to the person looking at the flyer. They can also be shared digitally. Once you are done with your flyer, review it properly. See if there are any mistakes that need to be changed and do so. Once it is finalized, take a print of it!
Junior Golf Tournament Flyer
The above template is a very attractive golf flyer template that can be used for golf tournaments played for fun, especially for kids. PSD flyers will help you create the [perfect, yet the most elegant flyers for your event. Check them out now!
Golf League Flyer Template
This template is a double-sided flyer that can be used while promoting charitable golfing events. There would be a lot of people interested in this as they would be ready to have a little fun while playing golf and also, give charity to those in need. All you have to do is download this template, write all the necessary details on the front side and the back side is the registration form for the guests.
Golf Tournament Invitation Flyer
Want to promote your first golf event competition? Then you are in the right place. Use the above template, as it can be used to promote the startup of your golf events with a beautiful invitation. It is easily editable and can be customized in the way you like best. There are many more on our website, which you can try for free. Check them out now!
Golf League Front & Back Flyer
It is a very well designed golf flyer template and can be of great help for the promotion of golf tournaments held at a professional level. It is printed on both sides.
Charity Golf Flyer Template
This golf flyer template contains 4 very attractive flyer templates that are most beneficial for charity golfing events. They are available in A4 and US Letter size and in PSD, INDD, IDML, INX AI, and EPS formats.
Golf Championship Flyer Template
This is a very beautifully designed golf flyer template best suited for promotion for high-level golf tournaments. It is available in PSD format in A4 and A5 size with 0.3mm bleed.
Modern Golf Flyer Template
This is a very well designed golf flyer template which can be highly beneficial in the promotion of golf tournaments held for beginners, amateurs as well as professionals. It is available in vector as well as JPEG formats.
Golf Tournament Flyer Template
If you are looking to promote a golf tournament whose motive is to raise money for charity then this golf flyer template can be of great help to you. It is available in PSD format and A4 size.
Professional Golf flyer
Golf Tournament Flyer Template
Golf Advertisement Flyer
If you wish to advertise products made for golfers then this alluring golf flyer template can help you in doing so. It is very well designed and can be easily edited using Adobe Photoshop and Adobe InDesign.
Kids Training Golf Flyer
Golf camps or tournaments are one of the most interesting events that happen in many places all around the world. The above template is one neatly designed golf flyer template that you will definitely love. It is available in US Letter size in 300 DPI resolution and CMYK color mode.
Golf Tournament Premium Flyer
This is a very creative and stylish golf flyer template and can hugely benefit golfing events specially organized for charitable purposes. It is available in PSD format and is fully editable.
A4 Golf Flyer Template
Golf Day PSD FLYER
Country Club Golf Course Flyer
Golf Course Flyer Template
Golf Tournament Vintage Flyer Template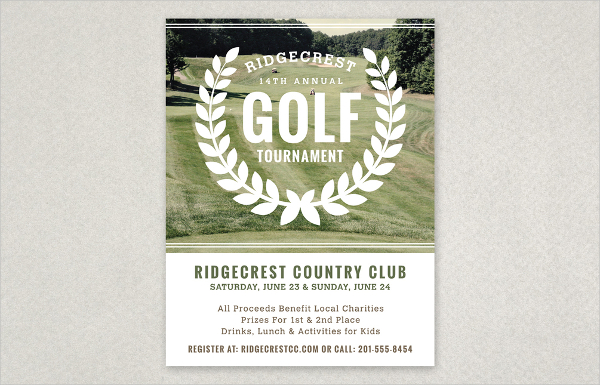 Conclusion:
The above-mentioned templates are one of the best and the most creative golf flyer templates available ion the internet. There are many different club flyers that are available which can be used to promote different club you represent or own in the best way possible. This way, you get to attract more clients. Modern flyer templates can help you create a modern look for all the flyers you want to design.
You can also mention the tournaments and events that take place as well. There are many sports flyer you can choose from on the internet, and especially on our website. You can choose the one that suits your liking and theme the best and edit it the way you like. Choose the flyer template best suited for your purpose and promote it by creating attractive flyers using these templates. Happy designing.