Flyer
51+ Summer Camp Flyer Templates – PSD, EPS, InDesign, Word
During the summer holidays, nothing motivates and excites children more than the prospect of going to a summer camp. All different kinds of activities take place in these camps, some of them have themes too. Flyer designs will help you design many different and beautiful flyers for your summer camp. To make the best one for your camp, here are a few flyers that can help you. Take a look at them!
Youth Summer Camp Flyer
Basketball Summer Camp Flyer Template
Kids Summer Camp Flyer Template
If you have a summer outing planned then you may most certainly choose one of the many summer camp free PSD templates online to create a flyer of your own! PSD event flyer templates will come in handy for you to design one of the best flyers.
Amazing Summer Camp PSD Flyer-$6

The images bright smiling kids enjoying themselves in various fun activities at a summer camp make this template a usable one for your summer camp flyer. You will get ample space for your camp details.
Awesome Summer Camp Brochure Flyer Template-$6

These beautiful children pictures that decorate the layout are sure to attract customers towards your summer camp. They have an attractive feature that makes them look inviting. You will have optimum space at the bottom of the flyer to inform people about your camp.
Wooden Background Summer Camp Flyer Template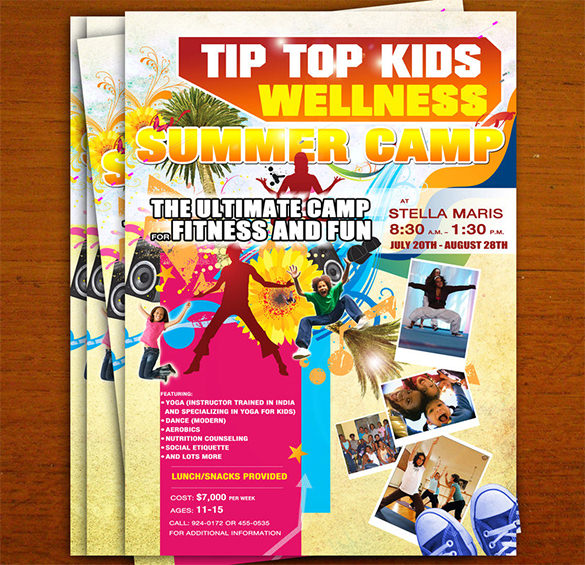 This is probably the best template for a summer camp flyer with its lively splashes of bold colors here and there that echo the true active spirit of the camp. The left side of the template offers you a good space to cite the details.
Fabulous Kids Summer Camp Brochure Template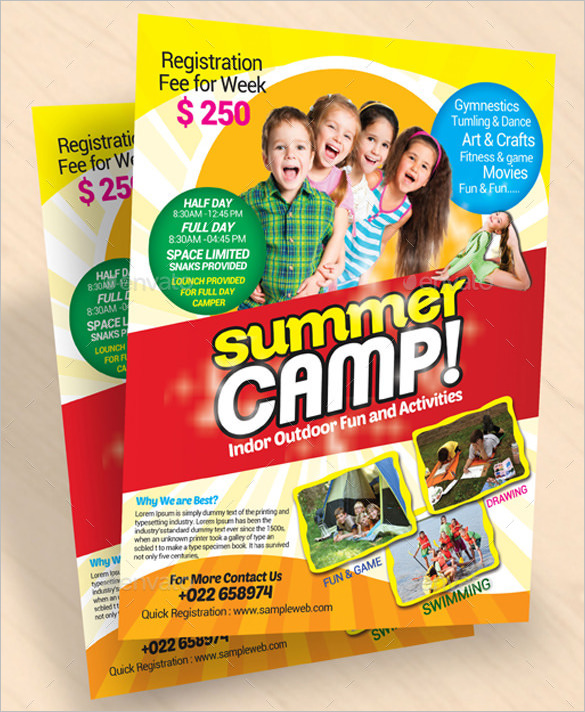 This template reflects the bright spirit of a true summer camp with its happy pictures where you have happy kids grinning and enjoying many fun activities. You will get a good space to scatter your textual data.
Camp Flyer Template
Make use of this camp flyer template that looks colorful and fun. It lets you feature your campsite so everyone can reach out to you for more details. It comes with creative image suggestions featuring a happening night out with friends and nature. It also contains suitable texts, fonts, and backgrounds.
Youth Summer Camp Flyer Template
If you are looking to run a summer camp that lets teenagers meet new people and experience fun activities that are enjoyable for the summer, then you will be needing this youth summer camp flyer template for advertisement purposes. Just make sure you use the compatible file formats available for editing and customizing the contents of the template.
Sports Camp Flyer Template
Take a look at this sports summer camp flyer template that enables you to gather participants to join your sports camp. By using the pre-formatted images, fonts, designs, and layouts, you can make your camp advertisement look all the more fun, appealing and energetic.
Kids Summer Fest Flyer Template
Kids summer fests are awaited by many parents so they can enroll their kids to give them a wonderful and unique experience. Charm the viewers by designing a summer fest advertisement by using this above template. It has attractive fonts and colors that make it suitable to display fitting content for the kid's camp. You can also use this template for sports and other workshop events.
Beach Summer Party Flyer Template
Download this awesome summer beach party flyer template that is best suitable for events or music parties that are held nearby the beach. It perfectly depicts the essence and scenery of the event which is bound to get people excited to attend the event. Be at ease now by making this template all yours now!
Summer Party Event Flyer Template
Advertise your party event in a more effective manner by downloading this beautiful summer simple party flyer template. It is designed professionally with an intention to captivate the reader's interest so they can attend the event by bringing along more people with them.
Summer Camp Flyer Template
Using this "Summer Camp Flyer" template, design the most colorful and eye-catching advertisement that is guaranteed to capture people's interest. Customize it by including your own offer and contact details. Get amazing y using them on various file formats available.
Summer Lounge Flyer Template
Editable Summer Picnic Flyer Template
Summer Beach Party Flyer
Hipster Beach Summer Flyer
Summer Night Flyer Template
Elegant Summer Beach Party Flyer Template
Cocktail Summer Party Flyer
Vintage Summer Party Flyer Template
Comic Summer Flyer Template
Summer Beach Party Flyer Template
Best Flyer Template for Summer Camp Download
Summer Camp Flyer Sample Download
Premium Flyer Template for Summer Camp
Fantastic Kids Summer Camp Flyer Template-$8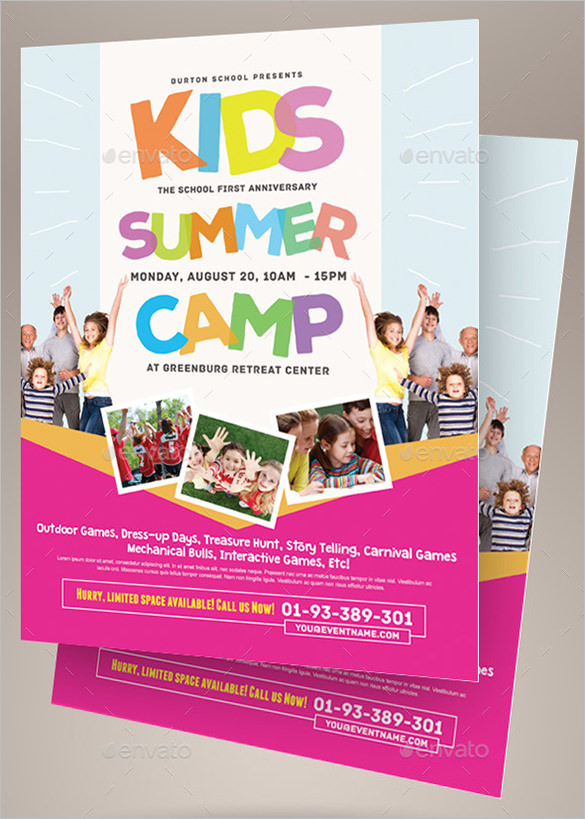 Beautiful PSD Flyer Template for Summer Camp-$6
Summer Camp Flyer Template Premium Download
Beautifully Designed Summer Camp Flyer Template
Colorful Summer Camp Flyer Sample
Modern Summer Camp Flyer Template
Fully Layered PSD Summer Camp Flyer Template
Summer Camp Flyer Invitation Template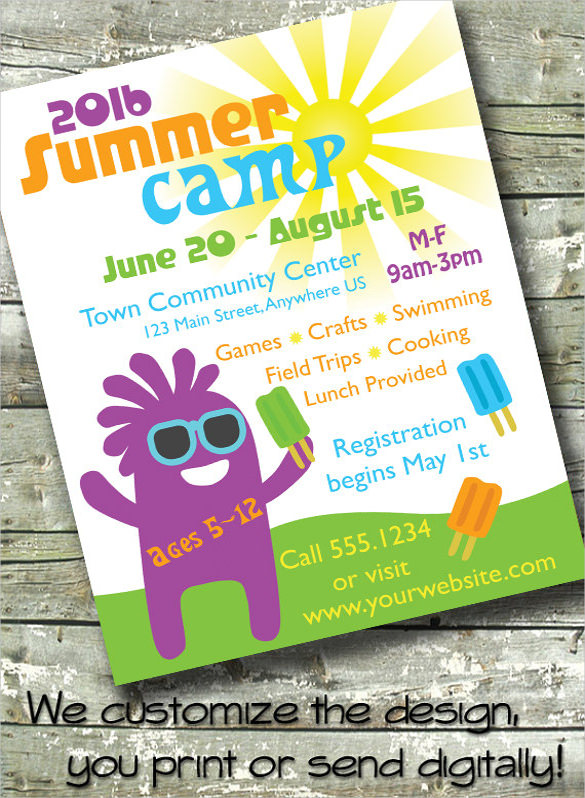 Fully Layered Summer Camp Flyer
3 Design Variation Summer Camp Flyer Template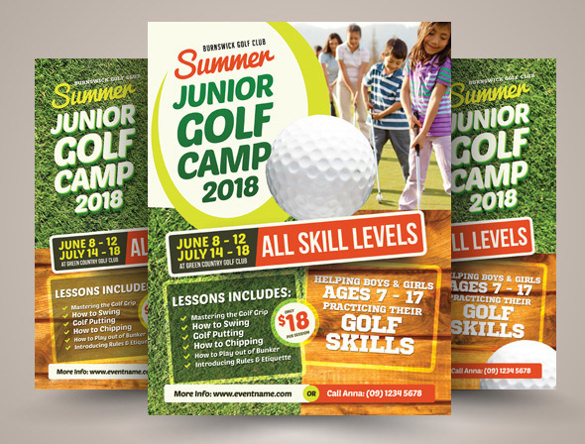 Fully Editable Summer Camp Flyer
IDML Format Summer Camp Flyer
Kids Summer Camp Template Fully Layered
Perfect Summer Camp PSD Flyer Template
CMYK Format Summer Camp Flyer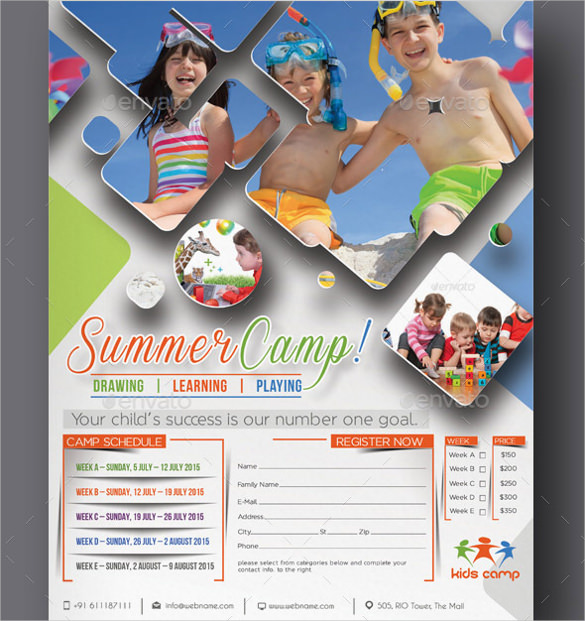 Parents & Kids Games Summer Camp Flyer
Summer Camp Flyer Template Bundle
Editable Summer Camp Flyer In Photoshop
Cute Kids Summer Camp Flyer Template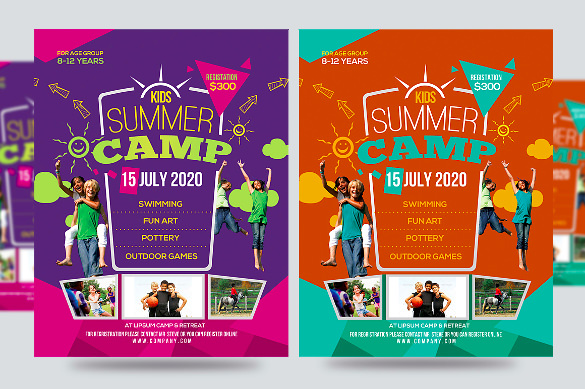 Designed Kids Summer Camp Flyer Template
Easy To Edit Summer Camp Flyer Template
Modern Design Summer Camp Flyer Template
Best Summer Camp Flyer Template
3 Alternative Design Summer Camp Flyer
Conclusion:
To inform your audience regarding the venue, the expense for summer camp exercises; you can design a template that has all the required details. If you are planning a summer camp anytime soon then you can use free summer camp flyer formats. You can customize as per your standards and controls with dates and themes and any other personal additions that you wish to add. Nothing else can display a summer camp better than summer camp flyers can.
If you have a summer camp in the works, it would be really good for you to pick any one of the free summer camp flyer PSD templates and draw up a flyer for your camp. You can easily insert relevant details and you've got a flyer ready to go around! If you're planning a summer camp especially for the kids, then the flyer that you send out for distribute must also feature kid-friendly elements. Having a colorful kids' picture on your flyer would be an instant crowd-puller. There's ample space allocated to insert camp details.
Flyer General FAQs
1. Define a Summer Camp Flyer.
A summer camp is a camp that provides recreational and sporting activities to kids during their summer vacation period. A flyer that is specifically designed for this event is called a simmer camp flyer. It has all the details that anybody and everybody interested in a summer camp needs to know.
2. What is the purpose of using a Summer Camp Flyer?
A summer camp flyer is perfect for promoting a kids' summer camp event, sports and adventure events, etc. during the summer vacation time. Such kind of flyers helps everyone understand and know what happens in a summer camp, hence increasing the excitement for the young kids to attend the camp.
3. What details should a Summer Camp Flyer include?
A summer camp flyer can include the following:
Interesting images to attract the reader's eye
Details of the activities at the summer camp
Venue and location address
Call fo action like "Register Now", "Sign up now", etc.
Start and end date of the camp
The preferred age group
Contact details and email address.
4. What is a Summer Camp important?
A summer camp is important because it provides educational, athletic, and cultural development of a child. The environment at a summer camp also allows children to learn new skills in a safe and nurturing surrounding. Summer camp experience might have a lasting physiological influence on the overall development of a child.
5. What are some benefits of a Summer Camp?
Benefits of a summer camp:
It nurtures social skills
Models healthy living
Eases the summer slide and boredom of a child and parents equally
Enhances self-confidence in the kids
Helps build friendships from various grounds of society
It reintroduces kids to nature
It helps foster teamwork and encourages the personal growth of the child.