Design Templates
22+ Social Media Pack Templates
Technology has created a unique breed of creative e-commerce entrepreneurs. And they have now taken over the social media scene. You can find almost any kind of businesses online, with interactive websites, relevant post designs, and more. If you so happen to be on the entrepreneurial side, then you know managing multiple social media accounts can prove to be quite challenging. You'd need to market your products, update posts, and entertain new and old customers from all over the web, all at the same time! This is where your social media pack comes in.
A social media pack is a bundle of beautifully designed templates and ready-made posts to make online marketing and advertising more convenient. These bundles usually vary in content and design elements. Either way, they are highly customizable and are designed to cater to your needs.
Our list of social media pack templates consist of unique and diverse sets of designs to give you plenty of options to choose from. From advertising banner designs to Instagram-ready posts, get all these and more by downloading the social media pack of your choice.
Professional Media Kit Template
Free Download
Free Event Media Kit Template
Free Download
Blogger Media Kit Template
Free Download
Company Media Kit Template
Free Download
Free Travel Blog Media Kit Template
Free Download
Free Online Media Kit Template
Free Download
Free Magazine Advertising Media Kit Template
Free Download
Free Digital Advertising Media Kit Template
Free Download
Free Marketing Media Kit Template
Free Download
Lifestyle Social Media Pack
Get a load of these awesome ready-made design layouts for your images and posts on your social media accounts. The Lifestyle Social Media Pack provides different design elements, fonts, and background textures in separate layers for you to edit them effortlessly. The output itself looks completely seamless.
Human Social Media Pack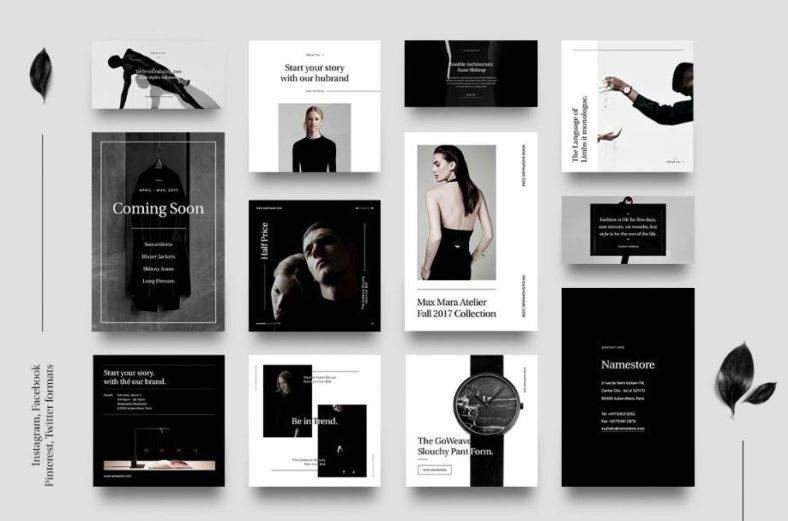 Have your products looking mod and sleek with these advertising mock-up designs ready for customization. This social media pack is best suited for the minimalist and luxury e-commerce brands. It ensures a clean and consistent look all throughout your posts.
Street Fashion Social Media Template
This Street Fashion Social Media Template is perfect for your street wear finds and urban street style. This bundle is composed of more than 70 files of social media templates. There are different layouts for every social media site to ease your editing and posting. Get awesome Facebook timeline covers, Tumblr headers, and more.
Social Media Booster Kit
Cupcake Social Media Pack
Naturalis Social Media Pack Template
Achieve that super clean yet dreamy look for your social media posts with this Naturalis Social Media Pack Template. Your flyers, ads, and promotional images will surely look one of a kind, because you're now stocked with exclusive high resolution images. This social media pack is highly compatible with various design software to aid you in producing quality works.
Bronx Social Media Pack
Your social media templates will look even more enticing with this contemporary social media pack. With lots of pre-made styles and color swatches, you can easily edit your posts with a simple click of a button. This high quality pack is designed for the young and dynamic entrepreneurs of fashion, studios, restaurants, and architecture.
Jumbo Social Media Kit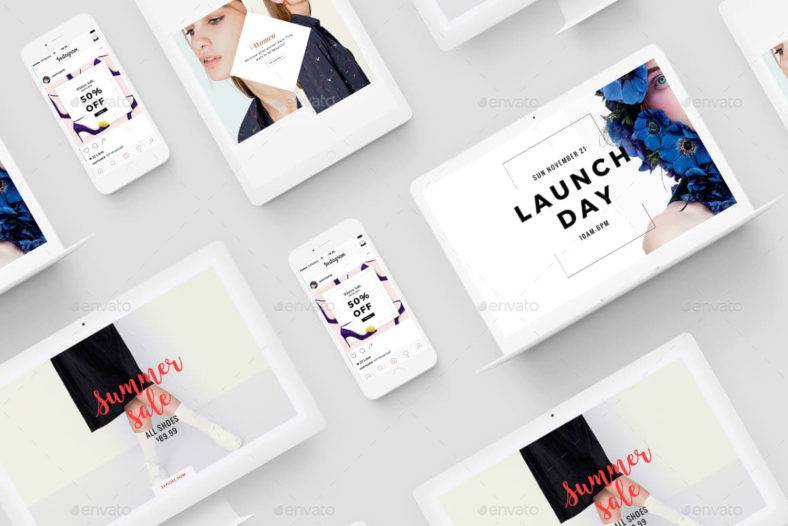 Social Media Bundle
Create sweet and chic social media flyers and Instagram banners with this Social Media Bundle. It's packed with ready-made designs and fun layouts for your e-commerce blogs, Instagram, and Pinterest account.
Minimal Social Media Template
If the aesthetics of your brand is more on minimalism, then this Minimalist Social Media Template is the best virtual pack for you. Its layouts are ultra-clean and organized to give you that subtle intensity throughout your design banners, social media updates, and flyer ads.
Styled Social Media Kit
Styled is the ultimate social media pack for the youthful and vibrant entrepreneurs of the virtual world. Compliment your social media website theme with this pack of entertaining post-modern designs and layouts. They're designed for full responsiveness and high customization, with pre-made layouts and varied color swatches.
Casual Social Media Pack
Juniper Social Media Pack
Modern, clean, and fully customizable, don't miss out on this multipurpose Juniper Social Media Pack for your unique business. It's incredibly easy to edit with highly compatible Photoshop layered templates varying in sizes and shapes. You'll also get to achieve that serene and natural look because all the images and fonts are included to give you more designs to get creative with.
Getting yourself a social media pack is not simply a random entrepreneurial move. It plays a huge role in constantly upgrading your brand, being relevant in the scene, and keeping a solid online presence. Furthermore, equipping yourself with your choice of social media pack can make business so much easier for you, while giving clients quality works.
Keep up with the fast-paced virtual lifestyle and show off your inspirational brand with a stylish and creative social media pack up your sleeve. Download one now!