We do a number of activities to keep ourselves fit and healthy. Different people use different exercises like jogging, walking, exercise and sports, etc to make themselves feel fit and healthy. One of the most popular activities to be healthy and fit is yoga. Yoga is a sort of physical exercise that may contain different positions and poses to maintain physical fitness and health. Our website has a wide range of premium templates which are print ready. You can easily download them as they carry great flexibility and customization. So explore the world of a template and have a look as to what you want. You can also see Revival Flyers.
Yoga Fitness Flyer Template

Buy Now
Harmony Yoga Flyer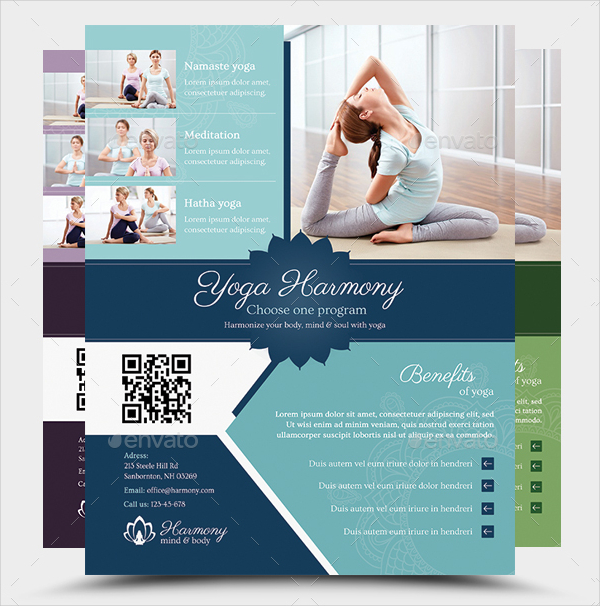 This beautifully designed Harmony Yoga Flyer is a original, single & contemporary flyer template. Particularly designed for yoga classes and power yogas, it can also be used for fitness and health care centers. It comes with 300 DPI resolution and CMYK color mode.
Corporate Yoga Flyer
If you wish to have your flyer an attractive, appealing, and full of useful information then this professional looking Corporate Yoga Flyer is best for you. It can be used for yoga classes and health and fitness center. It is provided with a help file and comes with 300 DPI resolution.
Infographic Yoga Flyer
This InfographicYoga Flyer is packed with some strong functionalities. This is definitely a good deal for yoga companies. It comes with attractive layouts and customized fonts.
Classic Yoga Flyer
With an attractive image and sophisticated fonts, the template readily grabs people's attention. It comes in a set of 3 outstanding templates. It is best used for fitness and health care businesses. It comes with 300 dpi resolution and allows downloading free fonts.
Meditation and Yoga Flyer Template
If you want to grow your business in a professional way and want to convey the depth and seriousness of your yoga business then use this useful Meditation and Yoga Flyer Template . It has amazing layouts and background with attractive logo designs.
Vector Yoga Flyer Template
If you really wish to market your yoga business, then Check out this great Vector YogaFlyerTemplate. These flyer designs are print ready and easy to edit. It comes with 300 dpi resolution and is highly responsive.
Nature Yoga Flyer Template
This yoga template is compatible with all major browsers. It is used to advertise your yoga shows, service, company, event or party. It has attractive layouts and comes with high quality and has a professional look.
Fitness Gym Flyer
Designed with JPEGS format and editable options, this template can be best used for promoting your yoga, spa and health centers. The attractive look and design of this template amuse at the first sight. It comes with very high resolution and CMYK color mode. You can also see Insurance Flyer Templates.
Professional Yoga Flyer Template
This professionally designed flyer template useful for promoting yoga businesses comes with a clear layout and 300 dpi resolution. The files contained are in high resolution.
Simple Yoga Flyer Template
This Simple Yoga Flyer Template imparts a beautiful look with vibrant color backgrounds. It is a PSD print template. It is a fully editable template with pictures of yoga exercise. It comes with Properly Layered 3 Photoshop Files and CMYK color mode.
Yoga Fitness Class Flyer
This amazing and well-designed Yoga fitness Class Flyer comes with some attractive features such as Easy to change colors, Editable fonts/text, 300 dpi resolution, CMYK color mode and more.
Abstract Yoga Flyer Template
The Abstract Yoga Flyer Template has the objective of the company. It has premium designs for all page sizes. It comes with Google fonts that help you in supporting your content and attracting many customers.
Yoga Flyer Ideas
This good-looking flyer template can be used as the best marketing tool for endorsing your business. It comes in 300 dpi resolution, CMYK color mode and 8.5 x 11-inch size.
Yoga Flyer Design
Available in different colors and sizes, this attractive yoga flyer design is best used to advertise your yoga classes. It comes in A4 Format and can be used as a single page or double pages. It is fully editable and comes with 300 dpi resolution and 3 mm bleed from each side.
Feminine Yoga Flyer Template
Yoga Training Flyer Template
Yoga Templates and flyers will help your website to attract and encourage customers to keep coming back. Our templates are fully Responsive, fully layered, having parallax sliders, editable options, and other great selections accessible to you. Choose the best ready-made yoga flyer that will help you to grow your business. You can also see Event Planning Flyer Templates.