Not all menu cards refer to a list of food or meals sold by dining establishments. A menu may also have to do with a listing of options available to a person when he/she is performing or completing a task. For example, a person who wants to watch a TV show will have to choose from a TV show menu guide. Another example is when a person goes to a salon templates, receives a salon service menu card, and then chooses between the different services that the establishment offers from that menu card.
This article will focus on the salon menu card mentioned in the latter example. We provide more information on how anyone can create, design, and edit salon menu templates for their own salon business.
60+ Salon Templates in Word, PSD, Google Docs, InDesign, Apple Pages, HTML5, Publisher, Illustrator - START DOWNLOADING
Why use salon menu cards?
If you are a salon owner, you would already have a lot of things on your plate just to keep your business running. To some, creating and using salon menu cards can even be a hassle. But if you want your business to succeed, implementing different sustainable marketing strategies today may allow you to reap greater rewards later on. Listed below are different reasons to help convince you why you should invest in menu cards for your salon business.
To simplify business process. A salon is a place where a lot of men and women go to receive beauty treatments. The place can become jampacked when customers arrive during peak hours. Unless there are a lot of beauticians, hairdressers, or manicurists employed in a salon, customers tend to see a lot of wait times. By using a salon menu template, customers are given ample time to choose from the different services they can get. The salon owner or receptionist does not have to explain all the available services to each customer. They can just give them the service list menu and answer any additional questions they may have. Overall, salon menu cards serve as an efficient way to manage both employee and customer time.
To draw more customers. Aside from serving walk-in customers, salon menu cards may also be used as a marketing tool. They may be turned into a promotional flyer showing prospective customers a list of the salon's offered services. And by adding the corresponding cost for each service, customers are able to allocate a portion of their income for the service.
To organize all offered services. Most salons offer a variety of services (whether standalone or in a package or set). By creating a salon menu card, all these services will be organized in a list. Employees will have a list they can refer to every time a customer asks them if they offer a service or not. For example, hair salon price list templates should include a list of the different hairstyles, hair color options, perming options, etc. and their corresponding prices. This prevents price inconsistency and customers getting the run-around when asking for a price of a specific service.
To strengthen brand image. If you want a distinct look and feel for your salon business, you need to think about and implement different branding strategies. Using salon menu templates that include your business logo design is one way to do this. Your business logo needs to be present on every possible surface on your salon including, but not limited to, employee uniforms, salon signboards, equipment used by employees, official business cards, etc. Doing all these things will help increase your brand's recognizability and people will readily associate your logo design with your salon business. For more tips, check out this article on how to design business cards.
To increase customer engagement. Salon menu cards also help increase customer engagement since they serve as a talking point either while waiting in line for a hairdresser or when referring a salon's service to friends and family members. In the digital age, customers may now take a picture of your salon's service menu cards and post this on Instagram or Facebook or other social media sites. Through this, information about your salon will spread online and your customers are able to provide you with almost real-time feedback. To improve your salon's online presence, try out these creative social media banners.
To create a competitive edge. As a business owner, the goal for creating salon menu templates is to increase your edge over your competitors. When more customers prefer your salon services, you will have more earnings. Doing well in a competitive industry like the beauty and cosmetic service industry can be hard to achieve but it is doable. You and your employees just have to be patient and enjoy the ride.
Embedded below are 15 examples of salon menu templates that you may easily customize to match your own salon's image. Browse through them and then purchase or replicate the menu designs that you think will best match your needs.
Salon Menu Template
Beauty Salon Menu Template
The Beauty Salon Menu Template embedded above features a simple design and is straight to the point when revealing the different salon services. This is the type of salon menu template to use if you want your customers to readily read about the services that they can avail. In this example, each salon service is described in a few words allowing customers to know what that specific service is like. Check out this link for tips for writing great menu descriptions.
Blank Salon Menu Template
Faux Gold Salon Menu Template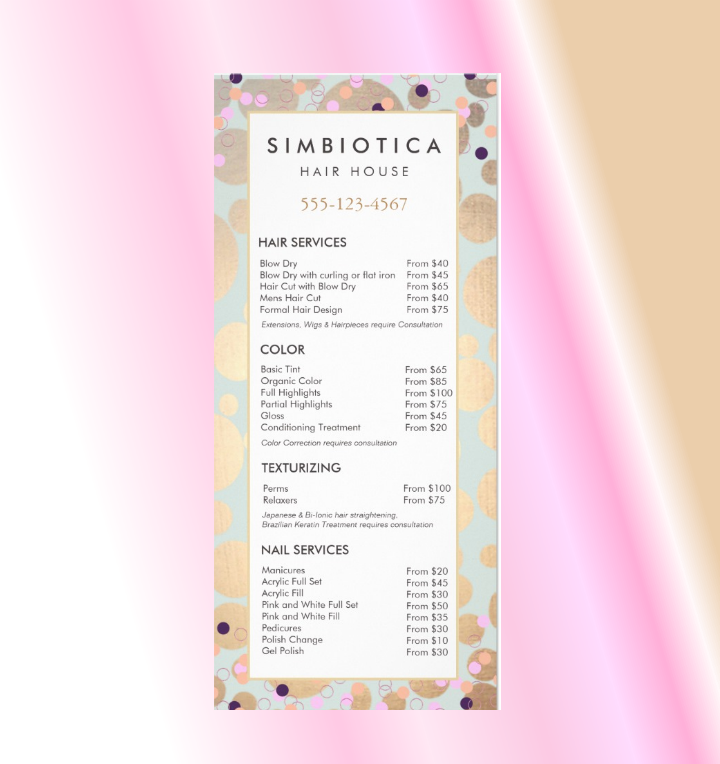 The Faux Gold Salon Menu Template shown above is an example of a hair salon service menu. This specific salon menu card template does not use pictures for the services they offer. Instead, all the services are listed in an organized manner. The faux gold foil patterns framing the menu templates helps give a sense of sophistication to the menu card. This card may easily be replicated using editing software like Adobe Photoshop, Adobe InDesign, and even Microsoft Word.
Hair Salon Menu Design Template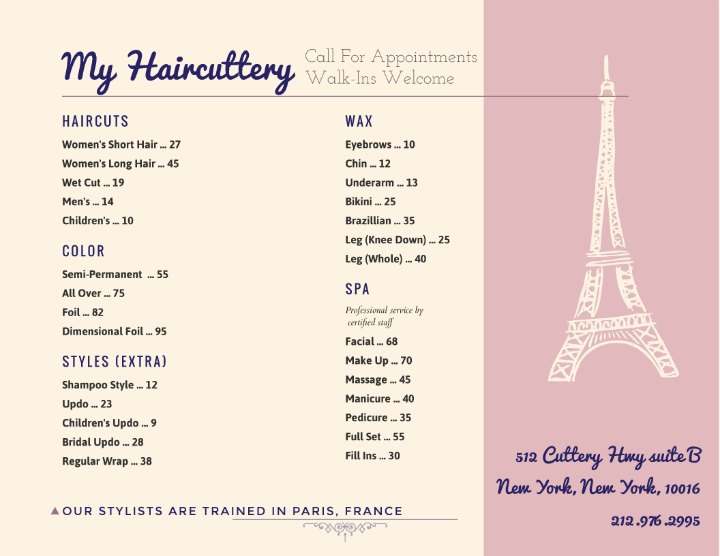 Nail Salon Menu Template
As its name implies, the Nail Salon Menu Template is a menu template that may suit any nail salon. A general salon may also use this template if they wish to separate the nail salon services from the hair, makeup, and beauty treatments or services that a salon offers. If you are computer-savvy, editing this menu card design in PSD will be relatively easy. But if you are not confident in your editing skills, you may hire a graphic artist to do the job instead.
Rose Gold Salon Menu Design Template
Salon Services Tri-fold Menu Template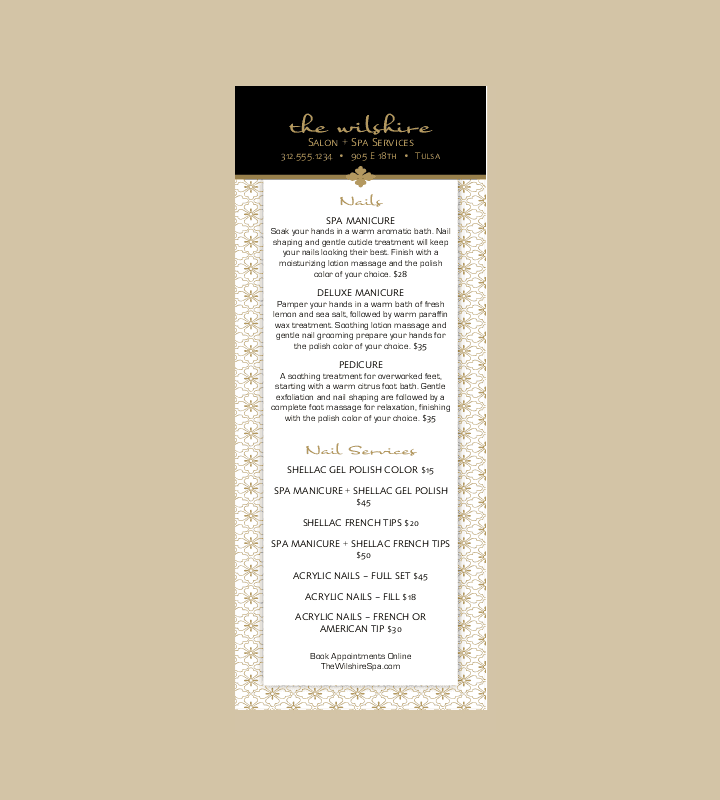 The Salon Services Tri-fold Menu Template features an elegantly designed ornate pattern and a luxurious logo design. If you want your nail salon to be known for its equally luxurious services, then this salon menu template is the one for you. As a reminder, always keep an updated list of all the services that you offer and regularly update this on your service menu templates. This does not only help your staff when providing information to their customers, but it also helps ensure that a customer gets optimum service while they are at your salon.
Simple Salon Menu Template
Silver Beauty Salon Price Menu Template
Choosing the Silver Beauty Salon Price Menu Template is the way to go if you want your salon menu template to double as a price list. Some menu templates will include service descriptions but you can do away with those if you create a comprehensive list together with their corresponding costs. This salon menu design can be easily replicated with the use of Microsoft Word. However, if you want to make sure that your final output is a high-quality printable menu template, it is better to use advanced editing tools like Adobe Photoshop.
Minimalist Salon Service Menu Template
Spa and Beauty Salon Menu Template
If you want equal parts pictures, text, and lists on your salon menu card, the Spa and Beauty Salon Menu Template may be the right one for you. This editable menu design template allows you to choose between color schemes and font styles. However, if you wish to achieve the same look shown in the example above, it is better to stick with the current color scheme. When modifying this salon menu design, it is essential that you add pictures of actual customers or models who are experiencing your services and do not just use stock photos of people. This makes the whole thing more realistic and customers are bound to believe salon menu templates more if they see themselves through the model/s on the menu design. (Talk about diversity!) Also, learn more about the psychology of a good menu design so that you can further improve your own salon menu template.
Striped Salon Menu Template
Tri-fold Spa Salon Menu Template
The color purple has a relaxing effect. This is further exemplified by the Tri-fold Spa Salon Menu Template shown above. If you are operating a salon business which offers different kinds of beauty and relaxation treatments, this may be the salon menu card design for you. When using this salon menu card design, do not forget to add your salon's business information on the bottom of the card design. This way, customers can easily contact you if they wish to book an appointment or if they have questions.
Upscale Salon Menu Design Template
Vector Salon Menu Template
For those who want a template that is very easy to edit, try out the Vector Salon Menu Template pictured above. This kind of salon menu design will fit those who want very simple salon menu designs that can easily be printed and/or distributed as advertising material.