Running a daycare is serious business. It might seem easy, but it is a job that requires you to be on high alert all the time, especially since you're dealing with little kids. When it comes to planning the meals of each kid in your day-care, you need to be extra cautious. Every day, you must come up with a fixed menu for the kids. To do that, use the free menu templates. You can also see Free Menu Templates. A day care menu template sample would certainly make your job easier. It would allow you to finish your work in an organized fashion, and you will be able to get through the day faster and with ease. So what are you waiting for? Look up these Menu Templates and design one for yourself.
Simple Preschool/ Daycare Menu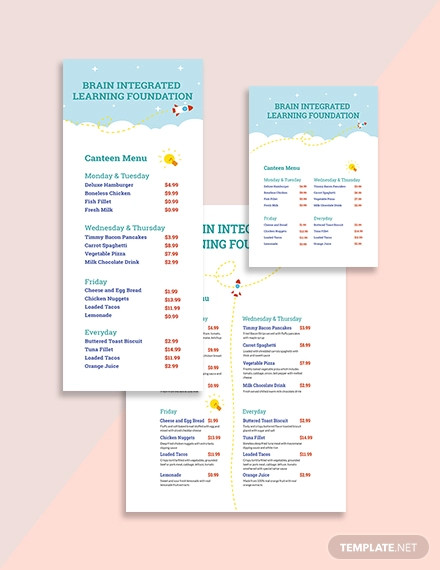 Preschool / Daycare Menu
Preschool Food Menu Example
Preschool Canteen Menu Design Template
Daycare Menu Template Sample Download
Looking for a simple and lovely daycare menu sample? Well, this one should be an ideal contender as it fits the descriptions to the tee. Moreover, it's got all the qualities to qualify as the ideal daycare menu template which can be easily downloaded and customized.
Winter Daycare Menu Free PDF Format Download
squarespace.com | With this wonderfully designed daycare menu template, you get to create the menu that is very informative. The example includes the food, food group and the number of servings it can give.
Daycare Planning Kit Weekly Menu Template Sample Download
In order to create a very detailed daycare menu, this sample menu template will help you a lot. It includes the food log, first aid checklist and attendance register all in one.
Daycare Menu Free PDF Format Download
sas.com | This daycare menu template is designed to cover the month and plan effectively how to feed the children. Get this sample template to create your unique daycare menu the easy way.
Daycare Sample Menu Template Download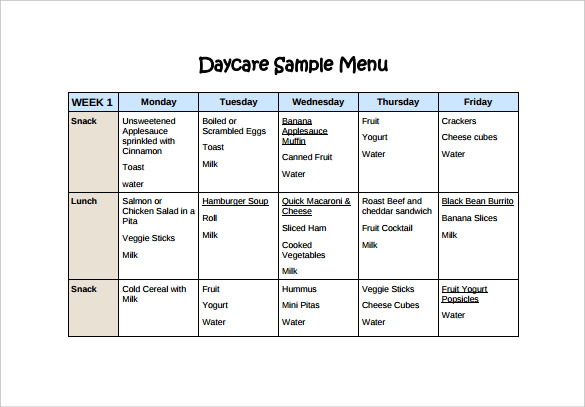 web1.nbed.nb.ca | In order to effectively plan the daycare menu for the week you need a properly designed menu template. We have an example that covers snacks, lunch and snacks in an easy to understand manner.
Meal Menu Patterns Daycare Free PDF Format Download
ncchildcare.dhhs.state.nc.us | In order to make an organized daycare menu that is fully informative then our sample template can be of help. It includes the age set and the serving for each set.
TN Cycle Menu for Chidcare Template Sample Download
muskie.usm.maine.edu | This type of daycare menu template is created in a way that it covers the whole five weekday week and breakfast, lunch and snacks. Download the sample today and make a great menu.
Child Daycare Menu Free PDF Format Template Download
health.ny.gov | With this daycare sample template menu, you can create a lovely five day menu. It includes the menu for breakfast, snacks and lunch or supper. Get it today and make your planning easier.
Daycare Menu Samples and Order Form Template Download
web.cashwa.com | In order to create an effective daycare menu, our example here has the correct layout to help you along. Download it today and plan the three day menu for the kids three to five years.
Daycare Menu Planning and Record Book Free PDF Format Download
lsfnet.org | If you want to create a daycare menu that covers the entire week and has enough details for all the meals then our example here is best for your situation.