Ordering take out has become a tradition with most families worldwide. After all, it is convenient and easier. One doesn't have to dress up to eat restaurant food anymore! That is why most restaurants are coming up with separate take out counters. These have a menu of their own. To create a take out menu for a breakfast joint, you may look up the breakfast menu templates. You can also see Free Menu Templates. A take out menu template example is usually handed over to the customer when he leaves. That way, it serves as a good promotional tool and ensures that your customer returns to your restaurant. Since you will be giving the menu to your customers, a simple brochure would do just fine. You can also see Menu Templates.

209+ Menu Templates in Word | PSD | Apple Pages | Publisher | Illustrator - START DOWNLOADING
Takeout Menu Design Template
Buy Now

Takeaway Menu Template
Buy Now

Pizza Menu Template
Buy Now

Simple Restaurant Menu Board Template
Buy Now

Elegant Menu Template
Buy Now
Sunda Takeout Dinner Menu Template Sample Download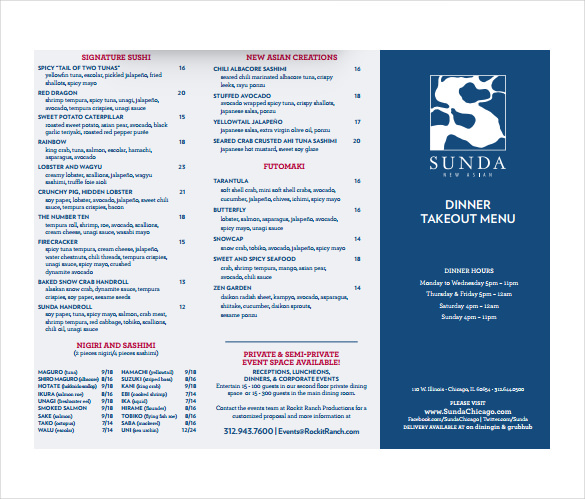 sundachicago.com | A takeout cafe should have a simple and easy to read menu. Our example takeout menu template can give you just that. It is designed to carry a lot of items on a single page.
Free Print Take Out Menu PDF Format Template Download
manuelsstore.com | Now you can get free printable takeout menu for your cafe. This example is available PDF file format and can be printed on any kind of paper. It is organized into categories.
PDF Format Mansfield Take Out New Menu Template Download
wtsbbq.com | In order to come up with an impressive takeout menu, this sample Mansfield takeout menu is your choice. It is available in PDF and can hold many menu items in your list.
Free Takeout Menu PDF Format Template Download
isaacsdeli.com | With this type of takeout menu template you can list so many dishes since it has eight columns. The sample has both descriptions and photos of the dish and is so beautiful in the full color.
Free Take out PDF Format Download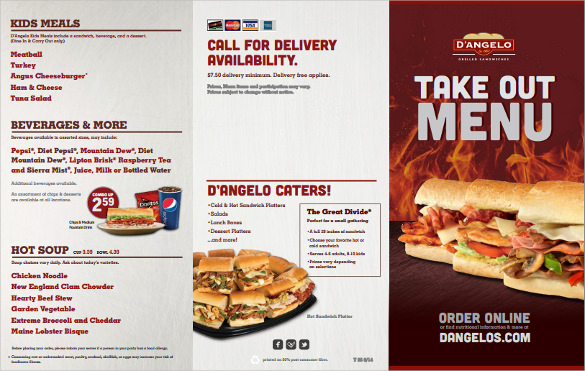 menusearch.net | With our simple free download take out menu template, you can now create a modern menu for your customers. It includes the current social media contacts and has the dishes beautifully arranged in the example.
Duffs Takeout Menu Free PDF Format Template Download
duffsfamouswings.ca | If you want a cool dark colored take out menu design, then this sample template will be of great use to you. It is organized into a single page and carries many menu items.
Hickory Take out Menu Template Sample Download
hickoryrestaurant.com | In order to give your customers an easy time selecting what to take out from your shop, this example menu template can help you create a simple and lovely menu.
Sample Takeout Menu Free Template Download
mariecallenders.com | This menu template has a well organized design layout that makes it easy to read since every takeout item is in a category. Download the sample today and create a great menu.
Takeout Menu Free PDF Format Template
theseafoodshop.com | With this three column free takeout menu template, anyone can come up with a unique menu foe their restaurant. Download it in the available sample format and create a wonderful takeout menu.
Cafe Take out Menu Template Sample Download
With our tri fold cafe take out menu you can create one lovely menu. It is designed in attractive colors and can carry many items. Download the example here today and make that wonderful menu.
Example Take Out Menu Template Download
Caribbean Restaurant Take Out Menu PSD Format Download
Take out Restaurant Menu Template Sample Download
Example Restaurant Take Out Menu Trifold Brochure Template
Take Out Menu Free PDF Format Template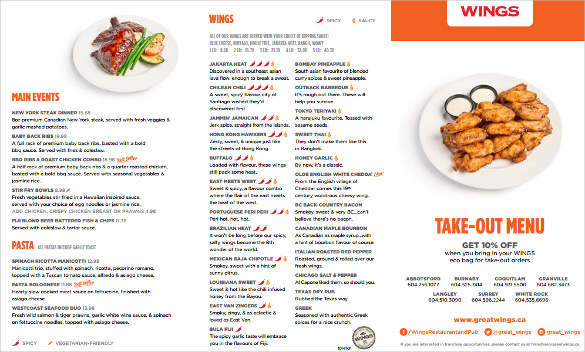 greatwings.ca