Menu
Daycare Menu
Running a daycare facility is no child's play. You need to be organized and efficient to successfully carry out your duties. With children to look after menus and lists are a must.You should create a daycare menu each day, and follow it to the last detail. In order to create a day-care menu, you need to try out Free Menu Templates. A daycare menu template Word will make your job easier for you, since you already have a lot on your mind. You can use it to make a different Menu Templates each day, or even each week. It will help you work towards your goal in a smooth fashion.
Table of Content
Day Care School Menu Template
Simple Preschool Menu
Preschool Menu Template
Preschool Food Menu Design Template
Preschool Canteen Menu Example
Daycare Center Menu Template
Free Daycare Menu Template
Daycare Menu Samples and Order Form Template Download

web.cashwa.com | A great yet simple way to make a daycare menu is to use this readily available menu template. It covers three days of the week and can be downloaded in Word file format.
Childcare Menu Free PDF Template Download

health.ny.gov | The best way to handle childcare menu planning is to use this readily available menu template. It covers breakfast, snack, lunch and supper and can be downloaded in Excel file format.
Menu Planning and Record Book for Daycare Template Download

lsfnet.org | If you want to plan a menu for children efficiently then you should download this menu template to use. It has all the details to make you plan effectively. It is available in an editable Word file.
TN Cycle Menu for Chidcare Template Download

muskie.usm.maine.edu | A great way to make a childcare menu to cover a whole week is to use this ready menu template. The Excel format template is designed to include breakfast, lunch and snacks along the way.
Meal Menu Patterns Daycare Free PDF Template Download

ncchildcare.dhhs.state.nc.us | In order to effectively plan for the meal patterns of little children, this PDF format template can help plan the rations for each age covering meals for the whole day.
Daycare Sample Menu Template Download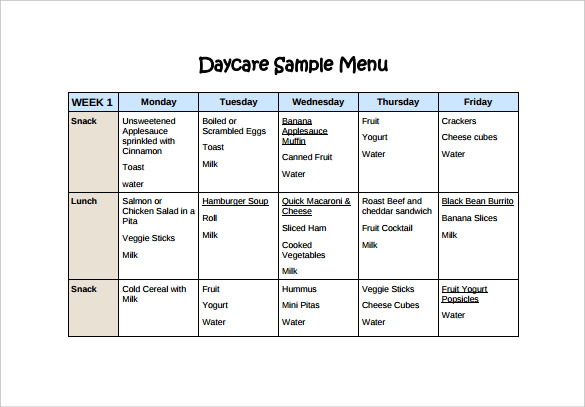 web1.nbed.nb.ca | With this simple daycare menu template, anyone can now efficiently plan the weekly menu. It can be downloaded in a customizable Word file format from this site free of charge.
Daycare Menu Free Template Download

sas.com | With this great design of a daycare menu you can quickly create a daycare menu to cover the whole month including the smallest meal details. Get it in the available PDF file format.
More in Menu