Menu
Beer Menu
Did you think that there was only one type of beer? Well, you couldn't have been more wrong. There are numerous kinds of beers, and you need to know how to tell them apart! If you're a restaurant that specializes in beer, it would do you good to get a special menu just for your beers. That way, your customers can find out about their choices before ordering. To make a beer menu, you could use Free Menu Templates. A good Menu Templates Word will allow you to include the names of all the beers that you have, along with the prices listed against them. If you want, you can even customize it by adding other details which you feel are necessary. All you have to do is click on the download button!
Table of Content
Beer Menu Template
Modern Beer Menu Template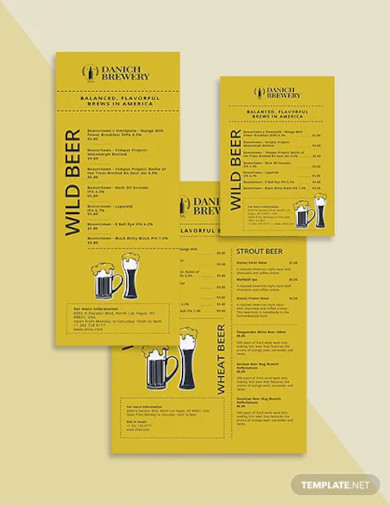 Beer Bar Menu Template
Half Fold Beer Menu Vector EPS Template Download

A great way to come up with an impressive beer menu is to use this carefully crafted menu template. It is available in Vector EPS and PDF format and is free for download.
Beer Menu Hand Drawn on Chalkboard Template Download

Everyone likes a hand drawn design hence the popularity of this beer menu. It is created on a chalkboard theme and is available for download in a PDF file format.
Tri Fold Beer Menu Design AI Illustrator Template Download

With this tri fold beer menu template you can create a menu that holds a lot of drinks categories. It is downloadable in PDF and AI Illustrator file formats that makes it easy for editing the content.
Vector Beer Menu Template Download

In order to make your beer menu the simple way and still get a great looking end result, our menu template is necessary. It is available in PDF file format.
Beer Menu Download

Designed like a calendar, this beer menu template is one of a kind. Get it today in the free Excel file format and customize it to include the content in your shop.
Beer Menu Template Download

It is now possible to get high quality beer menu when you use this readily downloadable menu template. It is available various free file formats including PSD, EPS and PDF.
Beer Menu Vector Template Download

This one page beer menu sheet has a wonderful design layout to include numerous beer categories. The PDF menu template is readily downloadable from this site from where it can be edited.
Beer Menu Template

With this simply designed elegant beer menu template anyone can transform their perception in the eyes of the customer. The PDF template is freely available for download and can be customized effectively.
Lore Beer Pub Menu Template Download

With four columns, this beer menu can include so many items in several categories of beer. Download it today and create an easy to read beer menu. It is available in Word.
Menu for Beer keg and Glasses Template Download

If you specialize in keg beer, this menu template is right for you. It has the prices organized on the right side and a drawing of a keg drum is on the left. It is available in PDF file format.
Pantone Beer Menu Template Download
Beer Menu Free PDF Template Download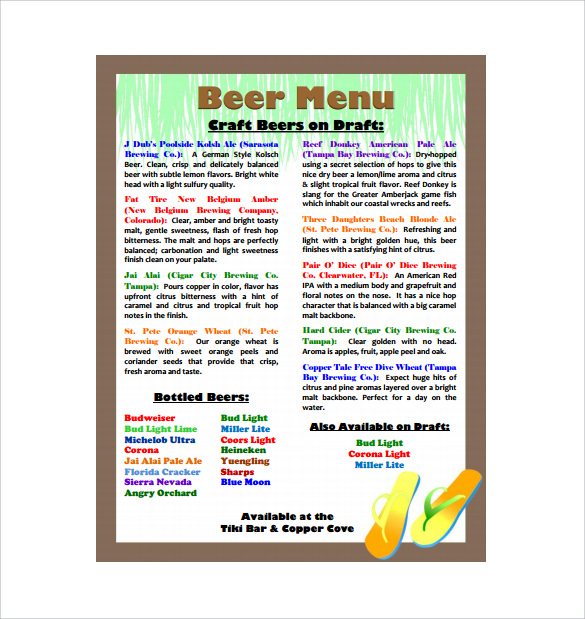 doubletreebeachresort.com | Download