Saying thank you is one of the key manners that kids learn as they grow. The Kids Thank You Card template is a collection of designs for various occasions. These are highly customizable and offer a wide range of colors with internal link anchor text. Kids can write custom messages for the person they want to thank. Anyone can download these designs and help their kids to celebrate while they learn.
Kids Christmas Thank You Card
Christmas is kid's most loved eve. The thank you card features a snowman with the addressee's signature note and empty space for the message. The card is handmade and comes from Etsy.
Kids Birthday Thank You Card
The thank you card features birthday wishes with animated dog and cat. It has a vintage theme with a print-ready design. The user gets customizability with Photoshop PSD files.
Kids Thank You Card for their Teacher
The Thank You card is a beautiful illustration of kindergarten kids. The theme suits playschool kids for gratifying their teachers or elders. The quality template is available from Shutterstock.
Baby Shower Thank You Card
It is a plain white thank you card featuring a bear. The card is very suitable for baby shower occasion and comes in 5"x7" and 5"x3.5" sizes for download and print, from Etsy. You can also see Wedding Thank You Card Template.
Kids Party Thank You Card
The template features a collection of many designs for thank you cards. These are user-friendly and fit multiple occasions such as events and parties. Available in layered PSD, JPEG formats.
Abstract Kid Thank You Cards For Kids
It is a simplistic and abstract doodle art thank you card for kids. The card features a jumping cartoon with a balloon, very apt for smaller children. Available for download from Shutterstock.
Modern Kids Thank You Card
The card features a fresh bokeh image with a little baby. The card is suited for the modern high-end parties and uptown kids. It is available for download from Etsy in JPEG files.
Mickey Mouse Birthday Thank You Cards
Mickey Mouse is the most loved kid character which is featured on this thank you card. The card has a photo inscription option and more customizability. Available at Zazzle. You can also see Christmas Thank You Card Template.
Charity Thank You Card of Kids
The card features a charity theme with beautiful foreground text and graphic art. The thank you card is ideal for donation or charity events. Downloadable in PSD and JPEG formats.
Personalized Kids Thank You Card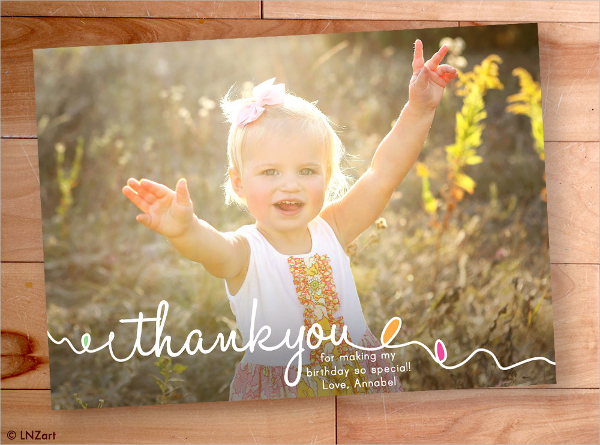 The card features a thank you message super-scribed on a custom baby photo. This is a great way of saying thanks and increases the uniqueness of the card. Buyable from Etsy.
Editable Thank You Cards
The card features a non-profit organization in a fully editable format suitable for company titles and donation beneficiary's thank you cards. The card has a strong aesthetic appeal. You can also see Funny Thank You Card Template.
Monster Kids Thank You Card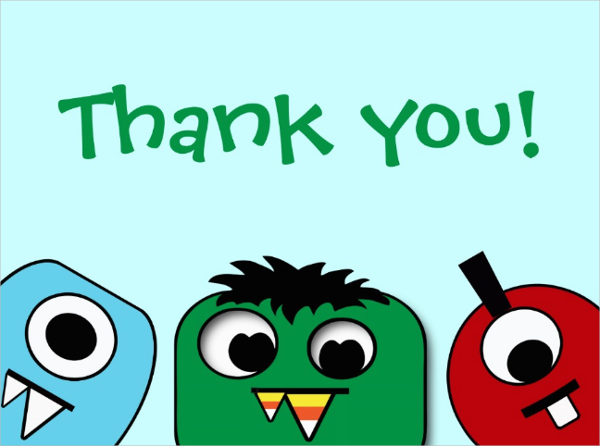 The thank you card is best suited to little children with animated monsters drawn on the front. It has a colorful vibe and a simplistic design. It comes from Zazzle.
Celebrations and special events can be beautifully hosted with these after-party thank you cards. They work both as an RSVP and in general, for paying gratitude. The cards contain animated artwork or photos of the baby with internal link anchored text. They come fully customizable in Photoshop and Illustrator files. Download one today! You can also see Sympathy Thank You Card Templates.