Over the years, rental properties have found their way to a great many investors' interests as well as the working American millennial. Renting homes and office spaces rather than purchasing them seems a less-pricey and therefore a practical option for many. If you're in the real estate market hoping to make your business grow by renting out your properties, you'll be more successful if you always close your transactions with a written rental agreement.
5 Steps To Write A Rental Agreement
Step 1: Know The Law
You don't have to study a law book from cover to cover. You just need to be familiar with local and state regulations regarding tenancy and rental property management. Make sure you comply with building standards and landlord-tenant rights. This way, you'll be able to lay out responsibilities in line with what the law requires on both sides.
Step 2: Identify The Parties Correctly
Most people take names for granted and end up hastily writing them down wrong on legal papers which is not good. If you make a mistake with names, you will not be able to hold the other party accountable to payments and worse, fail to completely enforce the agreement so make sure to get everyone's names right.
Step 3: Outline Provisions
Make a list of the most important issues you want to address or properly answer in your agreement. What are your terms and conditions? Discuss these and other stipulations you require with the tenant and be very specific in stating your provisions to avoid claims of fraud and disputes. This is the meat of your agreement. Double check what you wrote in this section from top to bottom.
Step 4: Detail Security Terms
Landlord and tenant disputes often spring from issues regarding the return of the security deposit. Be very detailed and clear in explaining the amount to be returned and cite what sort of damages the tenant will have to avoid to get the deposit in full at the end of the rental term.
Step 5: Review The Document
Before entering into an agreement with a tenant or before finalizing it, have a real estate lawyer review your terms and conditions to make sure it complies with state requirements and tenancy laws. This also ensures that you haven't missed out on anything that will put your interests and the tenant's rights at risk.
10+ Rental Agreement Templates
1. Rental Agreement Template
As a landlord, you need to make sure that rent details are clearly outlined in your agreement with the tenant. For that, you can make use of this very helpful rental agreement template which runs in Google Docs, MS Word and Pages, available for you to print and download wherever you are!
2. Rental Agreement Contract Template
Need help mapping out the stipulations that your rental agreement should include? Don't worry, by downloading this professionally-designed rental agreement contract template, you'll have everything you need for a document that constitutes a mutually-agreed contract. Edit and print the file in any compatible device and you'll be ready!
3. Rental Agreement or Residential Lease
Avoid the risk of ugly disputes brought about by vague agreement terms through this well-written sample rental or residential lease. This template is the perfect tool in being able to write an agreement that doesn't leave anything out so download the file in any of MS Word, Pages and Google Docs for added convenience.
4. Short Rental Agreement Template
On the hunt for an agreement that covers everything you have discussed with a potential tenant? Your search is finally over, because this short rental agreement sample is designed to fulfill the needs of a complete agreement and more. Go ahead and download the document in all versions of Pages, Google Docs and MS Word now!
5. Rental Agreement Format
You don't need to be a real estate expert to provide your tenant with an agreement that contains clearly-defined terms and conditions but you can make your task easier through this sample rental agreement. You can modify the content of his predesigned template to suit the needs of your rental property so download the document now!
6. Rental Agreement Template
If you think it's tiring to end up with problem tenants, you're not alone. However, you can lessen the chances of ending up with someone who does not intend to keep their part of the deal by having a written rental agreement. Get this rental agreement template in all its available formats if you have doubts starting one from scratch and just customize the file.
7. Sample Apartment Rental Agreement
A rental agreement is a professional document that defines the agreement between landlord and tenant in clear terms. If you don't want to miss out on the key provisions a rental lease should include, get this apartment rental agreement sample and feel free to customize the content with what you and your client requires.
8. Free Rental Agreement Template
Keep problem tenants in line and make sure you abide by state regulations with every rental contract or agreement you create. It will be wiser if you just download this rental agreement template and run it in the fleixble formats it comes with. What are you waiting for? Hurry and click on that download button!
9. Free Rental Agreement Letter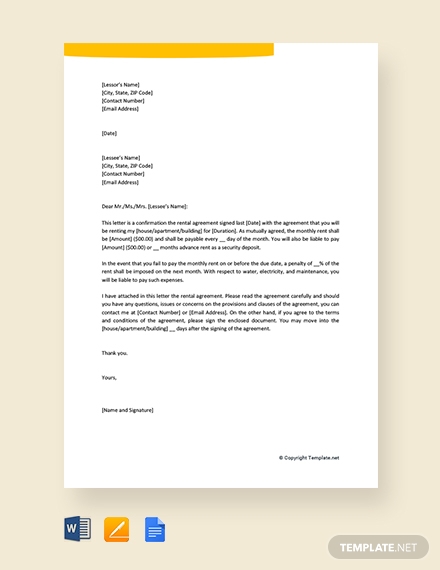 Are you having any luck with maintaining the value of your rental property? In that case, you should also make sure that you have a rental agreement ready when an interested individual asks to rent your property. Need more help? Go ahead and download this easy-to-access sample rental agreement then customize as you see fit.
10. Rental Lease Agreement 
Do you want to seal your agreement with the tenant to rent your property with something that's properly spelled-out and official? You can do that by getting this lease agreement sample. All you have to do is click on the download button and you'll have a professional written agreement ready!
11. Sample Rental Agreement
Being successful in rental real estate not only means getting as many tenants as your property can handle. It also requires a tough responsibility especially where agreements are concerned. To stay out of mishaps caused by tenant disputes, download this rental agreement template and print it in any mobile or computer device.