Agreements
23+ Non Disclosure Agreement Templates – DOC, PDF
A Non-Disclosure Agreement serves as a documented proof where the two involved parties agree not to disclose personal information about each other. Along with the confidentiality obligations, the agreement templates also bears legal importance. So the agreements must be designed carefully to contain all the required information.
Sample Non Disclosure Agreement Template
Non Disclosure Agreement for Employee Template
Non-disclosure and Confidentiality Agreement
The below-chosen Non-Disclosure Agreement templates have been designed by consulting legal professionals. Much attention has been given towards the legal terminologies and these are a few of the best choices you can make for the agreement samples.
Simple Celebrity Non Disclosure Agreement Template
Non Disclosure Agreement Template
Non Disclosure Agreement for Employee Template
Mutual Non-Disclosure Agreement Template
Basic Non-Disclosure Agreement Template
tannedfeet.com
This is a very basic and simple template that captures all the mandatory norms in an organized order. At the end, it leaves some space to fill out the information about the involved parties.
Short Non-Disclosure Agreement
backburnerfilms.com
This is a short agreement template that can be used for any urgent requirement. Although small, it does not leave the required fields of a legal agreement. It captures the essence of an agreement in a suave manner.
Non-Disclosure Agreement for Consultants
mystupidrules.com
It a simple yet excellent agreement sample which is most suitable for individual consultants or consultancy firms. The mandatory legal fields and the terms of agreement are laid out in a very impressive way.
How are the Non-Disclosure Agreement Templates Used?
All the above templates have been created while keeping in mind the nature of various Non-Disclosure agreements. The norms of Agreements differ from field to field. The template used for property lease agreement cannot be used in the corporate sector. So the templates have been designed for specific fields. Still the users might need some additional norms or might want to modify the existing fields of a template; so you can modify these as per your requirements. All the above Non-Disclosure Agreement templates are printable.
Corporate Non-Disclosure Agreement
industry.gatech.edu
This template is ideal for creating a corporate level Non-Disclosure agreement. Be it talent recruitment or business partnership, the template can be tweaked suitably to serve all the corporate agreement purposes.
Confidentiality Non-Disclosure Agreement Sample
bellfund.ca
This is one of the premium Non-Disclosure, Non-Compete Agreement Template which fits various requirements. The template comes with help notes from the designers which can help you understand each field easily.
Personal Non-Disclosure Agreement
potomaccuso.com
Employee Non-Disclosure Agreement
cmu.edu
Who can Use the Agreement Templates?
Whenever any two parties move into business together, the need of a written Non-disclosure agreement arises. It not only serves as a proof of mutual business, it also helps in resolving conflicting scenarios later. As we have mentioned earlier, these templates have been designed for a specific target audience. From the vast range of free and premium templates, you can choose the one that suits the nature of your business. If you are in property business or the corporate sector, you can use the template that has been designed specifically for you. You can also see Confidentiality Agreement Templates.
Financial Non-Disclosure Agreement Template
pge.com
Generic Non-Disclosure Agreement
cdot.in
Company Non-Disclosure Agreement
web.stanford.edu
Employee Non-Disclosure and Non-solicitation Agreement
hrcouncil.ca
One Way Non-Disclosure Agreement
chemsultants.com
Two-way Non-Disclosure Agreement Template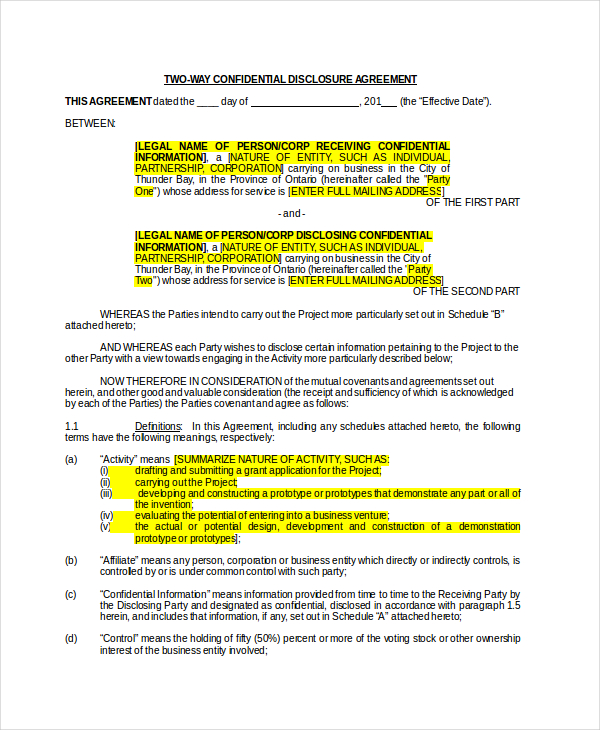 ucd.ie
Mutual Non-Disclosure Agreement Template
mironov.com
Business Non-Disclosure Agreement Template
patent-trademark-law.com
Unilateral Non-Disclosure Agreement
danashultz.com
Bilateral Non-Disclosure Agreement
engineering.jhu.edu
What are the Benefits of Using the Non-Disclosure agreement templates?
While doing business, it requires confidential information to be shared between the involved parties. If there is no obligation to keep this confidential information limited to the involved parties only, there are chances of misuse of this. So people agree to certain terms and conditions before moving into any business. While preparing an agreement, you may miss out on some important fields which can cause issues later. These agreement templates we have suggested above have been designed after rigorous research and consulting in the legal world. These are professional and authentic and suit various agreement scenarios perfectly.
Before choosing any sample, you must thoroughly go through it to make sure it has all the required fields that you need for your agreement. You can also tweak the content of the confidentiality Agreement templates to suit your requirements. These are simple yet the best templates available online.