No one wants to be involved in a legal matter, but there are times that it is inevitable. When you seek help, advice or service from a legal service provider, you trust him that he will not leak your private information to any third person or party. Signing a legal confidentiality agreement templates will ensure that there are no chances of such revelations.
There are many other situations in which the parties and the legal service providers are responsible for keeping each other's secrets. A legal confidentiality agreement comes to the rescue under all such circumstances. You can also see Basic Confidentiality Agreement.
Legal Confidentiality Agreement Template
Legal Confidentiality Agreement for Advocate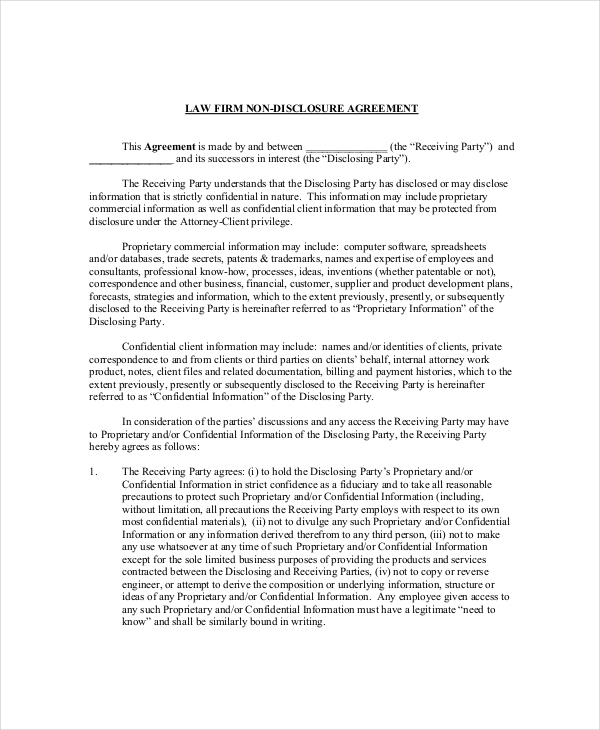 People seek legal advice from advocates and they reveal some very sensitive information about their personal, professional, financial or criminal life. But it is the duty of the advocate to keep their secret and not talk about it to anyone else inside or outside their profession. A legal confidentiality agreement can be customized to safeguard this type of private information of the clients.
Legal Confidentiality Agreement for Juries
While making judgments, juries are also responsible for keeping the privacy of the victims as well as the criminals. Apart from the case involved, they should not reveal any information about their personal life. If there are many juries involved in a case, they should also not disclose each other's judgments and opinions. A legal confidentiality agreement for juries aims at keeping this information undisclosed.
Legal Confidentiality Agreement for Business
There are different aspects of businesses that need not be made public, including their partnerships, proprietary details, franchisees, copyrights, software, methods etc. A legal confidentiality agreement for businesses safeguards all such details for an entrepreneur.
Legal Confidentiality Agreement for Wills and Testament
Wills or testaments are legal documents through which a testator expresses his wishes regarding the distribution of his properties after his death. A legal executor is appointed to manage the testator's estate until it is finally distributed. Some people want this kind of information to be kept a secret too until their death, and this is where a legal confidentiality agreement is required.
Legal Confidentiality Agreement for Legal Advisor
Some big businesses appoint legal advisors to handle their legal aspects. These advisors have access to the company's secret details, which need to be kept private and confidential. The legal advisor signs a legal confidentiality agreement to not disclose such information to any third party.
Legal Advisor Secretary Confidentiality Agreement
Legal Confidentiality Agreement and Terms Form
Legal Document Confidentiality Agreement
> 

How to Create a Legal Confidentiality Agreement
A legal confidentiality agreement should contain all the details regarding the parties involved, their obligations, exceptions, time periods, waivers, relationships and signatures. There are ready-made Agreements Templates available for download over the Internet, but if you want a more professional looking and accurate legal confidentiality agreement, you need to assign the job to a legal documents expert.
> 

When a Legal Confidentiality Agreement is Used
When a client seeks legal advice from an advocate
When a panel of juries makes up its mind to give a judgment against a culprit
When a business signs a partnership, proprietary or franchisee
When a person gets his will made from a legal expert
When a business appoints a professional legal advisor for their company
> 

Benefits of a Legal Confidentiality Agreement
A legal confidentiality agreement protects legal information of all the parties involved
It helps in safeguarding the secret legal information of businesses and individuals
It protects your legal information from getting disclosed in front of the public or other parties
It may be tailor made as per the situation
It mentions what will happen if any of the parties involved discloses the saved information
A legal confidentiality agreement is used by people or businesses to protect their legal information or their private information during legal transactions. Some legal confidentiality agreements designed by experts are available here to download. You can use them to safeguard your sensitive personal or legal information.