Agreements
20+ Rental Agreement Form Templates & Samples – DOC, PDF
Rental agreement forms are a document that carries a different format. It is different because it has columns for all the necessary entries that are required to finish the formality of an agreement form. It can also serve as a great example for those who are working out an agreement on slightly different lines. Amend this form and made some entries into it and it is ready for you. You can also see Purchase Agreement Template.
Most of the legal expert keep it with them and presents it as an example in front of the customers. Forms anyways are a visual or tabloid presentation of the things. The majority of these forms also carry printed spaces for the details of documents and annexure as well. You can also see Agreement Template.
Rental Agreement Template in Google Docs

Buy Now
Simple Rental Agreement Format in Word

Buy Now
Printable Commercial Rental Agreement Template

Buy Now
Booth Rental Agreement Template in Google Docs, iPages

Buy Now
Sample Room Rental Agreement Template in iPages

Buy Now
Month To Month Rental Agreement in Word, Pages for Mac

Buy Now
Equipment Rental Agreement Template in Google Docs

Buy Now
Apartment Rental Agreement Template in Word, iPages

Buy Now
Office Lease Agreement Template in Google Docs, Pages for Mac

Buy Now
Simple Commercial Lease Agreement in Word

Buy Now
Land Lease Agreement in Word to Edit

Buy Now
Sample Shopping Center Lease Agreement Form
americanbar.org
Retail Lease Agreement Form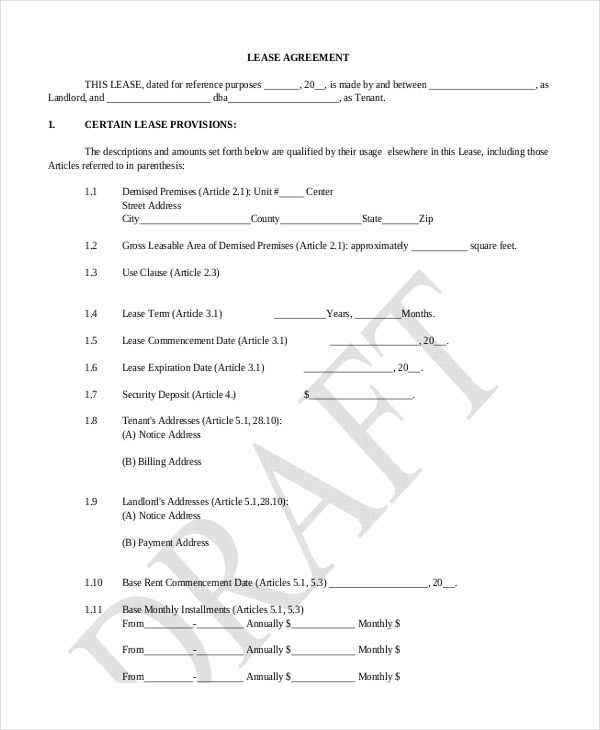 One Page Rental Agreement Form
aoausa.com
> Minimum requirements in the Form
There is basic information that has to be included in the form before the tenant signs
Full official names of the tenant and the landlord and their contact addresses.
The property's address.
Date that tenancy is due to begin.
Date of signing the rental agreement form.
Service addresses for both tenant and landlord.
Indication of whether the tenant is a minor (under the age of 18)
If there is a bond, the amount should be specified.
Amount of rent and the frequency of payments.
Bank account number or specific destination where the rent should be paid.
Any agency or solicitor fees that are to be paid if it is applicable.
Item list for personal property (other than real estate) that are provided by the landlord.
The date that the tenancy will end if it's a fixed-term tenancy.
Cropland Rental Agreement Form
map.co.door.wi.us
Motor Vehicle Rental Agreement Form
mghcgh.org
> Fees and Deposits
Security deposits or rather the use and return of them is the main cause of misunderstanding between landlords and tenants. This is why rental forms should have clear guidelines on the limit, use and return of deposits. This includes;
The amount of the security deposit. This should comply with the state laws that set maximum amounts.
How the deposit may be used by the landlord (damage repair for example) and how not to use it (tenant applying it to pay off rent)
When the deposit will be returned and how deductions will be accounted for once the tenant moves out.
Legal non-returnable fees if any. This could include cleaning fees, pet fees, etc.
Land Rental Agreement Form Free Download
rentalsonline.com
Agreement Form of a Vehicle Download
ackercarrentals.co.za
Rental Agreement Form Free Download
biggerpockets.com
Residential Rental Agreement Form
dca.ga.gov
Details
File Format
Size: 46.1 KB
> Other Restrictions
A rental agreement form must comply with all relevant laws. These include health and safety codes, rent control ordinances, antidiscrimination laws and occupancy rules. State laws are extremely important; setting limits for security deposits, the right of a tenant to sublet or invite an additional roommate, notice requirements for entering rental property, guidelines for ending or changing a tenancy and individual specific disclosure requirements such as tendency to flood in the particular rental unit.
Other legal restrictions must be clearly indicated in the form. These may include limits of the type of business that the tenant may be allowed to run from home. Important rules and regulations should be specifically mentioned as well.