Agreements
Vacation Rental Agreement – 8+ Free Word, PDF Documents Download
You might ask a question why you require a vacation rental agreement in the first place. Hotels never tell you to go for an agreement with them. Different countries have a different outlook on this issue. However, as a renter you should bring this piece of paper in existence, even if you are giving it for a short-term rental. You can also see Payment Plan Agreement.
Many international formats are available. Pick for a format which is close to your needs; these rental agreement formats are available in Word, Excel and PDF. You can focus more on the detachment part where you can say that you are not responsible for the acts of tenants. You can also put a bar on their activities to make sure a smooth and hassle-free stay of your guests. You may also see vacation templates.
Vacation Property Rental Agreement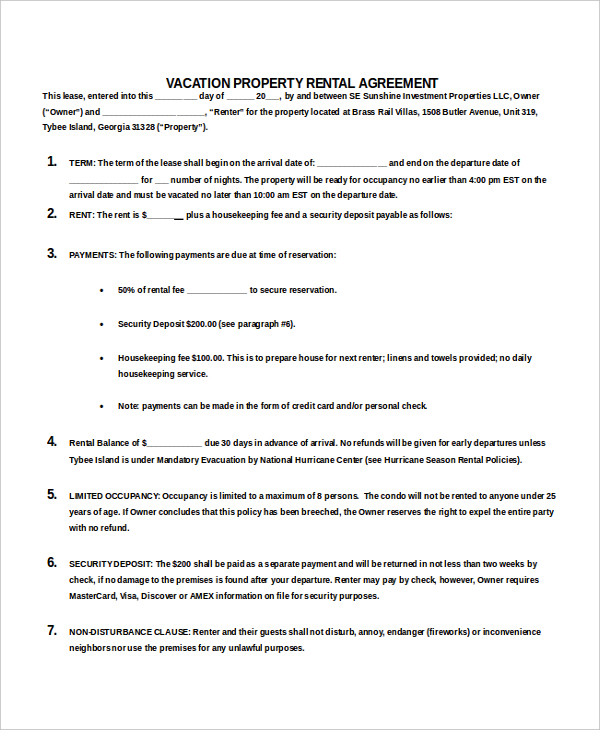 tybeebeach-condo.com
Our templates are a way to help you with assisting the bookings and your property. Right from the beginning when you are planning to rent your property on vacation to the guests, to the period when they arrive-, our sample templates which can be easily downloaded, customized and printed will help you to keep your rental house properly organized.
Vacation Rental Lease Agreement Template
eaglesridge.com
The rental agreement confirms the official booking of the vacation rental house together with its terms and conditions. This document is important for both the owner and also for the arriving guests to make a comfortable stay and business.
Tenant Vacation Rental Agreement
elicrainvestments.net
Our templates are crafted in a manner so it adapts itself with the coming circumstances. The guest needs to make them familiar thoroughly with the terms and conditions of the document. Only then they can make the payment and get the booking confirmed.
> Important Points to be Taken Care of
It is important after you get your booking confirmed, send the copy of your confirmed booking, statement, vacation rental agreement and if there are any additional documents to your tenant to have everything in written form. The vacation rental agreement draws a chart of what the parties expect from the others and this will help you and your people comfortable while getting into the business deal.
Short Term Vacation Rental Agreement
luxurioustay.com
Blue Oars Vacation Rental Agreement
lappgroup.net
> How to Create
A vacation rental contract is the one that speaks out the responsibilities of the owner and the renter and ensure they are protected from clashes. The agreement should include:
Identification of the parties and the property.
Term of the agreement.
Exacting the rent and security deposit.
Specification of confirming as how the owner has received the rent.
Describing the obligation of the parties.
Credit card policy.
Add any additional specifications if any.
Simple Vacation Rental Agreement
siestakeycondo.info
> Tips
It's a strong recommendation to not accept any payment from your renter without receiving a complete and short-termed rental agreement. Before signing the agreement get assured of the rental contract as do they meet the terms and conditions with the state and their local laws.
Also check out with the rules confined to your vacation rented property's locality.We have put together some sample vacation rental agreement templates here, download them and customize it regarding your definite vacation letting property.
More in Agreements