Analysis Templates
FREE 12+ Customer Analysis Templates in Google Docs | MS Word | Pages | PDF
Customer analysis is important to ensure that your company is meeting the demands of your customers. Once this is achieved, you can expect your profits to boost. The templates that are mention in this article can be broadly categorized into business case templates, competitor analysis templates, and the importance of customer feedback of your products.
Here, we have provided a list of some customer analysis templates, up for download, that would better help you to increase your profits and in turn help your product rise to its true potential. Let's take a look!
Customer Analysis Template
Customer Profitability Analysis Template
Restaurant Customer Analysis Template
Customer Needs Analysis Template
Customer Service SWOT Analysis Template
What is Competitive Analysis?
Competitive analysis is the assessment of marketing strategies and management of your potential competitors. The defensive strategies can be better conjured up for when you draw out a detailed competitive strategy. You may also see break-even analysis templates. Determine how your competition paves their way into profiting their business and come up with plans that provide entire customer satisfaction. Put your customers before your profits and the profits will immediately yield.
Customer analysis templates would help your company ensure better recognition of customer needs and demands that would, in turn, benefit your profits. Customer analysis includes taking your competition into consideration and increase the potential of your products. The business SWOT analysis templates that are available online can help you create a SWOT analysis for your company so that you have an idea of what your company's strengths, weaknesses, opportunities, and threats are.
Customer Analysis Template in Word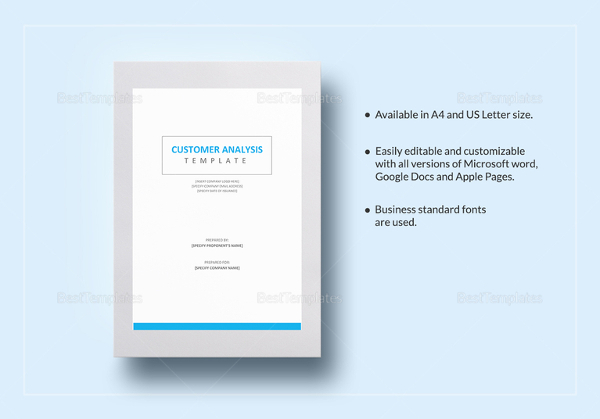 Competitive Customer Analysis Template
clientheartbeat.com
The template is made up of 7 crucial tasks to better understand customer interest and competitor work patterns. They include, first reviewing the competitor profile, calculating the advantages your company holds in terms of its qualitative and quantitative analysis, appealing to the target audiences with your product and analyze market shares. You may also see Gap Analysis Template. The next thing done, is checking whether the product/service file is to the customer's need and then complete a SWOT analysis for your company.
Business Case Customer Analysis Template
dodcio.defense.gov
The template can be used to express business-related services to better design customer analysis. The template includes built-in spaces for one to overwrite the actual information, making it easy to fill in data and tags, including unclassified, FUOU (for official use only), and classified.
Customer Profitability Analysis Template
cimaglobal.com
The template includes customer profitability tips, where one can analyze the needs of the customer for better success at one's business. Contents include better customer profitability analysis and its advantages for the business and improving it. The template includes graphical representations for improving analysis methods.
Significance of Customer Feedback Analysis Template
jultika.oulu.fi
The template illustrates the need and usefulness of customer feedback surveys and how they can be better implemented for better profit at business. The template better focuses on the significance of analyzing customer feedback in health care departments. The importance of analyzing customer feedback is to improve the quality of work and ensure complete customer satisfaction.
Customer Service Analysis Template
pennichuck.com
This template includes customer service strategies and how to implement them. It better illustrates the methods in tabular formats. Also, the template discusses staff requirements, department responsibilities, contract operations supports and statistics. The strategies included can be used to increase the profits of your business.
Customer Analysis Marketing Plan Template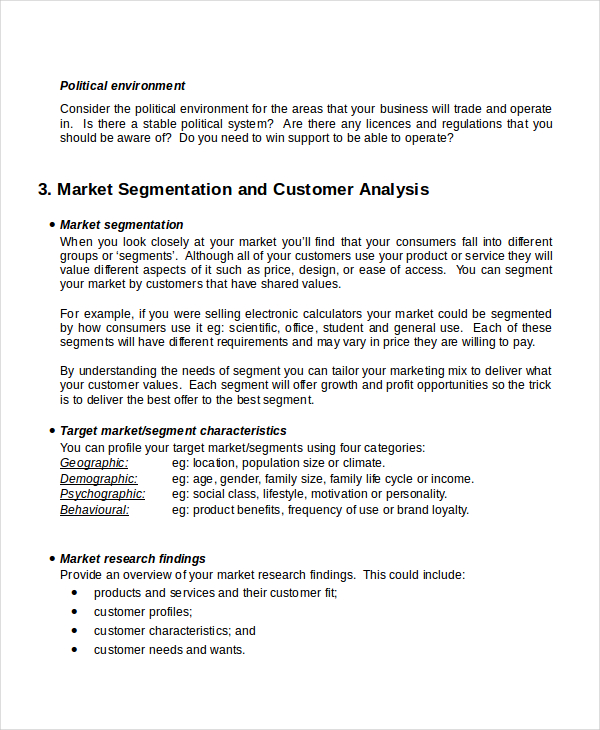 smallbusiness.wa.gov.au
Customer Needs Analysis Template
ryerson.ca
Voice of Customer Analysis Template
mit.edu
Writing a Customer Analysis for a Business
While writing a customer analysis, one must take the target audience of their company and the needs of the customer into consideration. It is important to identify the customer and realize basic customer satisfaction strategies. Define the primitive need of your customers and consider the following questions while analyzing them:
How many potential customers are there?
Is the number of potential customers growing or decreasing?
What is the business revenue of the customer?
Where are the customers?
What lifestyle, goals or other information do you know about the customer?
Is the price important to these potential customers?
With the help of these questions, you can make the perfect analysis you need. You may also see the market analysis template. These will make you understand what needs to be in customer analysis and also, how you can meet their needs.
Summing Up:
While analyzing the type of your customers you have with the help of the simple analysis templates, you must take their demographic profiles and their buying behavior into account. This is advantageous, as you could better know the backgrounds of your customers. You can recognize the factors making them buy your products and thus increase your profits. Also, keep in mind that the products they buy from your competition and what advantages their product holds against yours.
What is the feature most wanted by your customer and their basic demands from your product? The most important part of analyzing your customer is considering whether the customers would return or not and whether their number is increasing. If you need help in conduction a job analysis, then you can take a look at the job analysis templates that are available online for more. With the help of the templates that are mention in this article, you can make the perfect customer analysis you need of any kind.
General FAQs
1. What is Customer Analysis?
Customer analysis is a process in which the data from customer behavior is used to help make important business decisions. It is a significant section of a company's business plan. It helps identify target customers, the needs of these customers and then specifies how the product satisfies the requirements of them
2. What is the importance of Customer Analysis?
A customer analysis helps you identify who your best customers are and helps you tend to their needs in the most effective way possible. It helps planning out retention plans for old and new customers as well. Companies that meet the needs of their customers usually have greater sales and profits.
3. What are the elements of a Customer Analysis?
The elements of customer analysis are as follows:
Identify your customers: know who your customers are, whether old or new
Define their needs: know what their needs are and how you will fulfill their requirements
Products/services: make a list of the products/services you need to meet the needs of the customers.
4. What should a Customer Analysis include?
Customer analysis must include the following:
The details of your customers, old and new
The basic needs of customers on average
Details of your company and the business you do
The products and services you provide
Materials and resources needed
Goals and objectives you need to fulfill
Budget for the analysis.
5. Why is a Customer Analysis used?
A customer analysis is used as a part of a business plan of an organization. This helps in examining whether or not the consumer is likely to purchase your products/services or not. It helps you know what are the needs of the customers, and how you can meet these needs.