Analysis Templates
26+ Personal SWOT Analysis Templates – PDF, DOC
It is extremely important to stay aware of the positive and negative aspects of oneself and it helps a person to understand what to avoid in his/her nature, what to champion & where to work harder. A SWOT analysis templates here would help you to structure your Strength, Weaknesses, Opportunity, and Threats on a readymade format – so that it's easier to understand for you.
SWOT Analysis Example
Sample Blank SWOT Analysis Template
Personal SWOT Analysis Templates
A Personal SWOT Analysis is used to analyze your strengths, weaknesses, opportunities, and threats for personal growth. You need a Personal SWOT Analysis for multiple purposes. Identify your SWOT elements when you are preparing a SWOT analysis. Take note of the following points if you are preparing a Personal SWOT Analysis:
What are the SWOT elements?

SWOT stands for strengths, weaknesses, opportunities, and threats

Strengths are internal resources which include your skills, and capabilities

Weaknesses are the elements that you need to improve to achieve your desired goal(s)

Opportunities are external elements such as expanding your possibilities and technological development(s)

Lastly, threats are external factors of your changing needs
You can check out Personal SWOT Analysis Templates for ideas to prepare a Personal SWOT Analysis.
Simple SWOT Analysis Template
Blank SWOT Analysis Template
Be the most effective business professional with this SWOT analysis template that helps make your job way easier. This simple file helps you put harmful factors side by side to make the best-informed analysis and conclusions needed for your organization. Another advantage of the template is that it is not only limited to a computer, but you can also download it on any electronic device with ease. Download the template now!
Business SWOT Analysis Template
This business sample analysis template is important to have insight on the financial side of your business. Thanks to this handy document, you are creating your business analysis report that has never been easier. All you have to do is download this template, edit the details as you see fit, and put them in the analysis. This way, it gets easier for all those who need to what is to be added in the analysis.
Employee SWOT Analysis Template
Black letterings in contrast with a light turquoise band on a white background give this template a refined and polished look. To indicate employee or student's performance, this can be used professionally and personally as well. All you would have to do is download the template, edit and modify the template as needed. You can take a look at the blank analysis templates that are available online for you to use it to the most. Save a lot of time and effort in making an analysis from scratch. Check it out now!
Healthcare SWOT Analysis Template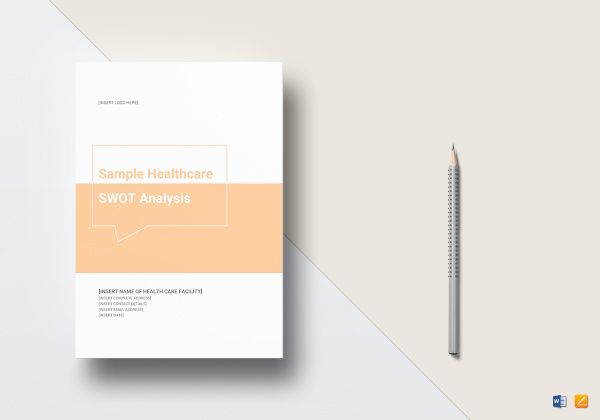 This above-mentioned SWOT Analysis template will make your job that much easier, as it already outlines the most important points of your report. Simply follow the contents of the template and your SWOT analysis and the report will be done in a fraction of the time. Many Excel analysis templates that are available online for you to choose the best one that suits your organization. Try it out now!
Student SWOT Analysis Template
Customer Service SWOT Analysis Template
Personal SWOT Analysis of a Student
static2.creately.com
The personal analysis of a student would help one to have a better idea about the best parts or resources of the student as well as his/her limitations. Then, the analysis would also bring out the opportunities lying before the student so that he can make the most of them. Project management SWOT analysis templates will help you make the right one needed for your project, no matter which industry you work for. Finally, it will even warn about the threats.
Personal SWOT Analysis Worksheet Template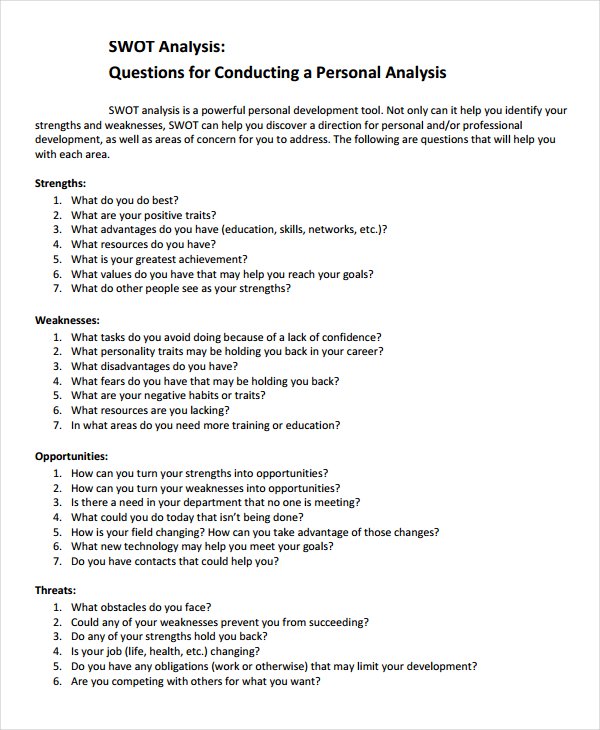 citehr.com
A personal SWOT Analysis worksheet usually consists of 4 sections – for Strengths, Weakness, Opportunities, and Threats. Strengths and weaknesses are inside and internal factors and the opportunities and threats are external and outside factors. Each box will house 2-3 questions related to the respective aspect and the rest would jot down the corresponding answers. The worksheet can be used for business SWOT analysis of companies, professionals, students and so on.
Sample My Personal SWOT Analysis PDF Download
blog.cleveland.com
You will find personal SWOT Analysis Templates in Word today, designed to help with readymade analysis drafts so that you don't have to create the whole thing from scratch. You may also see Marketing SWOT Analysis Template. The sample will come up with pre-designed sections for each of the 4 aspects of the analysis where you can write the corresponding questions and answers.
Free Personal Leadership SWOT Analysis PDF Template
academy.clevelandclinic.org
A personal leadership SWOT analysis template would be handy when you are a team leader and are looking forward to evaluating your stance as a leader. Also, you can check retail SWOT Analysis templates, as they can be of great help to you. The personal leadership Microsoft Word SWOT Analysis Templates will help you to delve deeper into your best bits and limitations to work upon -to leverage your leadership abilities.
Personal Skills SWOT Analysis Example Word Format
as.exeter.ac.uk
Personal SWOT Analysis Sample PDF Download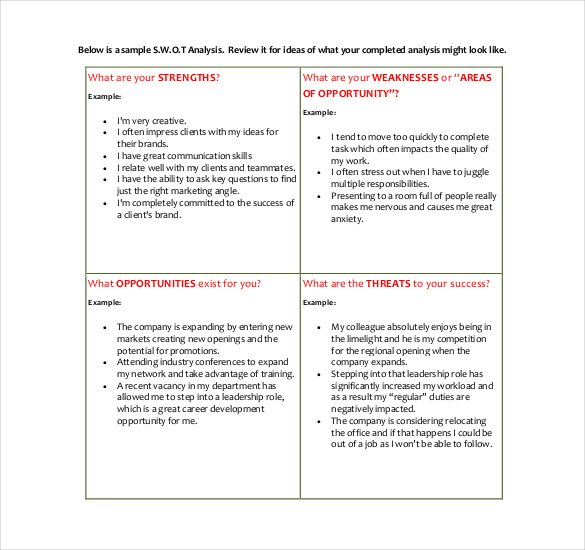 workplacelearningsolutionsblog.com
SWOT Analysis for Personal Skills
fse.tibiscus.ro
Sample Personal SWOT Analysis Template
wpc.6fdc.edgecastcdn.net
Strategic Planning and Personal SWOT Analysis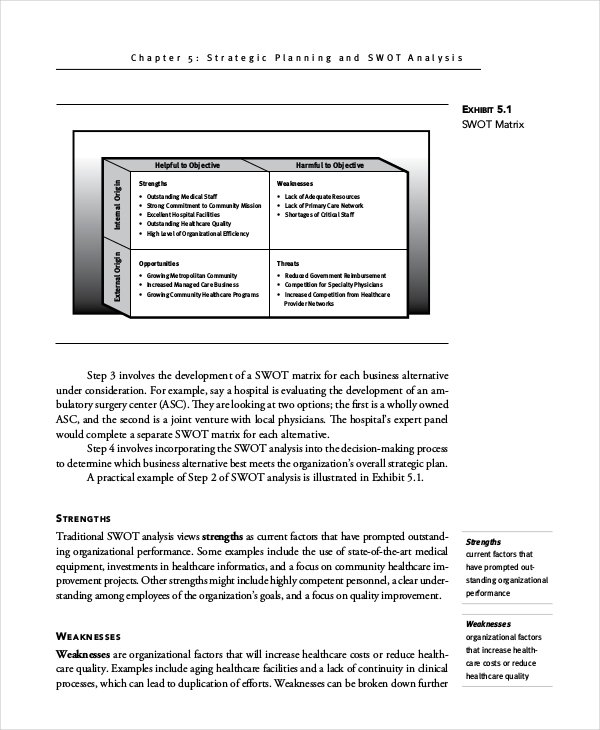 ache.org
Personal SWOT Analysis Opportunity
developingpotential.com.au
Personal SWOT Analysis Example PDF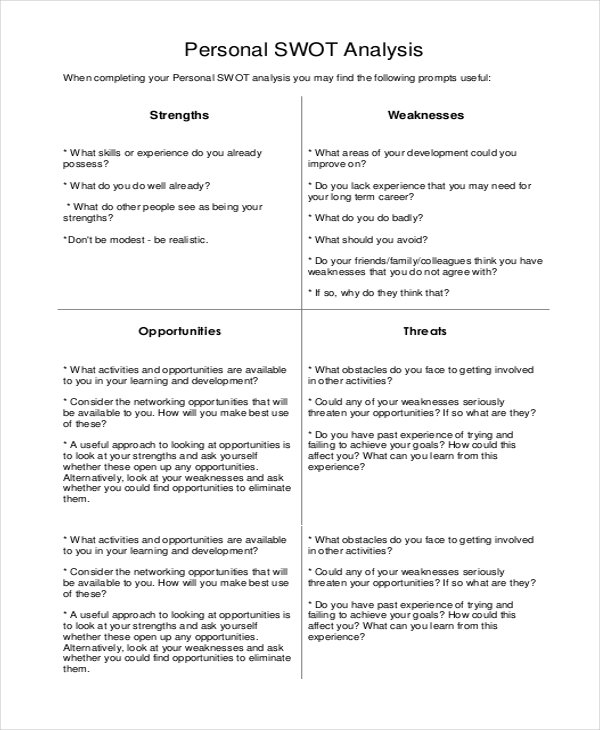 staffdevelopment.southwales.ac.uk
Sample Personal SWOT Analysis Example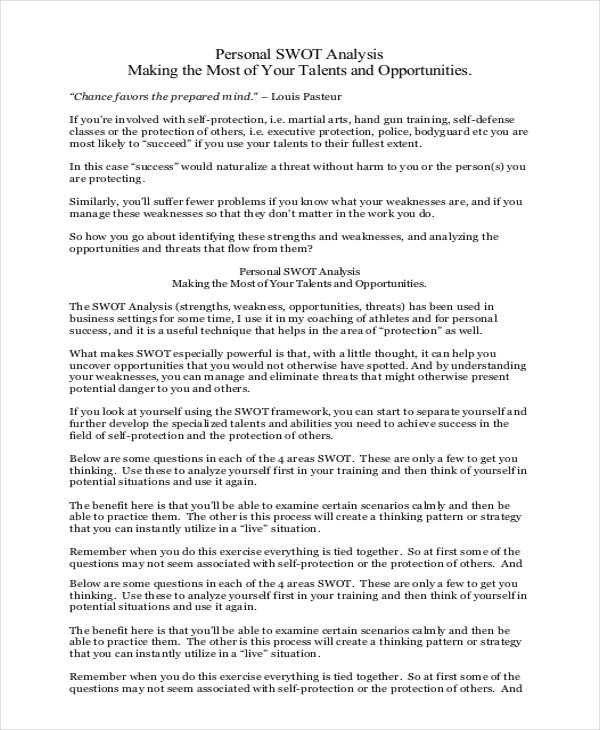 warriormindcoach.com
SWOT Analysis of a Person Example
sis.ashesi.edu.gh
Sample of SWOT Analysis of a Person
edrawsoft.com
Personal SWOT Analysis Assignment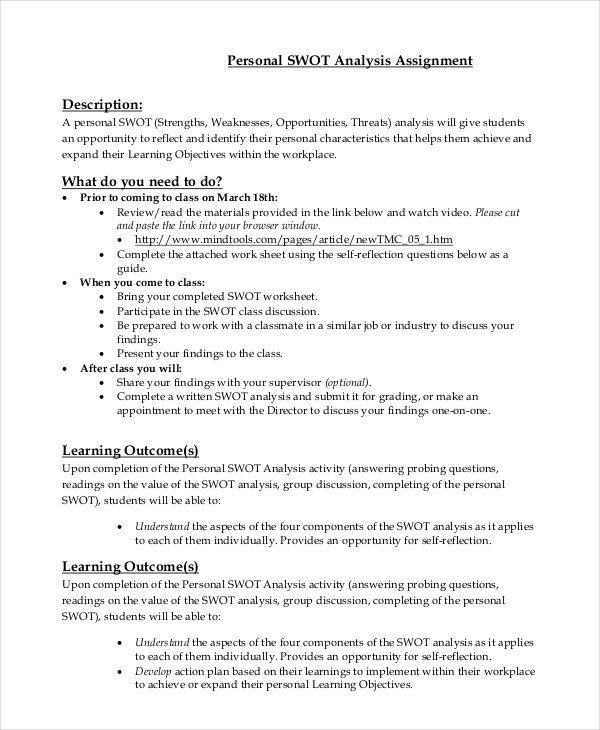 lamission.edu
Personality SWOT Analysis Template
qualityaustriacentralasia.com
Personal SWOT Analysis Test Template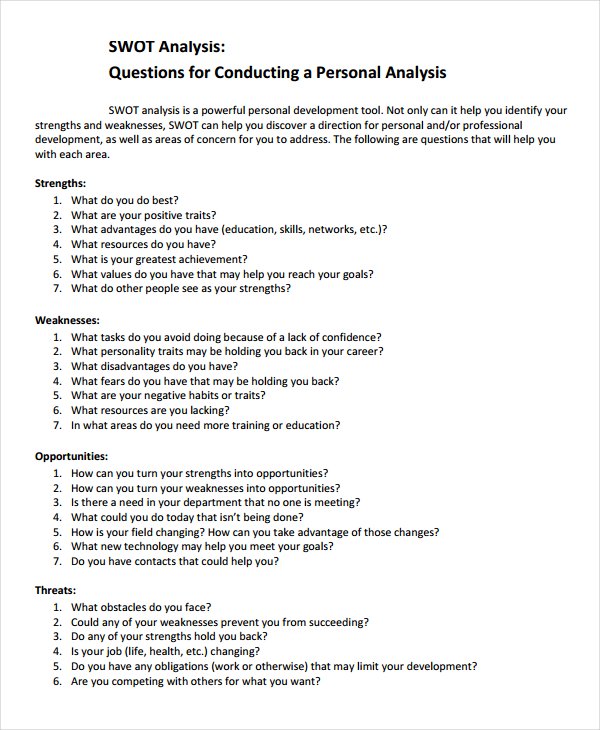 civilservice.louisiana.gov
Free Information Technology Personal SWOT Analysis
umassd.edu
What are the Uses of Personal SWOT Analysis?
We have to have full knowledge of our capabilities and weaknesses whenever we are aspiring for something to understand our success with the project. This is where the SWOT analysis templates in Numbers come in. These analysis templates will help you to take a deeper look into yourself so that you can have a clearer view of your best bits and the weak points.
You will have a better understanding of the parts that need extra attention. Besides, the analysis will point out the opportunities lying ahead so that you can make the most of them and will even warn you about the potential risks around. Personal SWOT analysis templates will be of great help to you in case you need to make a SWOT analysis for your self.
Why Personal SWOT Analysis is Important?
Whenever we plan to undertake a project or mission, we must get a clear idea of our success with the job. Now, a personal SWOT analysis is the first thing that you need to do here to gauge your potential and prospects with the project. You may also see SWOT Analysis in PDF. It's because unless you are knowledgeable about your best resources to help in the project and the weak points that can hinder the progress- you cannot proceed systematically.
With personal SWOT analysis templates in Word, you will also know about your possible gateways that will enable you to cash in on for the best result for the project. Finally, you need to carry the analysis to arrange for the precautions on time for the possible threats around.
What is SWOT Analysis of a Person?
The SWOT analysis of a person refers to the analysis of 4 main characteristics of the individual- his/her Strengths, Weaknesses, Opportunities, and Threats. The "strength" part helps an individual understand his/her best aspects, skills and talents. Then, the "weakness" aspect enables him to have a deeper look into his limitations and the areas that would need massive improvement to better himself.
In regards to the opportunities, the critical analysis templates will help you to discover the favorable conditions around you. Finally, the "Threat" analysis will assist you to have a clearer idea about the alarming threats ahead so that you can negate them first to achieve success in your project.
When is Personal SWOT Analysis Performed?
A personal SWOT analysis is performed when you need to get a thorough assessment of yourself to understand your success with a mission. It's mostly performed to understand one's prospects in regards to career. The analysis helps the individual to decide the best career path for him in light of his best bits and limitations. Take a look at the SWOT Analysis template samples that are available online now!
Whether you are starting your career or planning a shift into another career, the analysis will be handy to ensure an informed decision. You can also bank on Microsoft Word SWOT analysis templates when you are aspiring for a milestone in your personal life.
A swot analysis sample template would be especially helpful when you are at the crossroads of your career and having a dilemma on which option to go for. The analysis will help you have an informed view of yourself so that you can make a decision that is fair for your organization and helps you in the best way possible.
More in Analysis Templates