Analysis Templates
6+ Project SWOT Analysis Template
To understand the Strengths, Weaknesses, Opportunities, and Threats involved in a project, a SWOT analysis is often used. A SWOT can help in the planning phase of a business, to find the factors which are favorable or unfavorable to the achievement of a business objective and hence help in optimizing the business. For several decades, SWOT analysis has been the go-to tool for managers to solve complex project management problems. We'll tell you how you can do this analysis on your own, and use preset templates to make life easier.
Table of Content
5 Steps to Write a Project SWOT Analysis
Step 1: Introduce Your Project
It is useful if you give an introduction to the project, for which the SWOT analysis will be performed. The introduction helps in lying down a foundation for the analysis so that all the situations and factors to be considered are taken into account at the very outset.
Step 2: Weigh Your Strengths
The "S" in the word SWOT analysis stands for "strength". The first step towards performing the SWOT is weighing the factors that contribute to the strength of your project. Once you have optimized your strong points, you can start looking at the other factors to improve efficiency.
Step 3: List Down Your Weaknesses
This is one of the most important steps of the SWOT analysis process. It is very crucial to correctly identify all the weaknesses involved in your project from the lack of any infrastructure or resources to inadequate time. Once you have listed them down, you can start working on each area.
Step 4: Identify the Opportunities
Every project has its own share of opportunities and it is important to correctly identify them so that they can be put to use. Opportunities help in strengthening your objective so you should employ resources to find and exploit them optimally.
Step 5: Determine the Threats
While working on your strength and weaknesses, you must also be aware of the internal and external factors which can threaten the progress of your project. The knowledge of these factors can help you prepare yourself to resist or remove them at the necessary time.
7+ Project SWOT Analysis Templates
1. Project SWOT Analysis Template
This is a simple sample SWOT analysis template which of A4 size with bleed and can be easily downloaded and customized for use across departments. It uses original suggestive headings and contents which are easily editable and printable. It can be used for doing SWOT analytics of management aspects of a project. This template can be opened through Google Docs and MS Word.
2. Basic Project SWOT Analysis Template
melissathomasrrhs
This is a very basic template that helps you create a proper and extensive SWOT analysis for your project. The boxes of strength, weakness, opportunities and external threats are well-marked. You can just make the entries and start performing the analysis without further ado. All you need is to download and start filling the boxes with a bullet list.
3. Detailed Project SWOT Analysis Template
artes.esa.int
This is a detailed document which entails all aspects of a project including risk management, proposal, development, and others. One of the main parts of the document is the customer SWOT analysis template in table 2.5. This gives you a detailed idea of how to go about your project once the analysis is performed and you have identified your area of strengths and weaknesses.
4. CESP Project SWOT Analysis Template
energy.gov
This is a template which deals with a heavyweight government project. Apart from the regular parameters of SWOT analysis for business plan it also deals with other elements like the business community, non-profit foundations, residents, schools, policies, etc. If you are looking for a SWOT analysis template which can tackle a big project, this may be suitable for you. The rows of the template help you extend the SWOT across specific aspects.
5. UNICEF Project SWOT Analysis Template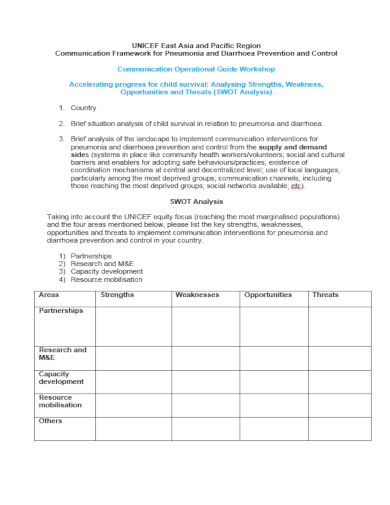 unicef.org
This is a SWOT analysis presentation template for a project on the process of child survival in East Asia and the Pacific region, undertaken by UNICEF. It is a large-scale project which needs intense analysis on the strength, weakness, opportunities and external threats. It needs detailed strategizing and risk management, to ensure that the huge data to be recorded are not manipulated due to any factor. This template can be ideal for you if you are working on a project which has such diverse and vast parameters.
6. PESTLE Project SWOT Analysis Template
issat.dcaf.ch
The PESTLE format of SWOT analysis deals with certain other factors, namely – political, economic, social, technological, legal and environmental factors which can create an impact on a project which you may be undertaking soon. It is therefore important to asses these factors individually and take them into account while performing a SWOT analysis for your project. This is an excellent SWOT analysis sample template that you might consider using for such a project.
7. Perfect Project SWOT Analysis Template
s3.amazonaws
This is an excellent project management SWOT analysis template that gives a balanced perspective for performing a SWOT analysis for your project. This template shows how SWOT analysis was done for the Mexico City Water Fund project and is a great example to follow for a professional template. The pre-filled content in the template makes it very easy even for a first-timer to get started on a detailed SWOT analysis.
More in Analysis Templates