Analysis Templates
Employee SWOT Analysis Template – 11+ Free Word, Excel, PDF Documents Download
Your employees are certainly the fundamental aspect of your company and hence you have to be careful about their potency and drawbacks. This is where you can utilize a free swot analysis template that will enable you to run a proper evaluation of the strong and weak points of your employees. The analysis will also help you to understand the areas where the employee needs to work on for further improvement.
Create a SWOT Analysis in 5 Steps
Step 1: Build an Objective
Firstly, you need to have an objective in mind, that is, why you are taking this analysis and what you intended to find out. This should also contain what is your key topic or title you want to analyze. This type of analysis can be sued for any type of business. There are many SWOT analysis in PowerPoint, that might be of use to you,
Step 2: Design a Square Grid
The next step would be to draw a square grid, dividing into 4 smaller equal parts. This would help in keeping your analysis legible and neat. Since analysis helps you in understanding a particular problem or issue better and solve it in a strategic manner, it is necessary for you to make an analysis of your employees on a regular basis. You may also see marketing SWOT analysis templates.
Step 3: Label Each Box
Once you have divided them into equal portions, label each box. They should be labeled accordingly. As strengths and weaknesses are internal factors, they should be placed above and opportunities and threats are external factors and should be placed together. You can use different SWOT analysis examples to keep track of all the factors that motivate your employees to try and work better in your working environment.
Step 4: Add Your SWOTs
Once you are done labeling each box, next would be to add the content in it. This content should be in bullet points, as this will make your analysis look readable and clean. Make them look different from one another as this makes it easier for you to understand what you are trying to analyze.
Step 5: Final Conclusion
After you are done drafting each point, make sure that you make a final conclusion as to what are the positive and negative outcomes of your analyzes and what you are going to do about it. Here is where you will also make use of your objective to check whether or not you have fulfilled your goal and adjustments have to be made accordingly.
Sample Employee SWOT Analysis Template
Understanding what your employee's needs and talents are is an important way to determine what is going to happen to your business in the future. Use this sample employee SWOT analysis template to assess your employees. This will help you determine their strengths, weaknesses, opportunities, and threats. You can also use personal SWOT analysis templates for your personal use.
Employee SWOT Analysis Template Word

cpshr.us
SWOT Analysis of Employee Retention PDF Format

hr.nv.gov
SWOT Analysis for HR Department Word File

yourbusiness.azcentral.com
Employee Performance Analysis Word Doc Free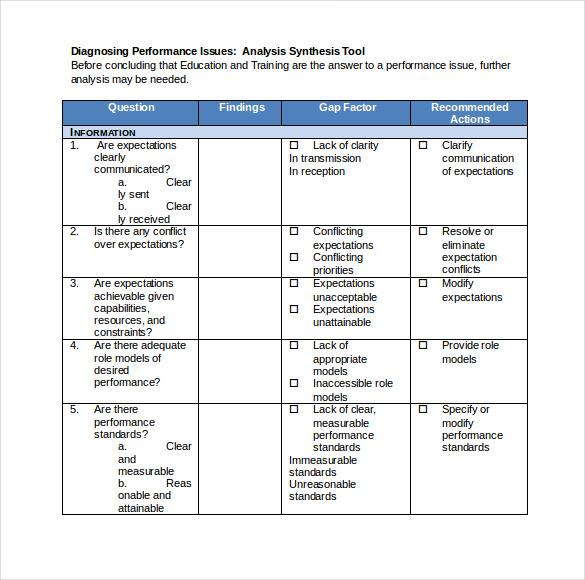 nessie.uihr.uillinois.edu
Employee Evaluation SWOT Template Word Download

ehow.com
SWOT Analysis of Employee Empowerment PDF Download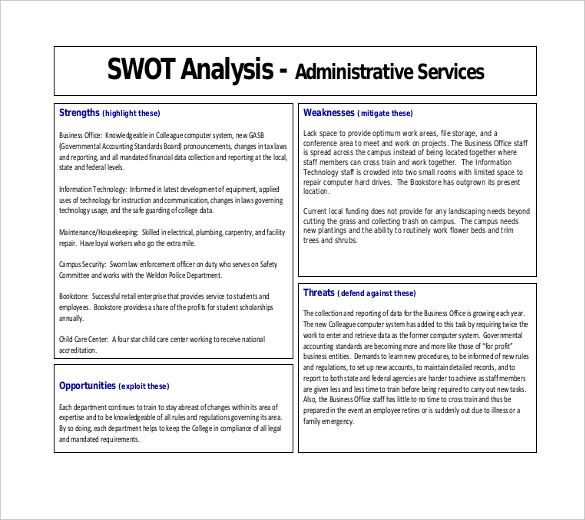 halifaxcc.edu
SWOT Analysis for Employee Training and Development PDF

ibectraining.ie
SWOT Analysis for Employee Turnover PDF

extension.psu.edu
Moreover, a swot analysis also clarifies the risk of keeping the employee in your company. All in all, it will allow you to have a comparative study between the different aspects of the employee so that you can take an informed decision on how to deal with the employee.
If you have any DMCA issues on this post, please feel free to contact us!
More in Analysis Templates