Analysis Templates
8+ Sample Software Gap Analysis Templates
Computer programs are advancement of today's technology, you can do your work alone and even at home where the process is less stressful and the rewards are to be doubled. Software Gap Analysis Templates can identify the functions and features which must be included in a computer program. It is technical in its form and must be used by any Simple software experts or computer geeks when they will check any computer software that is released for public usage or for private sectors alone.
Gap Analysis Template
Blank Gap Analysis Template
Editable Business Process Gap Analysis Template
Free Gap Analysis Template
Example Software Requirements Gap Analysis Template
csus.edu
Software developed has their own functions and programming to perform a specific task; with the software requirement Gap Analysis Templates, the appraiser can find out if the program installed in the software can really perform the task that is designed for it. It has the format to properly fill out the questions for the gap analysis for the software design.
Sample Software Gap Analysis Document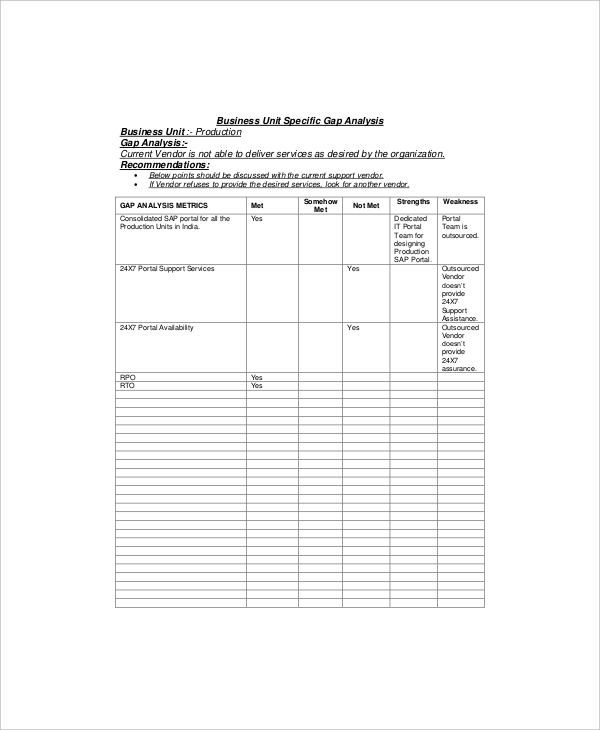 cdn.ttgtmedia.com
Software Data Gap Analysis Final Report
k12.wa.us
Software Application Gap Analysis Template
owasp.org
The software product that offers wide range of application program where their evaluation must be done after the product release or by some customers who have used it in their work, this work can be done with software application gap analysis template; the guide document where they can put all the findings in one document to form a conclusion out of the assessment done to it.
Software Testing Gap Analysis Example
repositorio-aberto.up.pt
Benchmarking software is a typical procedure where they can see if the product can have a big impact in the computer world. Their application will be tested from various test and performance run if they can do their job as programmed, a software testing gap analysis template then can be utilized in this task where their gap outcomes can be tallied.
Sample Software Development Gap Analysis Template
New computer always need a new program and software to keep it unique from the others, software gap Analysis Templates is not only for creating new computer functions but also marking any deficiency in software's function which can lead it to second-rate performance and be ignored by many users.
> Target Readers and Users of Software Testing Gap Analysis Template
Software companies automatically apply this in their research and development section. They can spot the difference and improvements they need to adjust in their products so it can stand all the demands of their clients using the said software.
> Benefits and Advantages of Software Gap Analysis
Its main goal is to improve software development and have new programs that can help any online users in their life which can be related to work, entertainment, games and even trading. This gap analysis has a lot to offer to people working in software creation which is why this is typical in such programming companies. You can also see Skill Gap Analysis Templates.
> Steps in Constructing Software Gap Analysis
Choose the spreadsheet that you will have in this gap analysis and identify the program and purpose of software embedded into it. You must tick the parts that are related to its programs and have the parts that need to be changed so you can stick to the programs function.
> Tips
Ask help from any software experts that have this assessment tool used in their own program and get advice. Also benchmarking the gap analysis for this task is an essential way for the tool to be efficient.
The evaluation tool is accessible in example format meaning you can take this program when you download a copy of it. The format of it suits best for evaluating software in any genre and its functions which is an advantage when you want software to be in line with an outstanding application in the computer world.