Brochure Templates
39+ Brochure Design Ideas and Examples!
Hiring an advertising agency or professional designers to create promotional content for your business can be quite expensive. If you have a little knowledge about content and color combination, then you can take advantage of the readymade template available over the web. The Brochure Design Templates helps you to create exciting and beautiful templates without spending a single penny from your profits.
These templates are easy to modify and customize, thus, helps you to promote your business without hiring a professional team. With an easy to design, create, publish, and print professional-looking brochures, these templates just requires a strong vision and powerful content to come up with attractive and eye-catchy brochures.
Multipurpose Tri-fold Brochure Template
Buy Now
Minimal Product Brochure Template
Buy Now
Bi-Fold Corporate Business Brochure Template
Buy Now
Travel Agency Brochure Template
Buy Now
Bi Fold Wedding Photography Brochure Template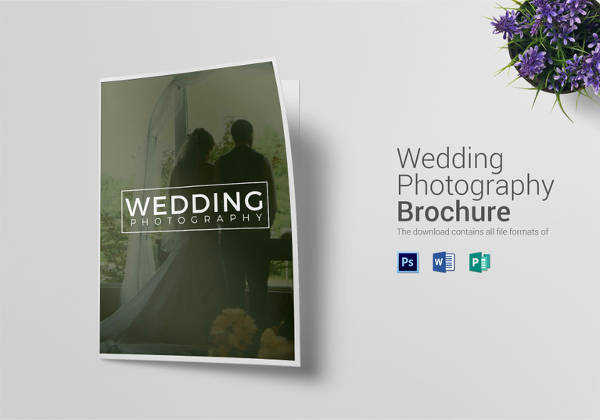 The Bi-Fold Wedding Brochure template helps you to plan your big day with great ease and comfort. Since we all know that your wedding day can be quite tiring staring from calling caterers, trying wedding outfits, welcoming guests, and others, these templates ensure that you enjoy optimal ease while inviting your special guests to your lifetime event. With the help of these readymade templates you can easily plan a great wedding without taking stress about printing wedding initiations. You can easily use the segments of these templates to showcase the highlight of your wedding date, its date, time, and venue, and to show a personal touch- just share your love story! Buy Now
Printable Courses Brochure Template
Buy Now
Simple Tri Fold Interior Brochure Template
Buy Now
Easy to Edit Architectural Firm Brochure Template
Buy Now
Editable Diabetes Brochure Trifold Template
Download
Free Multipurpose Brochure Template
Free Download
One Page Brochure Template
Free Download
Small Business Brochure Template
Free Download
Product Brochure template
Free Download
Blank Trifold Brochure Template
Free Download
Brochure Marine Harvest Chile Template

If you love off-beat brochure designs, this mock up fits the bill perfectly. The covered page is sprayed with bright tangerine color, which gives it's a very energetic appearance. The pages on the inside feature white boxes where you can insert all the relevant textual information. This is a must-have template!
Farmers Market Brochure Desine Idea

The Farmers Market Brochure template is a silhouette style PSD template that is specifically designed for farmer's to help them market their products with ease. These templates can be easily used in various markets including farming, poultry sales, homemade products, or similar articles. All of these templates carry agency-quality perfection, fully-colored graphic designs and attractive yet eye-catchy liners to create beautiful business marketing materials. These templates are available in various deigns and formats including Adobe InDesign CS4, CS5, CS6, CC, Adobe Illustrator CS4, CS5, CS6, CC, QuarkXPress 9, 10, 2015, CorelDRAW X3, X4, X5, X6, X7, and many others.
Spencer's Crossing Brochure Design

This brochure template is undoubtedly simply classy with its choice of sophisticated colors with subtle faded effect that prevents the illustration from getting loud. The cover page will get maximum highlight for your unique logo.
Hexagon Hotel Brochure Design Template

As the name suggests, the Hexagon Hotel Brochure Design Template is an ideal solution to market your hotel to potential customers and guests. You can use this 16 page template for branding your hotel and describing its features and amenities to corporate, casual, and business guests. The templates enables you to list out all the exciting features of your hotel in a clean, professional, modern brochure that is easy to read and attractive to catch customer's attention. The template is easy to edit and you can change colors of the whole document to create a tri fold brochure for hotel marketing purposes. The template contains various sections and segments to help you describe almost everything about the hotel.
Modern Brochure Design Template

You are getting a very elegant 24-page brochure template which can be used for any sort of business. The white backdrop makes a great canvas for the classy colorful visuals and textual details.
Art Show or Expo Trifold Brochure Design

The brush-stroke-like fonts speak volumes for this extremely artistic brochure template which you can use for any sort of artistic exhibition such as painting or photography. The color scheme is really soothing.
Clean Brochure Design Template
Union Aire Brochure Design
Sunfold Brochure Design
Beautiful Modern Brochure Design Ideas
Brochure for Interior Designer
Brochure Design with Spread Pages
Tea Brochure for Tea Store Modern Design Template
Typography Creative Brochure Besign Template
Seo Brochure Design Template
Brochure Design Set Template
Rav Corporate Brochure design
Marketing Tri Fold Brochure Design
Makeup Brochure Modern Design Template
Security Brochure Design Template
Tadao – Typeface Brochure Design
Foliomania Designer Portfolio Brochure
Gabbana Studio Try-Fold Brochur Design Template
Taj Villas Branding Brochure Design
Branding & Design For Medeo Brochure
Benefits of Readymade Templates
Using the PSD Brochure Design Templates for completing a particular project saves a lot of time and effort. These readymade templates are easy to use and modify, thus, helps you to create attractive, beautiful, and creative brochures without spending a single dollar from your pockets. The wide availability and variety of options to choose from helps you to create brochures that are professional-looking, carries a clean look, and contains all the features of the perfect design. The templates can be downloaded in Adobe InDesign CS4, CS5, CS6, CC, Adobe Illustrator CS4, CS5, CS6, CC, QuarkXPress 9, 10, 2015, CorelDRAW X3, X4, X5, X6, X7, and many others. Apart from these, these templates are also available in Microsoft Publisher '07, '10, '13, Microsoft Word '07, '10, '13 (Mac '08, '11),Apple iWork Pages 4, 5, and Microsoft PowerPoint '07, '10, '13 to help you create beautiful designs from the comfort of your home. The templates are completely customizable and its easy-to-use page layouts help you to create beautiful designs within a few minutes.