Brochure Templates
10+ Brochure Holder Template Designs And Ideas
You can make the best possible use of free brochure holder designs and ideas to make your own brochure holder and to make effective distribution of flyers and pamphlets. By downloading free PSD brochure designs and ideas, you can create your own brochure holders which can either have single pocket for holding the leaflets or can have multiple pockets.
White Holder For Brochures EPS Design Template – $4

You are getting a really classy brochure holder template here. The white color shines with elegance while the angular curve at the top assures a handy way to pick up the brochures.
Wall Mount Metal Brochure Holder Template for $45

This wall mounted metal brochure saves a lot of space for your office desk- the metal structure is classy and the little holding arms in the middle and the one at the bottom are smart additions.
Free Brochure Holder Digital Art Template

If you are looking for something non-fussy and minimalist without losing out on the elegance factor, this plastic brochure holder would surely make your day. The blue backdrop adds depth to the overall frame.
Creative Brochure Holder Stand Template

If you have got too many brochures for which one holder might not be enough, this brochure holder stand would just be "the one" for you. It will also allow you to showcase the different beautiful brochures in style.
Handmade Spoon Brochure Holder

What if the same spoon and fork that holds the food for you, hold the brochures? Well, you are getting such an illustration here which is creative, chic and classy.
Man-made Brochure Holder Template Download

The firm cardboard renders an aura of elegance and smartness- and you have a very elegant brochure-holder here. The white color scheme adds on the desired dose of professionalism and classiness.
New Design Brochure Acrylic Holder Template
Free Download Brochure Holder Illustration Design
Oak Brochure Holder & Business Card Holder
Asian Paints Brochure Holder Free Download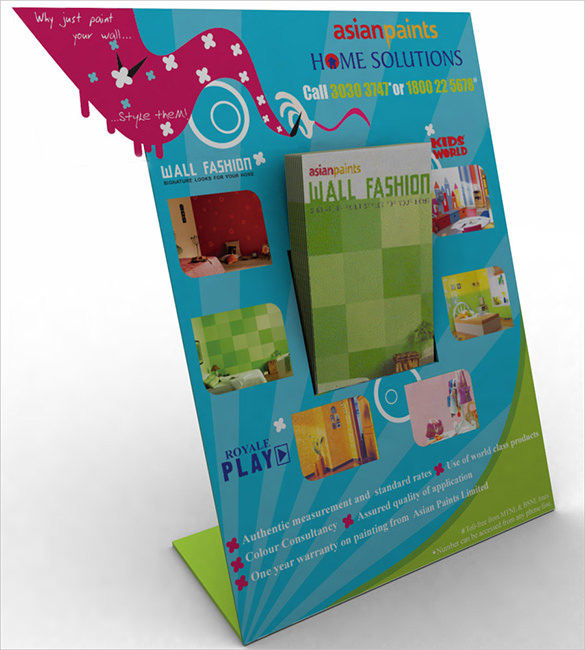 Acrylic Brochure Holder Template Free
Cardboard Trifold Brochure Holder
Different pamphlets are printed with various designs and graphics so they need to be displayed in order for increasing your brand recognition and expanding the horizon of customers you have. These holders are decorative and attract the attention of the customers thus proving beneficial for you.