College brochure templates are hugely popular. In terms of advertising and promotions, brochures are the best bet, and they are far less costly in comparison to their other counterparts in the industry. The main USP of brochure templates is that they are readymade yet they are flexible to the extent that users can personalize them and give them a distinct identity. You can work with the templates in Adobe Photoshop,Adobe Illustrator, Adobe InDesign, CorelDraw, MS word, QuarkXPress and Microsoft Publisher 2003, 2007, 2010 and 2013. You can also visit School Brochure Template.
Editable College Bi Fold Psd Brochure Template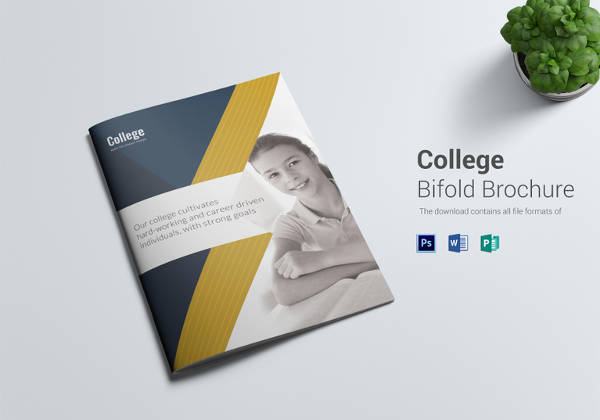 University College Bi Fold Brochure Template
College Bi Fold Brochure Design Template
College Educational Brochure Template
Higher Educational Brochure Template
Education Bi Fold Brochure Template
Free Modern College Brochure Template
Free Creative College Brochure Template
Free College A3 Brochure Template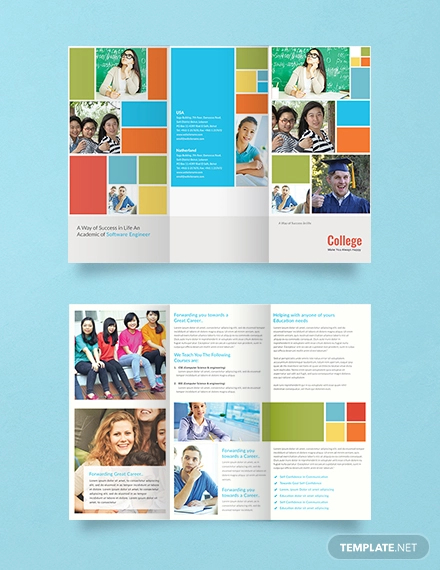 Free College Tri-Fold Brochure Template
Free College Event Brochure Template
Education Trifold Brochure Illustrator Template to Edit
Unique Multipurpose Bifold & Trifold Brochure
Indesign College University Brochure Template
College University Prospectus/ Brochure Template
If you love designer-based college brochure or prospectus, this template is your go-to option. It has a wonderful PSD design and contains more than ample space for you to fit in your texts and images. All of the pages in the template are attractive and loaded with pack of great fonts. This sample is easy to download, edit and customize.
College Or University Bifold Brochure Template
This college or university template is a Bi-fold patterned sample which has space for images on the front and back along with logo space, contact information and address space and content on the inside.
California Preparatory College
Check out this college brochure template, it belongs to California Preparatory College. It is a PSD-format file template which is an all-rounder. It is downloadable and easily customizable – there's space provided in all of the pages for you to insert images, write suitable captions, and much more!
A4 / US Letter Sized Education Trifold Brochure
This education Trifold brochure is a PSD based design with downloadable fonts for free. It has ready drop marks as well as bleeds, also image space on the cover page and inside is provided.
Bifold College Brochure Template
College Educational Brochure Template
This educational brochure template is a 4 page sample, easy to custom and available with free fonts. Addition of extra pages is possible and is layered. It provides space for image and content customization.
Square Trifold Brochure
14 Pages College Brochure Template
Education Brochure Template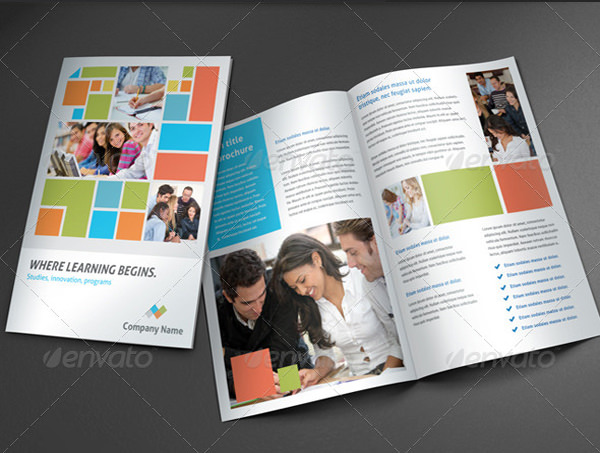 Best Tri Fold Academic Education Brochure
Educational Brochure Template
College & University Brochure Template
College Brochure Template
Adult Education Tri Fold Brochure Template
College Prospectus Brochure Template
Education TriFold Brochure
College Brochure
Stylish Layout College Brochure Template
Community College Brochure Template
School Children Brochure Template
Editable College Brochure Template
Diploma Brochure Template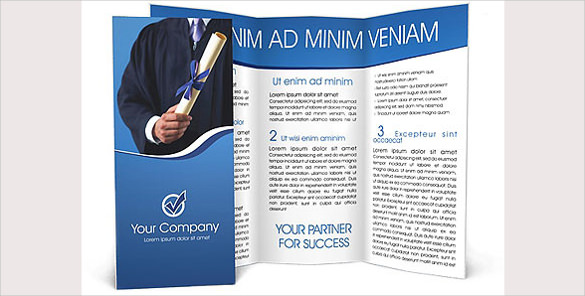 College University Prospectus – Brochure
Education School Trifold Brochure Template
Simple To Edit Educational Brochure
University Students Brochure Template
University and College Brochures 2014 Templates
Modern Education Brochure
School Education Brochure Template
Educational Templates Bundle
College Prospectus
As brochures most of these templates have 2 pages or sometimes just one; but most importantly they can be either tri-fold brochures or bi-fold brochures with 6 panels and 4 panels respectively. These make the more economical and compact.There are spaces for inserting header content, main picture as well as footer content. The columns impart a sense of organization to the Brochure Design Template which is necessary to grab the attention of the students and their parents. 6 panels allow more information to be presented in a much compact and organized manner as compared to the 4 paneled structures.
These brochures do come in various sizes as well and are always print ready (full bleed). The photos supported by these brochure templates include the ones in the 300 dpi range in JPEG, EOS and PNG formats. These templates conform to the standards of professional designs and come with editable layout and graphics options.They are open to font switching, resizing, relocation and other editing features which are an integral part of brochure creation. Freely downloadable samples allow you to check out the awesome features before committing to one template.