Brochure Templates
34+ Modern Brochure Design Templates
Do you need to create a brochure for your company and you are looking for interesting ideas? Well, the regular brochures flooding the land based shops look really dull at times brochures are a great marketing material and hence you have to be as edgy here as you are with your website. You can search the online world for modern brochure which are created by skilled and professional graphic designers.
Modern Bi-Fold Brochure Template
Modern Tri-Fold Brochure Template
Modern Tech Brochure Template
Modern Real Estate Catalog Template
Bi-Fold Corporate Business Brochure
Printable Restaurant Bi Fold Brochure Design
Modern Car Brochure Template
Editable Library Brochure Template
Business Consulting Bi Fold Brochure Template
Interior Design Bi-Fold Brochure Template
Modern Architecture Brochure Template
Modern Diabetes Clinic Brochure Template
Modern Wedding Photography Bi Fold Brochure Download
Construction Company Tri Fold Brochure
Free Modern Brochure Template
Free Bi-Fold Brochure Template
Solar Magazine Modern Brochure Graphic Design

If you have lots of images to upload for your brochure and limited texts, this template would be helpful for you. The white color makes a great backdrop for the colorful images.
Minimal Square Trifold Modern Brochure for $10

The geometrical illustrations make a stunning and chic visual for this brochure template. You can place your logo right up on the cover page and the white internal pages can be used for
Pandora Photography Trifold Brochure Design

If you are looking to make the cover page all about a gorgeous image, this trifold brochure template would e handy for you. The internal pages offer ample space for textual details.
Architecture InDesign Modern Trifold Brochure Template

This brochure template offers you generous space for images against a soothing background. The internal pages can be used for the text- the cubes and other geometrical illustrations add on the chic factor.
Technology Tri Fold Modern Brochure

If you are looking to add charts and graphs inside your brochure, this template would be really helpful for you. The vibrant geometrical figures on the cover page form a nice backdrop for your company name.
Automobile Modern Brochure Template

The cover page allows you to present your image with an artistic tinted effect. You will also get space to add on your company logo and company name in big on the cover page itself.
Editorial Design Modern Brochure Template
Multi Purpose Modern Brochure Template
Modern Online PSD Marketing Brochure Template
Museale Forstyrrelser Modern Brochure Template
Annual Report Brochure Template
Travel Modern Brochure Template – $18
Business Modern Brochure Template
Aston Martin Centenary Brochure Digital Project
Creative Modern Business Brochure Template
Cool Modern Brochure InDesign Template
InDesign A4 Business Brochure Template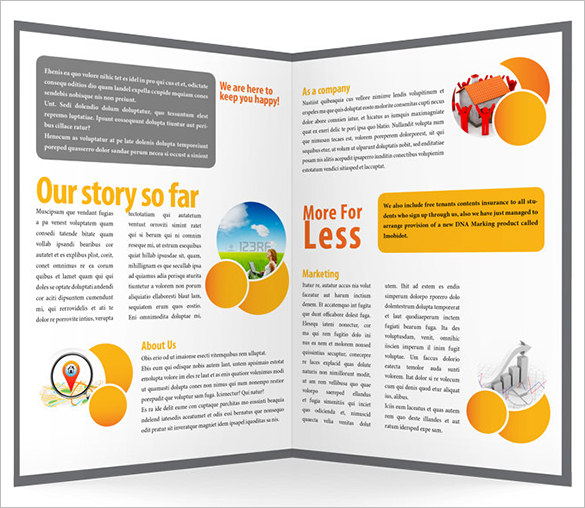 Print Design Condo Modern Brochure Template
Bi-Fold PSD Modern Brochure Template
Some of these contemporary designs reflect geometrical illustrations while some focus on bright objects, stylish fonts and abstract artistic displays. You will get free modern brochure designs templates to work on. The PSD modern brochure designs templates will save a lot of time & energy for you.