Brochure Templates
18+ Organic Food Brochures
There is no better way to advertise your organic products than using organic food brochures. These expert-designed food templates capture every element of your services including their benefits, uses, and ingredients. You can use them both for commercial and organizational events. You can buy them in bi or tri-fold depending on your taste. They also vary in terms of color, page size and numbers, fonts and images. Nonetheless, they are easy to customize for specific occasions.
Organic Food Bi-Fold Brochure
Retro Organic Food Brochure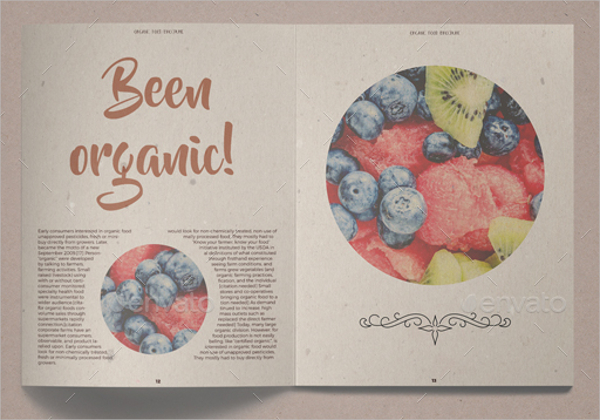 This Retro Organic Food Brochure print template is printable on 8.5 by 11 paper sizes. It is layered featuring in-design INDD, 28 unique layouts, free fonts, editable colors, texts and images, CMYK, 300dpi with bleeds. You can also see Fast Food Brochures.
Cookbook Food Brochure features 26 print ready pages in 300dpi, CMYK with 3mm bleeds on A4 and US Letter paper sizes. It also contains layered pages with unique paragraphing and character styles. You can also see Coffee Shop Brochures.
Healthy Organic Food Menu Template
This Healthy Restaurant Food Menu template is ideal for vegetarian restaurants. You will adore its free fonts, help file and .5 bleeds printable on letter size pages. It is perfect for Adobe Illustrator. You can also see Restaurant Brochure Templates.
Organic Fast Food Barbecue Grill
The clean Fast Food Barbecue Grill print template for fast-food businesses and restaurants comes in four layered A-5 pages, 300dpi, CMYK and 3mm bleeds. Luckily, you can resize, edit and customize it freely.
Organic Food Menu Brochure
This 210 by 297-px creatively designed Organic Food Menu Brochure is crafted in Photoshop. It contains layered PSD files featuring CMYK with high resolution and requires at least Adobe CS4.
Organic Food Campaign Brochure
The Big O, Organic Food Campaign Brochure Template promotes the benefits accruing from organic foods. It is ready for printing on both sides. You can use it for advertising or branding your business.
Organic Food Newsletter Brochure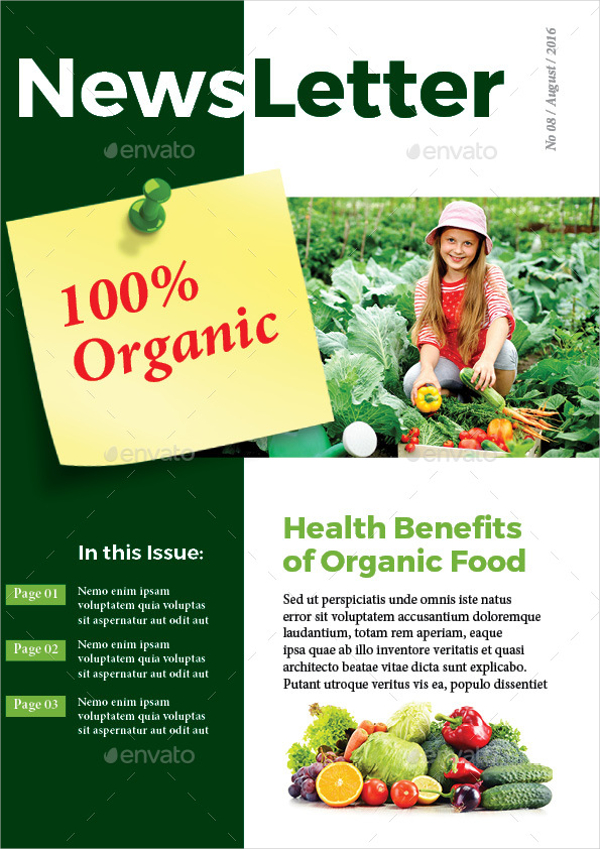 The Adobe InDesign, IDML, INDD and PDF Organic Food Newsletter features CMYK, 300 dpi and free fonts. This uniquely layered eight-paged ready to print file contains help file with 3mm bleeds.
Organic and Healthy Food Brochure
Ponto-Organico Free Brochure; a bi-fold template, allows you to use your creativity in customizing and editing it for your business. This professionally designed ready to print template is tailored for organic food restaurants.
Organic Market Trifold Brochure
Organic Market Trifold Brochure is printable on both US Letter and A4 sizes. It features free fonts, Indd, IDML, INX, PSD, Ai and EPS files with ready to print bleeds and drop marks.
Organic Food Brochure Template
This tri-fold organic food brochure template, designed on 8.5 by 11 page sizes ready for printing is available for instant downloading. It contains high-quality customizable photos, logos, and artwork.
Flamous Brands Organic Food Brochure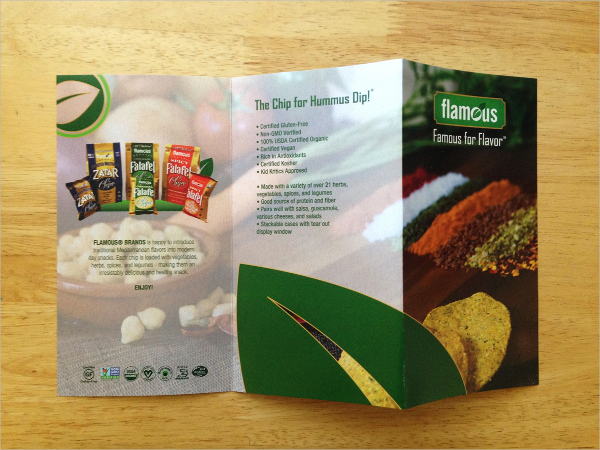 Flamous Brands Organic Food brochure features editorial, graphic and print designs. It is perfect for business people interested in marketing their organic products efficiently. You can freely edit its colors, texts, and images.
Organic Health Food Market Brochure Template
Organic Health Food Market Brochure is an easily customizable tri-fold template for commercial use. It comes in 8.5 by 11 inches in a horizontally oriented cotton textured paper. You can modify its wordings and images to your convenience.
Organic Food Market Tri Fold Brochure Template
The Organic Food Tri Fold Brochure Template designed by professional designers is easily editable and customizable in Microsoft Word. It is 8.5 by 11 inches in size and ready to use.
Health Food Brochure Template
Take advantage of these best organic food brochures to achieve your business objectives. They are affordable, easy to use and customize. Furthermore, after initially downloading your template of choice, you can save and reprint it for as many times as you desire. Apart from being evergreen, they are also unique.