A brochure is a paper document with information written on it. Commonly used for advertising, it can be easily folded, stored, and distributed. They usually promote organizations, services, or products. Brochures are then given to the public to give advertise a company's products and/or services.
Whether you want them in paper form or in an e-brochure form, we have some brochure templates readily available for you to use.
Sales Bi-Fold Brochure Template
Sales Tri-Fold Brochure Template
Car Sale Brochure Template
For Sale by Owner Bi-Fold Brochure Template
Brochures are nowadays not only available in paper but electronically in e-brochures. They are made for unlimited distribution due to the fact that there is no paper limit. It also lessens the cost of buying materials used for making such brochures.
For Sale by Owner Tri-Fold Brochure Template
Land For sale Bi-Fold Brochure Template
Land For sale Tri-Fold Brochure Template
Land Sales Agent Agency Bi-Fold Brochure Template
Land Sales Agent Agency Tri-Fold Brochure Template
House For Sale Bi-Fold Brochure Template
House For Sale Tri-Fold Brochure Template
Sales Tri-Fold Brochure
Download
Furniture Sales Brochure
Download
House for Sales Brochure
Download
Property Sales Brochure
Download
Product Sales Brochure
Download
Advantages of Using Brochures
If you are thinking of opening up and starting a business, brochures are a great way to introduce your business into the world. Aside from brochures being able to expose you, these are the other advantages brochures serve:
The most common reason of printing and giving out brochures to people is for promotion of products and services that would like to be known to the world.
Brochures tend to be filled with text and pictures about what it is representing. Using brochures allows these companies to place a lot of information that can help their promotion to people.
Handing out brochures gives a little confidence to the business owners since they know that their hard work has been seen by individuals and gives them hope that their services and products are going to bloom.
But before you dive in to designing your own brochures, here's a little run-through with the types of brochures there is out there.
Question-answering. When opening up a business, you always think ahead and inquire future queries potential costumers have about your products and/or services.
Aftersales pitch. After acquiring costumers for your business, you want to continually put yourself on their good side, which this type of brochure does. It contains a list of advantages and benefits they can get from you.
Post box. These are the types that are usually sent in the mail. These types are accompanied with promotional deals and invitations.
Over the counter. These are the brochures you can get when acquiring in actual booths of businesses
Is it now time to check out our marketing brochures?
Car Sales Brochure
Download
Sales Promotion Brochure
Download
Corporate Sales Brochure
Download
Real Estate Sales Brochure
Download
Sales and Marketing Brochure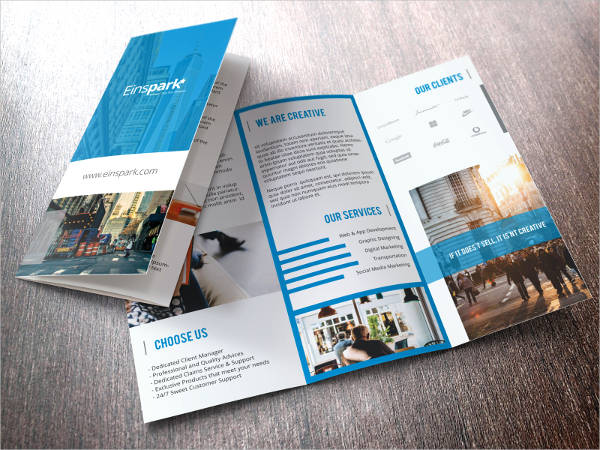 Download
Designing Your Own Brochure
Now that you know the advantages and the types of brochures, here are tips that you can use in making your brochures come to life:
Know the purpose of the brochure first and foremost. You need to make sure you have detailed and correct facts of what it is about.
Less is more when it comes to brochures. Make your information eye catching, precise, and short.
Always put in information on what readers usually look for. Brochures that answers people's questions gains their attention.
Use simple and easy to understand words when promoting your services or products.
Make a good impression by using appropriate colors, font styles, and size and pictures.
Be direct to the point but informative.
Why Use Our Templates?
Our templates are ready to download for free or licensed at a negligible amount. Do not worry, though, since all our templates are designed by the most talented and dedicated artists the Internet has to offer. These templates also come in easy-to-modify PSD, vector AI, or EPS formats, which means the only thing you need to do is download the ones you like and edit them in the illustrator software of your choice. The templates we have can be downloaded any time of the day, and the artistic designs are custom made that you can use to whichever need you have. These are some of the templates we offer on our website:
Furniture Sales Brochure
House Sales Brochure
Promotion Sales Brochure
With designs that are attractive and sophisticated to look at, these brochure templates could definitely help you spark your business and make a name in the world.