Brochure Templates
13+ Easter Brochure Templates – Free Sample, Example, Format Download!
People love to celebrate festivals in a grand manner. Organizing events is one way to do it. To get more and more footfalls it is important you spread word around. A good way to do it is by distributing brochures.
Easter is on its way and people look forward to attending the celebrations. If you have an event in the works and want to get maximum attendance, you should consider giving away East brochures designs. There are lots of interesting and beautiful Easter brochure templates you could download and use for free. Available in PSD, PDF and Word formats. You may also like HD Brochure Templates.
Easter Tri-Fold Brochure Template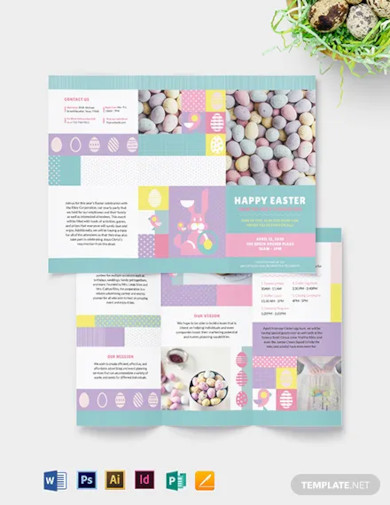 Easter Bi-Fold Brochure Template
Vector EPS Format Easter Brochure Template Download
Sample of Easter Brochure Template
Amazing Easter Brochure Example Template Download
PSD Format Easter Brochure Template
Pink Background Example Easter Brochure Template
Format of Easter Brochure Template Free Download
Beautiful Easter Brochure Example Template Download
Easter Brochure PDF Template Free Download

leisureatcheltenham.com
Lent Easter Brochure Sample Template Free Download

schools.hcdsb.org
Easter Brochure Example Template Free Download

theisraelofgodatl.com
Easter Church Brochure Sample Template Free Download

freechurchforms.com
Easter Brochure Sample Template Free Download

casaitalia.com.au