Invoice Templates
11+ Mechanic Invoice Templates – PDF, Word, Excel
There is always some sort of joy and pride whenever you get to own a house, vehicle, or anything else that counts as a large investment. Anyone will have a dilemma when something is not working right with it, at home or at work. Especially if it's stuff or equipment that you use on a daily basis, but there are times that the inevitable happens when you least expect it. For what is a house when you cannot find enough comfort in it, save the luxury.
Mechanic Invoice Template
Handyman Invoice Template
One morning you suddenly have a leaking faucet in the kitchen sink. A spewing toilet becomes a problem. The car's engine has a major oil leak. And you do not know of anyone who can help you fix them quickly so that the bill will not go at an all-time high when you receive it. Delaying them for repair service would be out of the question. You may also see Cash Invoice Templates.
Auto Repair Invoice PDF
Handyman Work Invoice
servicebridge.com
Contractor Labor Billing Invoice
docs.oracle.com
Hiring a Mechanic
What good is having a car if you cannot power its engine? What's the use of the office air conditioning system if it is damaged. It goes without saying that it's never wrong to want things in their perfect condition for the benefit of everybody who uses them as part of their daily lives. Repairs like that are something that you need for someone to handle well so that you can quickly use your machinery or your vehicle repair again.
You also want to avoid spending a lot of money on something that can be very expensive. And, then there's the seemingly growing mistrust of mechanics, especially individual contractors and handymen, or any other electrical doing repairs for a living, for that matter. These days, finding contractors is no easy task. It can be stressful because there are a lot of them and with varying charges for certain repair services and inclusions.
Trying to find a mechanic to work on your car in your garage or do the repairs at your place of work is already a challenge. Making sure that they get the job done right is even tougher. Most of the time, the very best of handyman or technicians want to work on their own garages or shops, tinkering with the machines in their own way, so asking them to come to you is something they won't have time for and would rarely consider. Mechanics operate differently since they would be offering different services for fixing different types of equipment, although the most popular are auto shops, for auto repair and other vehicle services.
Big companies who run big automobile or equipment businesses usually strike a deal with other contracting companies so that they can hire their own mechanics to do regular fixes and maintenance job. Sometimes they also buy parts in wholesale from parts houses or dealerships. With the current decline in sales and market profit margins, businesses are able to save thousands of dollars by doing maintenance and repair jobs themselves or opening slots for part-time mechanical jobs. That way, they can save a lot of money than paying manual job rates.
Things to Consider
Big companies running big fleets usually hire their own mechanics and buy parts in wholesale either from dealerships or parts houses. With shrinking sales and profit margins, many operators save thousands of dollars by doing it themselves or hiring part-time mechanics. This saves more money than paying manual labor rates at a dealership or the nearest auto shop. The automotive business is popular for its high rates of labor. For example, a mechanic shop might be asking for $55-80 an hour while having a different order form from the actual mechanic for $25-$30 an hour. Rates and price range aside, it is important to hire a mechanic that you can trust, someone who will be able to provide you an accurate breakdown of a reasonable price, even after a turnaround of a few extra days.
Repair Order Form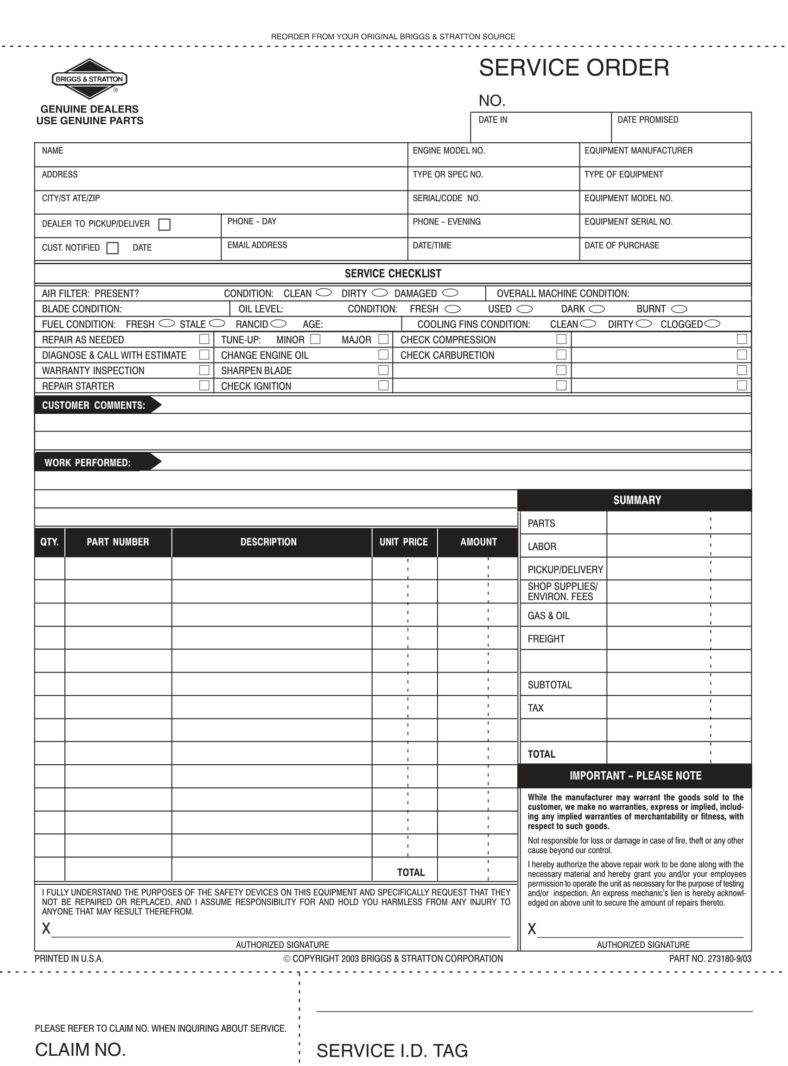 Mechanic Invoice Sample
Hourly Contractor Mechanic Invoice
leadingdental.ca
Construction Contractor Invoice
state.nj.us
Options
Although it's not easy to find a mechanic to work on an agreed deadline and reasonable rate, there are still many options available for you. If you just need parts for a certain equipment, buying them at a department store would be much cheaper than through dealership. You will be provided with different parts, but you have to remember that technicians are often paid commission.
Don't get surprised if, on top of fixing your parts, they also bargain you into buying and purchasing new ones. You may find such negotiations quite sketchy, but they can work, if you are open to options like that, instead of waiting longer. There are also independent shops offering cheaper rates than dealers or independent shops with mechanics who want to last long in the business, being honest and reliable is very important. Especially that people these days find it hard to trust mechanics who offer them a rose garden when coming up with an order form for the service.
Reliability
Mechanics who are reliable and efficient are sure to do their best in impressing their clients as they vie for future business with them and hopefully build a long relationship in the process, to increase customers through referrals and build a good reputation that attracts more customers. You can also always check with the better business agency to find out and verify an auto shop or a mechanic's credentials, like license or certification design. Many people choose to hire a mechanic who they can call and request to do an in-house fix, not including warranty work.
They also direct the work to a nearby parts store and any other stores selling stuff they don't have, to make the repair job easier to handle. Mechanics, in turn, want to work through a checklist template, to make sure they don't leave anything out and give the customer their payment's worth by checking brakes every time they change the oil and rotate tires every other change of oil. You may also just need someone who has a better understanding of the work involved, probably by hiring only in-house mechanics since dealerships only work to fix urgent issues with an equipment.
Experience
People often make the mistake of trusting a certain contractor agreement just based on his license. While it is important, experience at this line of work should also be necessary and shouldn't be ignored when evaluating a person you want for the job. The one who possesses a great deal of experience can be expected to deliver. Check for important documents like insurance. This is for both you and the shop or mechanic's protection, should accidents arise. Get the price for the service but remember that the cheapest ones do not mean they are the best, even if they have the requirements to operate in the business.
Labor Work Invoice Template
spreadsheetshoppe.com
Printable Carpenter Invoice
printableinvoicetemplates.net
Car Workshop Maintenance Invoice
onlineinvoices.com
Price
In rare cases, the pros will give you a service higher beyond what you expect, but they are rare these days. Knowing the price tag will take off some of your stress in finding one when you have urgent repair needs. Also take note that in special cases, like an emergency, you are going to be charged differently and that is understandable depending on the situation and how complex the work would be. Always ask for the cost before asking them to drive to your home, so you become prepared.
Get recommendations from family and friends or neighbors who had the same situation at home before. Pretty much, most of them had encountered problems like yours. It takes someone really trustworthy and gives quality service to impress people these days. So if word of mouth says a specific mechanic from a trusted shop is good with his job, the chances are high that he truly, really is. You may also see Commercial Invoice.
After which, you can have a shortlist of about three to five of them so you can also get estimates. Again, it is better to get some figures estimated straight up. Hiring someone who can do the work and is qualified, is an important decision people should not take easily. You may also see Professional Invoice Template.
Research
Do your research. Get as much information as you can, so that you would get the service for what it is really worth. Negotiate when you can, it is never wrong to negotiate. When you have knowledge about cars or machinery, you will be good at checking certain requirements that computer technicians need to comply with, before hiring them. Get as much information as you can, so that you would get for what it is really worth. Do not allow yourself to be tempted by being in a hurry to get a customer. Negotiate when you can, it is never wrong to negotiate. When you have knowledge about the field, you will be good to go. That is because no one can take advantage of you. You will be able to trust yourself more in making decisions to have invested in it.
More in Invoice Templates