Legal documents such as a medical appeal letter are important for consumers to extract and enjoy the full benefits of their rights granted by an insurance company. A medical appeal letter is drawn when you want to request a certain amount from your insurance company in regards to a medical procedure. Sometimes, the appeal letter is also drawn when the sum requested is denied by the insurance company. When writing a medical appeal letter, it is crucial that you execute it in a lawful manner.
174+ Medical Templates in PDF, Word, Excel, PSD, Google Docs, InDesign, Apple Pages, Google Sheets, Publisher, Apple Numbers, Illustrator - START DOWNLOADING
5 Steps to Write a Medical Appeal Letter
Step 1: No Design
When you write a medical appeal letter, do not try to sneak in any sort of design to beautify the document in any manner. A medical appeal letter is seen as a legal document and legal documents are deemed unlawful if they are too flashy in nature. Keep your appeal letter clean so that the company doesn't reject it.
Step 2: Use Clear Fonts
Like mentioned before, medical appeal letters need to be easy to read and understand. If you over complicate the letter with unreadable fonts, it becomes incredibly difficult for both parties to understand the logic that is held by the document. You use Bold fonts to avoid confusions in the future.
Step 3: Detail Oriented
When writing a medical appeal letter, you're asking for a certain amount of money to cover a certain medical predicament. Make sure that you mention every little detail about it and the kind of money you require to cover the medical expenses. Documents relating to insurance and law need to be quick and efficient.
Step 4: Mention Your Name and Insurance ID
Writing a medical appeal letter will be incomplete without adding your name and insurance ID. Mentioning your personal details to the insurance company allows them to track you as a customer so that they can start to process your letter and application. Not mentioning your name or ID will only result in your claim being denied.
Step 5: Sign the Letter
Last but not least, do not forget to sign the letter once you've completed. Signing the letter will provide a certain amount of legitimacy to the document. A signature also ensures that you have authorized the letter to be passed on to the insurance company and are actually asking for the amount of money mentioned in the letter.
10+ Medical Appeal Templates
1. Medical Claim Denial Appeal Letter Template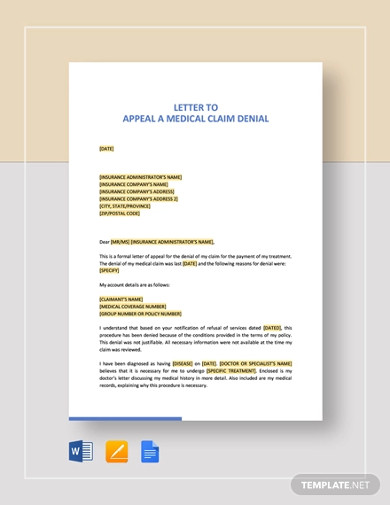 This medical appeal letter is specially designed for you to file when your insurance claim has been denied. The template is clear and simple, like it should be. The details here are well rounded. The medical letter template is premium to use and easily customizable to suit your needs and preferences.
2. Free Sample Medical Appeal Letter
The medical appeal letter at hand here includes details that are necessary for the insurance company to process your request. The sample letter template is short and sweet, making it efficient and straightforward. It also includes a space where you can tick off what you are sending with the medical appeal letter.
3. Editable Medical Letter of Appeal
This medical letter of appeal is aimed towards a physician writing on behalf of his patient for denial of the latter's benefits. The letter template gets straight to the point and is sophisticated to look. The letter template is also easy to read and understand. The template is free to download and use.
4. Sample Medical Letter of Appeal
This specific medical appeal letter is for when you're asking for an extension for your medical insurance benefits. The letter mainly deals with you attaching your extension request and medical reports with it. The sample appeal letter is quite straightforward and easy to use. The template is free to download.
5. Printable Medical Appeal Letter
The medical appeal letter in question here is regarding a second level appeal or better known as the request to appeal for an external reviewer. If you want a third party to review your appeal, neutral to all stances, this template is for you. The request letter template is free to download and use.
6. Sample Medical Appeal Letter Format
This medical appeal letter is created specifically for those trying to appeal a medical insurance claim denial. The letter template is very elaborate and detailed in nature, making sure that you include every important aspect of your case for easy consideration and a grant. The appeal letter template is free to download.
7. Medical Appeal Letter to Request Information
Made for mainly requesting information, this medical letter of appeal does not ask for reconsideration. This medical appeal letter, instead, asks the insurance company to send in the review that came to be by the clinical board of members of the organization. The medical simple request letter template is free to download. 
8. Professional Medical Letter of Appeal
This professional medical appeal letter is detailed and easy to use. The letters in black are supposed to stay constant, whereas, the letters in purple are for you to edit and personalize the letter to suit your situation and details. The printable appeal letter template provides for a lot of subheadings, making it easy to read and interpret.
9. Simple Physician Appeal Letter
The first medical sample letter template here is made for physicians to appeal the cases of their patients rather than for patients to do that for themselves. The second one is for patients to fill in themselves. Both the documents get straight to the point and are easy to read and interpret. 
10. Sample Appeal Letter for Medical Assistance
Made specifically for the citizens of Minnesota, this medical appeal letter for when medical assistance is denied. This document is a proper legal document, to be upheld in the state's courts of law. The request letter sample is a great guide for you to follow. The document in free to download.
11. General Medical Appeal Form
This medical appeal form is made for people trying to get an insurance claim from the first round. This appeal is a direct appeal to the insurance company for a payout. The document is very clean and precise in passing out information. The medical form is free to download and use.