Plan Templates
PEST Analysis Templates – 6+ Free PDF Documents Download
The business world is encircled by an ever changing environment. It has revolutionized into a real versatile and dynamic. No business functions in a void environment. Therefore, constantly external factors (macro-environment) adjacent to businesses manipulate it. The mentioned aspects ought to be analyzed critically and recorded in free to download pest analysis templates. You should see the pest analysis template as a tool that guides you through data collection. This perfect tool can guide you through comprehensive understanding of the surrounding environment. The data recorded will also help you know how pests affect your environment. Pest analysis bases on the external surroundings. It assists your business to comprehend the external aspects and thus benefiting from the prospects that subsists. Additionally, pest analysis acts a second eye for your business, foreseeing possible threats that subsist in the existing business settings. See More: Non-Profit Strategic Plan Templates

Sample PEST Analysis Template PDF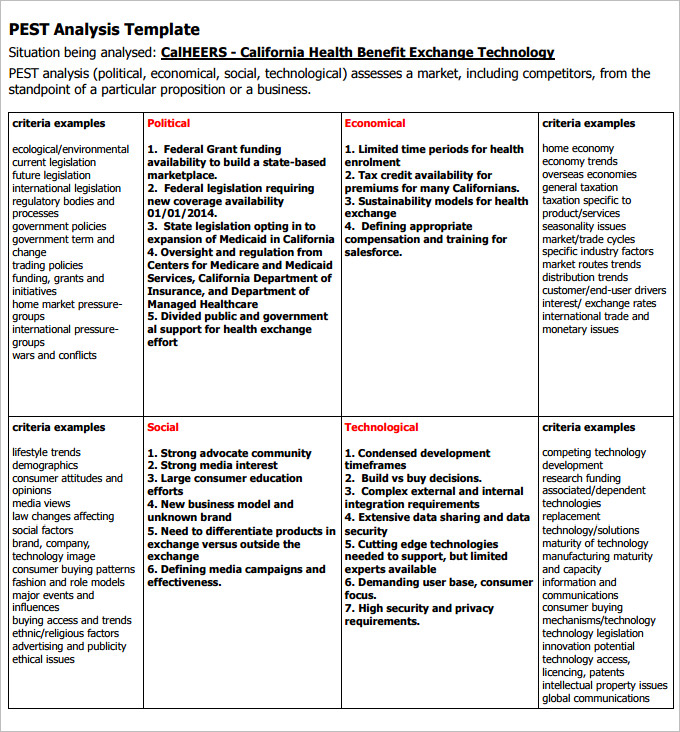 pmi-svc.org
Political Aspects
Politics influences organizations through laws and regulations, taxes and protection rights. Thus, the success of a business depends with how well the business performs around these forces.

Economic Aspects:
Major economic aspects that manipulate your business include; growth patterns, government overheads, throwaway income and unemployment among other features. Amplified unemployed affects customers buying power.

Social Aspects:
These consider evaluating social aspects such as lifestyle, education, leisure undertakings, fashion, trending factors and demographics etc.

Technological Aspects:
They encompass health, innovations, elimination of waste, research and communication etc.

PEST Analysis Template for Pharmaceutical Industry
davidpublishing.com
If you are looking to download a simple but effective template to carry out PEST analysis for the pharmaceutical industry, then this PEST Analysis Template for Pharmaceutical Industry is what you need. Download it to reap all of its benefits as a PEST analysis tool. Use of colours is common with such templates, which offers them a lively look.
What is PEST analysis?
A business is influenced by many factors- internal as well as external. The internal factors are pretty much under the control of a business but the external ones remain beyond control. It is indispensible for a company to gauge the existing and potential impact of these factors if it has to sustain for long. PEST is an acronym for these factors namely political, economic, social and technological. PEST analysis means quantifying and methodically discovering these factors by a company and is vital for its smooth functioning. If you are keen on making PEST analysis then a PEST analysis template will help you a lot.

PEST Analysis Template for Retail Industry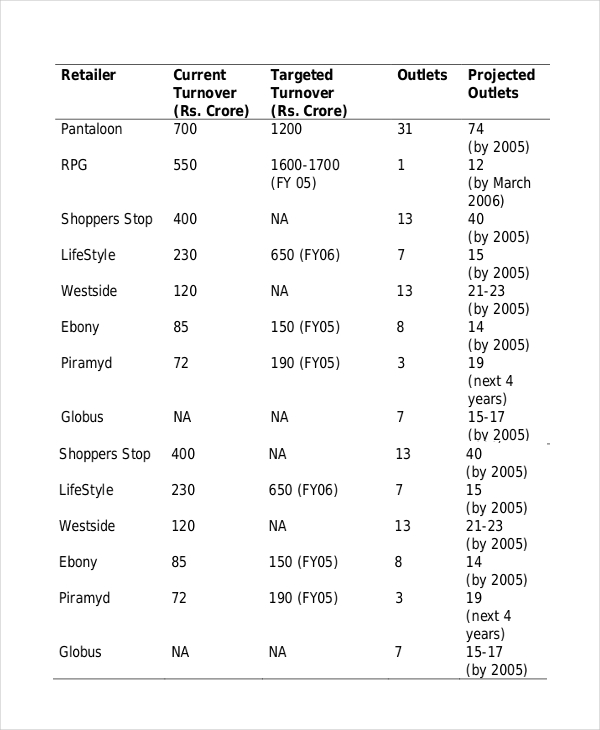 rasci.in
Most PEST analysis templates linked to the retail industry impress users with their amazing designs. With the interplay of different colours, they look absolutely stunning. Usually, some standard font is used so as to give a professional look to any PEST Analysis Template for Retail Industry. Most PEST-Analysis-Templates available over the internet are for free. So, you can opt for them if you are on a tight budget. There are certain paid options too, which can be opted for if you don't trust freebies. Almost all of these templates offer great quality of print. Hence, you can bank on them without apprehensions. If you have any
DMCA
issues on this post, please contact us!