Plan Templates
8+ Sample Daily Meal Planner Templates
Meals each day should be different according to your favorite taste. You can write your choice of food daily in a meal planner. A food planner is a Daily Planner Templates as well. Dealing with menu, the first thing that pop out into our mind is meal or dishes.
Creating a meal plan including the ingredients and preparations can be written in one file document. Using a daily meal food planner template online, you can have an idea from the free samples and examples presented. These samples can be used to make your dishes as arrange as you want it to be. You can also see Daily Planner Templates.
Sample Daily Planner for Breakfast
gnc.co.za
On a daily basis, breakfast is the most important meal of the day. It is termed as "Breakfast", since it is referred to breaking the fats after the long gap of 6 hours of sleep in the night. The breakfast meal planning can be done on a regular basis, by writing down the date and the preparation of the meal. The items can be listed down, in an organized manner, and you can create a menu on your own as well this way to keep things exciting!
Daily Planner for lunch Example
drnatashaturner.com
After your breakfast, comes the second most important meal of the day; lunch. Lunch is the meal where 50% of your day's meal is consumed. People tend to eat heavier meals during lunch, in order to save up more energy for the entire day. To plan for your meal for lunch, you can use the daily meal food planner template, to punch in the details, and write down the name of the meals you are going to cook. This way you can keep in mind the dishes liked by your loved ones and also can follow a particular time schedule to make your meal.
Daily or One Week Planner for Dinner
cdn1.moneysavingmom.com
Usually dinner tend to be light and tasty. This template is used for carrying out your planning for dinner. Dinner is the also very important since it helps store energy in your body so that you can work for the next day. Planning meals for dinner can be made easier once an individual uses daily meal food planner. With the help of this you can balance out the nutrition consumed by the family members the entire day, and then plan your dinner accordingly to give in the nutrition that lacked in the breakfast and lunch.
Day Meal Planner
22daysnutrition.com
Sample Daily Meal Planner
nutrisystem.com
Family Meal Planner Template
food.gov.uk
Daily Meal Planner Template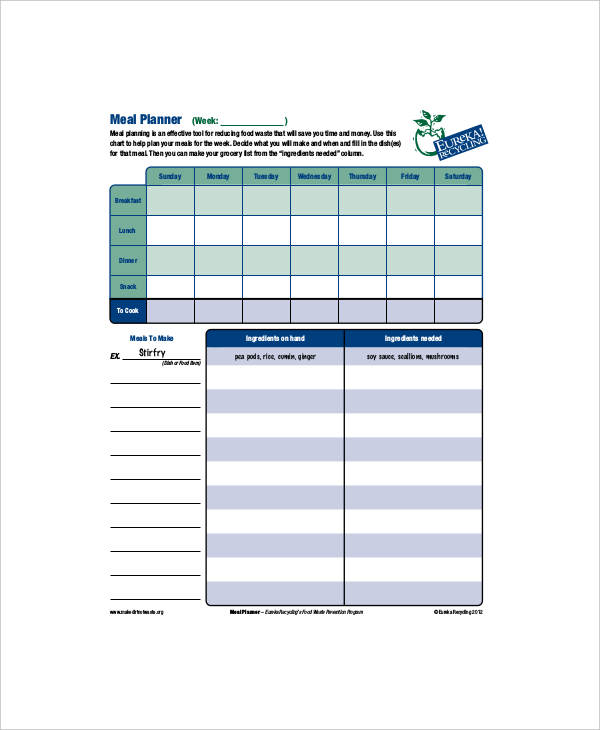 makedirtnotwaste.org
Nanny Daily Meal Planner
howtocookgoodfood.co.uk
> Targeted Audiences for Daily Meal Food Planners are as Follows
The targeted audiences are chefs, housewives, school going children. This template is actually made for age groups above 12 years and is valid to all types of ages above that. The fitness freaks can use these templates when they are on a diet, or they are planning a strict protein milk on a daily basis. The housewives find these templates to be quite a help since they find it difficult to maintain a proper layout virtually to plan out the daily meals and hence they use daily meal food planners to keep their work going smoothly. You can also see Cute Daily Planner Templates.
> What are the Pros of Using Daily Meal Food Planners?
There are many advantages of using daily meal food planners some of which are as follows:
When it comes to planning out your daily meals then the best way to keep track is by using daily meal food planner templates'
With the help of these templates you can get an idea or the basic nutrition needed by your family on a daily basis.
You can keep track of their likes and dislikes
You can keep track of what new can be made the next day
You do not face the problem of following the same menu pattern every day. You can also see Daily Lesson Plan Templates.
Life becomes easier when you look at it as creating new things. Our templates are usually here to help you out create new dishes by jotting down the daily meals in our templates. We have received great responses by our targeted audience and we look forward to improve our templates on a regular basis of updates. Hence lessen your work burden by using our daily meal food planner templates.