Plan Templates
4+ Sample Personal Daily Planner Templates – PDF, PSD, EPS
When you have in mind the things that must be done even thinking for these ahead of time, it becomes lesser for you to forget it when you have a planner tool. Personal Daily Planner Templates can be personalized, as you see the template online, part of personal daily planner is personalized daily planner.
A unique way to show you're the owner of your planner is by personalizing it. No need to produce money and exert effort for making it yours, just choose the samples and examples in the planner template online. These are free, downloadable and very friendly to use. You can also see Daily Planner Templates.
Personal Daily Planner for Study
You have your exams knocking on your door and you need to gear yourself up and prepare for the best. For this, you can use your personal daily planner to plan your day out categorizing the studying hours, break hours, making a schedule of the lunch timings and scheduling the subjects that you shall choose to complete first. This way you can have a better idea of what subjects are taking longer to complete and you can alter your schedule likewise.
Sample Personalized Meal Daily Planner
gnc.co.za
Workout Personalized Daily Planner
Sample Personal Daily Planner for School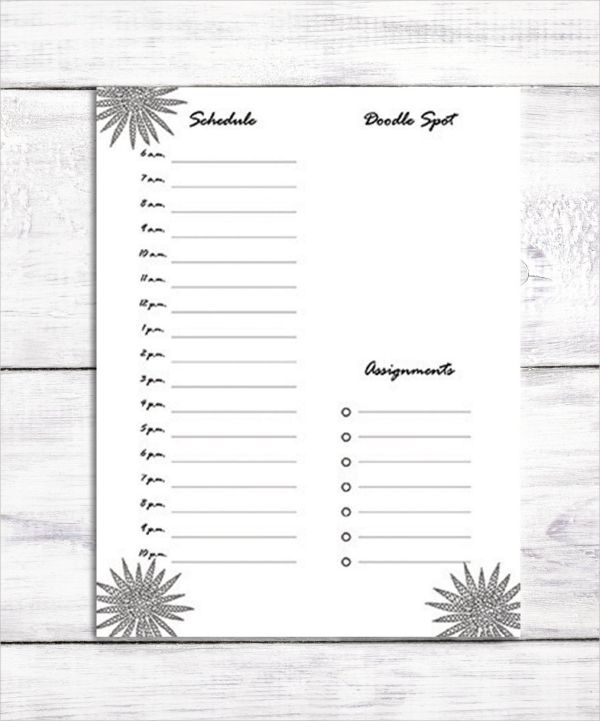 Now let us all say for example that we have a number of activities going on in our daily lives. When it comes to taking a look at schedules then we usually mix up everything and get down on our knees confused what should be done next. To simple out things for you we bring you the personal daily planner for school. You can make a schedule of what home works are pending and what the home works that has been completed are. You can make a schedule of what duration of time you shall need to complete your homework.
Personalized Appointment Daily Planner Example
> What do I do to Create My Own Personal Daily Planner?
To create your own personal daily planner you need to follow the methods mentioned below:
Firstly you will need to make three columns, each column will have different categories
Name your columns with topics like date, name, particulars, timings, duration etc.
You then need to fill in the columns accordingly and proceed with the schedule as it continues.
You can download the format of a personal daily planner from online and then fill in your required details
Or you may also refer to the given format online and customize it according to your needs. You can also see Cute Daily Planner Templates.
> Who Can Make Use of a Personal Daily Planner?
Students: Students are free to use the personal daily planner to make a schedule of their study time, to categorize the duration of their homework timings. In order to take care of their studying hours during exams, students can make use of the personal daily planner.
Housewives: Housewives can make use of their personal daily planners as to make a schedule of their cooking hours. They can categorize the amount of time used for completing household chores and schedule their work likewise in order to take out some spare time for themselves.
Office Employees: office employees hardly get any time for themselves to make a personal daily planner. Their office appointments and daily meetings take up all their time. Hence to maintain a daily personal planner for them is very important. Things get easier on their part and they can take out some spare time for themselves. You can also see Daily Lesson Plan Templates.
The documents provided by us are designed keeping in mind the common priorities of all our customers. The documents are aimed for complete excellence and bring in all possible features that are required in a good daily planner. Any kind of criticism or negotiations shall be dealt with sincerely.