Plan Templates
4+ Sample Personalized Daily Planner Templates
Not just a typical planner seen at the stores? Then why not go to tool personal Daily Planner Templates online, where you can have great ideas on how to make your planner even better. Different layouts and content details will be up to you. It is creating something new with your own style and predilection.
Want to have a personalized planner? Then go to Daily Planner Templates via online where there are lots of samples and examples of planner that you can select according to your preference. Personalized daily planner can make your own planner attractive by designing it with this reliable tool.
Workout Personalized Daily Planner
This type of template is used when an individual uses a daily planner to plan out their schedule in order to keep all their activities on schedule and so that they do not miss out any activity. This type of personalized daily planner is specifically used for work out schedules. An individual uses these to set workout duration, workout timings and work out days in order to keep things organized and well planned out for them.
Sample Personalized Meal Daily Planner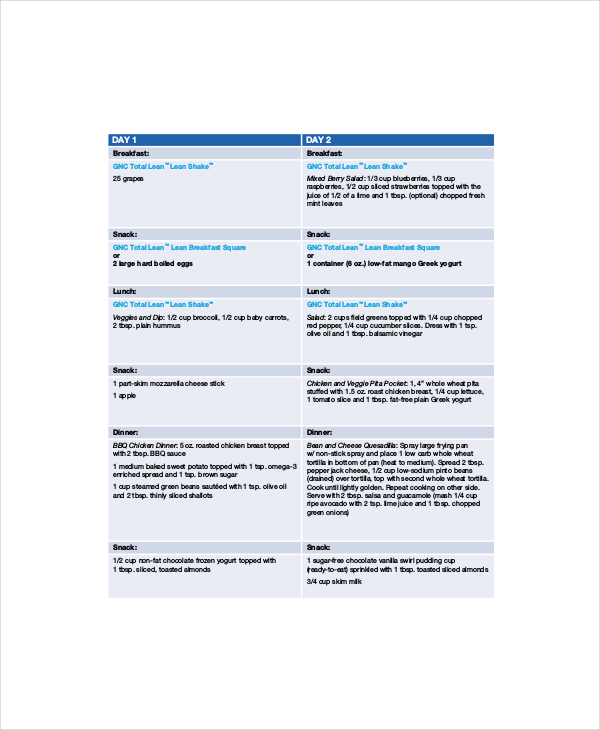 gnc.co.za
This type of template is used when an individual uses a planner to organize and plan out their daily meals individually. This template includes a schedule organized for lunch breakfast and dinner, and then it further carries on with regular meals and menu as per the date is mentioned.
Personalized Appointment Daily Planner Example
The appointment personalized daily planner templates deal with the regular appointments of an individual. When it comes to appointments then it becomes very difficult to keep things virtually in mind, hence to reduce workload and keep things as a reminder for an individual we bring you the appointments personalized daily planner.
> Why are Personalized Daily Planners so Useful?
Personalized daily planners have several pros. The following are some of the advantages of using personalized daily planners.
You never miss out any activity.
You never miss out your workout or a personal work or schedule.
You tend to live a more organized schedule
You can make alterations any time you want, you need not wait for the last minute.
By using it as a daily meal planner you can generate your health goals as well.
> Who are the Targeted Audience?
The targeted audience for the daily planners is the school going teens, adults working for companies and staffs and employees of agencies. Every possible age group tends to use the personalized daily planners due to its flexibility as well as its user friendly format and compatibility. You can also see Daily Lesson Plan Templates.
> What are the Important Things One has to keep in Mind While Creating a Personalized Daily Planner?
There are several things one needs to keep in mind, for example:
The date must be mentioned to keep the value of the daily planner going
The activity must be noted down along with the duration of the activity.
When it comes to taking care of the activity make sure you mention the mandatory ones and do not miss out any important activity other than work.
The documents provided by us have been receiving great responses till date of a user friendly endeavor and a great format as per neatness is concerned. When it comes to compatibility criteria, then we provide high profile compatibility of the templates for all browser versions. Coming to the various formats available we bring you the best of formats such as PDH, PSD, and PDF formats available. Any kind of criticism for the documents we provide shall be looked into and considered during the next regular update. You can create a personalized daily planner manually, or you may also download an online document and attach it digitally to any further documents.