An action plan template works as a great aid for any kind of Strategy Action Plan program. Design an action plan that looks exactly like the professional ones without much hard work and ensure competition of every nitty-gritty detail of your strategies with our exclusively designed simple action plan templates in word and PDF.

Simple Action Plan Template
Download

Business Action Plan Template
Download

Sales Action Plan Template
Download

Employee Action Plan Template
Download
Simple Personal Action Plan Word Free Download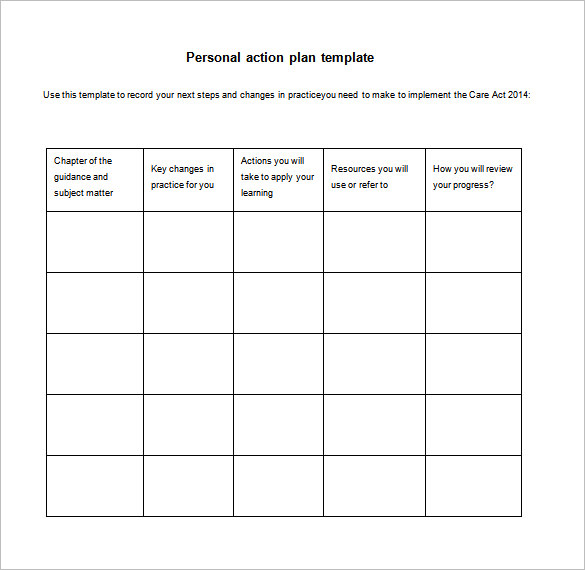 This simple personal action plan template can be used to record your steps and changes that you will make to implement the Care Act2014. Download it for free in word and excel format. skillsforcare.org.uk
Simple Emergencey Action Plan Word Free Download
This simple action plan template available in word format for free is designed to help you record all details and steps that are needed in case of a specific kind of emergency. cdc.gov
Simple Asthma Action Plan PDF Free Download
This simple asthma action plan template is designed professionally with advices and recommendations from doctors to help you know when it is high time you should visit your doctor with proper analysis of your medical history. It is available for free in PDF file format. getasthmahelp.org
Affirmative Action Template Word Free Download
This is a affirmative action plan template and it has a simple and straightforward design and layout. It is a versatile template and can be utilized for all kinds of businesses. The template is fully-editable and you can easily insert your specific texts in the blocks given. This is a free download. dop.wa.gov
PDF of Simple LIfe Action Plan Download
lifeway.com
Simple Wellness Recovery Action Plan PDF Download
workingtogetherforrecovery.co.uk
Development Simple Action Plan PDF Download
psu.edu
Our collection of simple action plan templates are categorized into various kinds of Action Plans  Templates to help you find the one that suits your need exactly. All you need to do is just download our samples, examples, fill them up, take printouts and use them as checklists to ensure fulfillment of every task.