When creating a web site for your religious congregation, using Drupal to design your web site can give it a modern, effective functionality. For your religious web site, a good content-management system (CMS) is essential to separate design and technical work from content writing. This enables even Internet newbies to update the site, which is a must for sites like these, which are run locally. Now, due to its complexity, Drupal has been called more of a CMS-builder than a CMS itself, due to its complexity, but it can provide unlimited functionality due to this complexity. You could use pre-created templates for churches of various denominations, or you could customize to create your own Best Drupal web site, which would cater specifically to the needs of your congregation. Tying it to your Flickr and Twitter accounts and creating a blog for regular updates are good ways to popularize it in groups that are linked to the congregation. Having a ticker for event updates and uploading the sermons and events of the congregation via the easy WYSIWYG(What you see is what you get) image/sound/video editors keeps your members up to scratch even if they cannot attend. Customizing your top Drupal website by adding pictures of your congregation, changing the default colour template to calming colours which your congregation employs, and improving navigation will draw in even the less tech-savvy of your group. Using newer versions to power your religious website such as Drupal 7 or later can help you to update the site as your congregation grows. See More: Colleges & Universities Drupal Template, Best Political Drupal Templates
Modern Church Drupal Template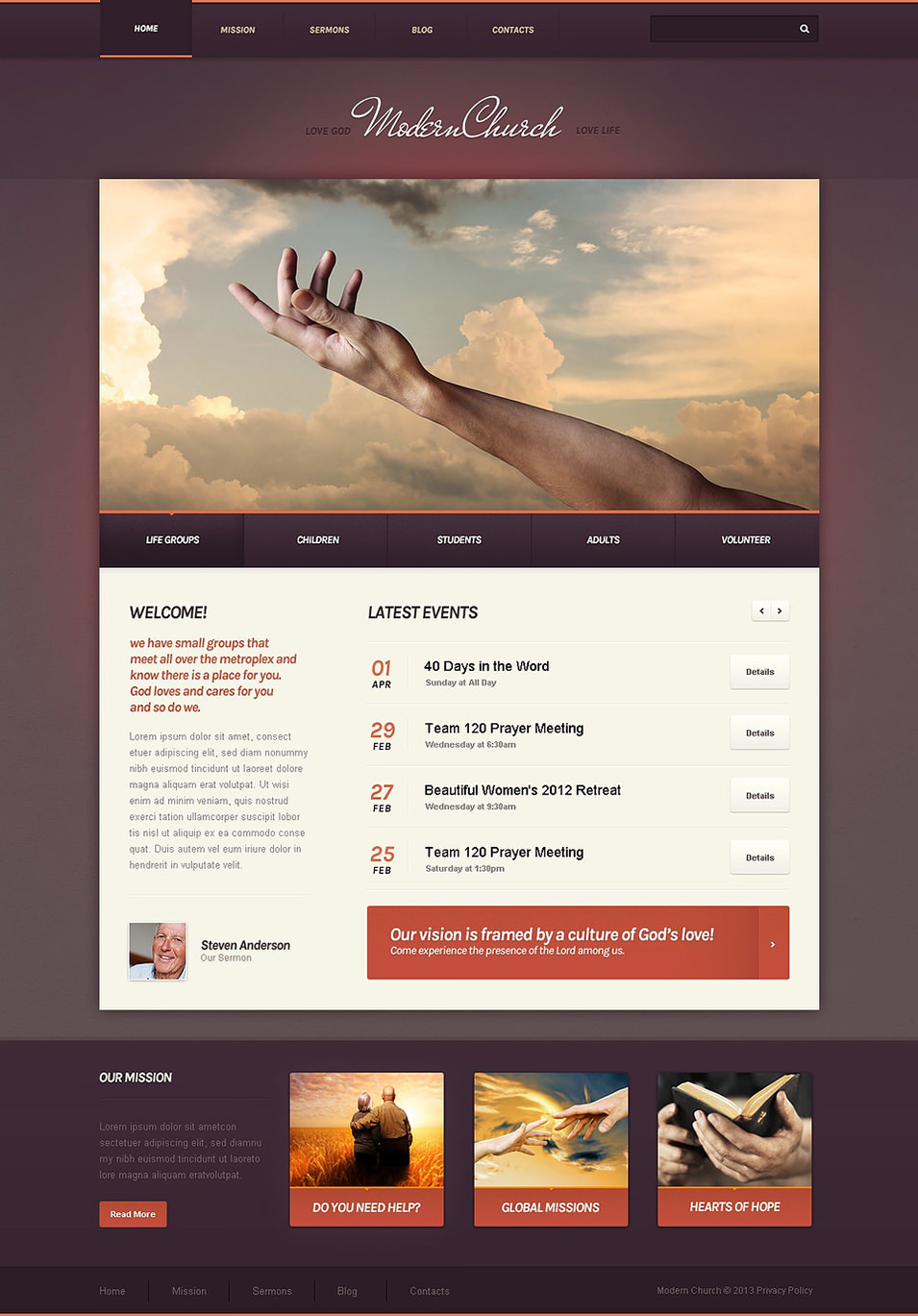 Create a religious website using this amazing Drupal 7 template. Its toned down and soothing design is perfect to help people looking for some peace of mind. The simple design helps in arranging the content in an organized manner, thus enabling you to design a user friendly website. The layout is uncluttered and comprises of a slider that makes for easy navigation.
Christian Drupal Template
This Drupal 7 template with its minimal design and simple, elegant layout is a perfect pick to create a religious website. Choose from a wide range of muted color schemes to set the tone for the page. Endowed with a responsive design, the template offers sliders, side bars and drop down menus, which make it easy for the users to find relevant information.
Religious Drupal Template
Christian Online Community
If you are thinking of creating a community forum for the religious group in your locality, this theme would be a perfect choice for you. Designed in HTML with JQuery, this Drupal 7 template has a very elegant design that is soothing to the eyes. The elegant side bars come in handy in improving the user interface. The template supports header image, drop down menus and a search box which help you in designing an interactive community page.
When designing a religious website, you want it to be highly interactive and user friendly such that the users can easily browse through the site and find what they are looking for. You also want to arrange all the content, images and other media files in a systematic manner for better accessibility. With the professionally designed Drupal religious themes, you can easily do all this and more. So, go ahead and choose a Drupal template to design your religious blog, website or community forum.