As health care avenues and opportunities grow along with the number of people seeking recourse in various medical treatment methods, the internet is increasingly being harnessed by hospitals, medical centres and health care professionals to reach a wider client base and improve the lives of more people. You can also see Medical Joomla Themes.
174+ Medical Templates in PDF, Word, Excel, PSD, Google Docs, InDesign, Apple Pages, Google Sheets, Publisher, Apple Numbers, Illustrator - START DOWNLOADING
Dentistry Responsive Drupal Template
With automatic mobile optimisation, multi-browser compatibility, easy e-commerce features, integrated payment processing plug-in, customisable colour and layout schemes, Dentistry Responsive Drupal Template is a designer's best friend.
Medical & Health Drupal Ubercart Theme
To showcase you medical products and solutions, try the Medical & Health Drupal Ubercart Theme which comes with easy management tools and plethora of customisable widgets and plug-in. sliders, headers, category dropdown, Google search are the added features.
Hypnosis Medical Drupal Template
Planning for a cool medical website? Try Hypnosis Medical Drupal Template featured with easy e-commerce set-up, simple installation and initiation procedures, automatic mobile optimisation, demo content, and dedicated support staff.
Medical, Hospital & Healthcare Drupal Theme
For a premium medical website, try this new, vibrant Medical, Hospital & Healthcare Drupal Theme which can host a wide range of medical information in customised layout. Based on Bootstrap framework and advanced HTML coding, the admin is simple for this theme.
Family Dentistry Drupal Template
Offering a great range of customisation, with rich typography, sliders, Google search options, safe monetary transaction procedures, the Family Dentistry Drupal Template is one of the best options to create an exclusive website on medical.
Health Drupal Resposinve Theme – $48
Drupal Theme for Dental Care – $75
Healthcare Drupal Responsive Theme – $59
Free Medical Drupal Theme
Responsive Drupal One-page Health Template – $48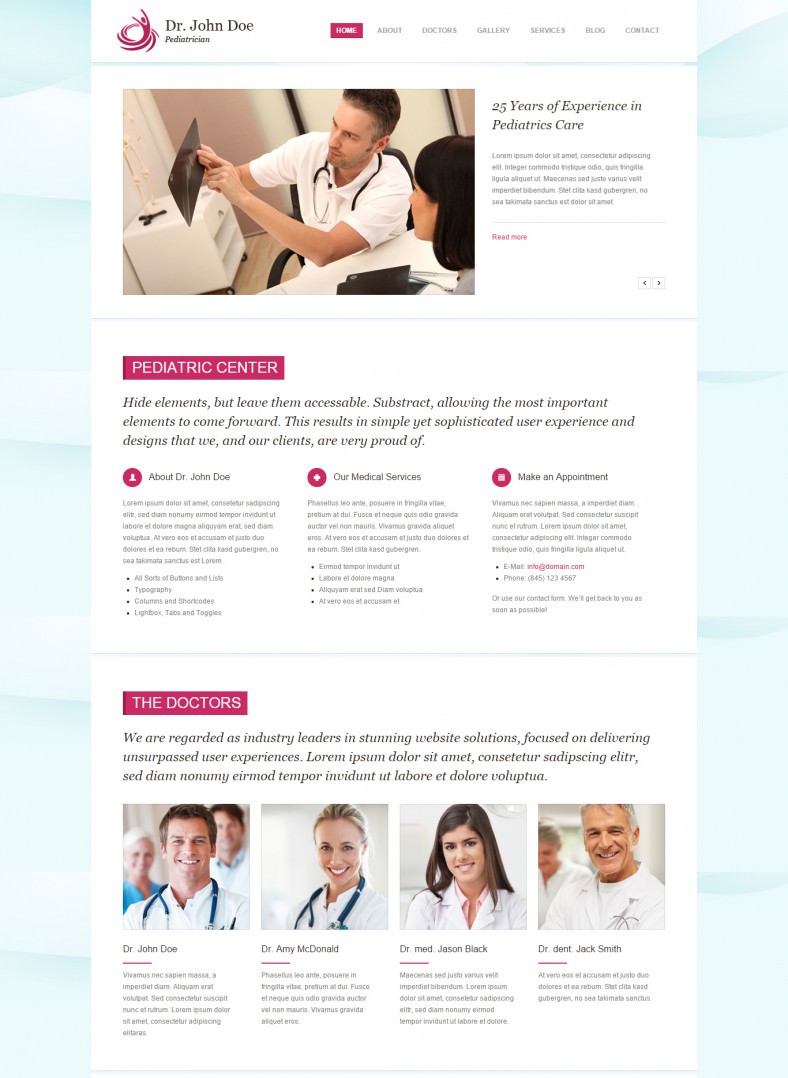 Medical Responsive Drupal Theme – $64
Drupal is an extremely powerful CMS that allows for the creation of the ideal health care and medical websites alongside the many other projects you can undertake with the CMS. The myriad free and premium themes available in Drupal's theme stores make the job even easier by providing the ideal templates for health care websites that are easy to use and install and fully customisable.

Easily Set up Your Online Practice
With the top Drupal medical themes, setting up an online segment to your health care enterprise will be far easier than setting up a clinic. These responsive themes utilise the latest Bootstrap framework. They offer a great range of customisation, including customisable sliders and fonts to get just the right look and feel for your website while making it easy to navigate.Other features include -Google Maps integration to help your visitors find you, portfolio grids, professional designs, spreadsheets to create schedules, and keyword-powered search implementation with advanced SEO tools. Look Out Medical WordPress Themes.

Wide Range of Medical Features
The best themes, which also provide automatic mobile optimisation, let you go as far as to allow your patients to set up appointments online, let you sell medical products online with easy e-commerce features and payment processor integration, and let you set up detailed documentation with info about individual professionals and employees.You can also provide a whole host of medical information, charts and features for the benefit of your visitors right on your website.