Drupal, a popular content management system that is used by more than 6000,000 users and gives stiff competition to other leading CMS such as WordPress and Joomla. Apart from providing site-building tools, Drupal even offers a framework that allows programmers and webmasters to add more functionalities by using the plug-in modules. Users can directly download the modules available at Drupal community or create new modules in PHP. It's bit difficult for website developers to select an unique Best Drupal theme that suits their business as there are several market places that provide premium or free Drupal templates over the internet. After making enough research regarding the theme, users can select a clean Drupla theme that perfectly meets their website requirements. In general, premium Drupal themes comes with few more advanced features when compared to free themes. Below mentioned are few best premium Drupal templates in the year 2013. See More: Drupal Corporate Themes, Parallax Drupal Templates 
Premium Drupal Template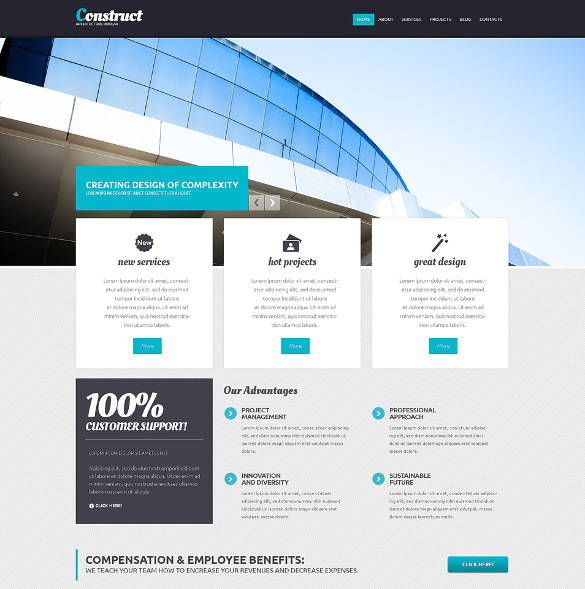 Premium Drupal Theme for Business
BizOne
Premium Drupal Theme for Web Hosting
Fully Responsive Drupal Premium Theme
Endowed with a clean and simple design, this is a retina ready responsive theme that would look good on all devices. With two distinct color schemes and a wide range of font styles to choose from, give your blog a unique and distinctive look. Designed on HTML/CSS3, this comprises of layered PSD files which makes customization easy. The theme is compatible with all web browsers.
Best Drupal Website Template
Specially designed for Drupal 7, this theme has a minimalistic design and has integrated subthemes like Grunt, Compass, LibSass and Susy. With a responsive design and dual menus in place, the template easily adapts to different screen sizes. Choose an ideal layout from three different variations. Customize the template by picking from 14 different color palettes, 15 background skins and 14 background colors.
Responsive Blog Drupal Theme
News Drupal Theme
Specially designed keeping in mind the requirements of news blogs, this theme is created in Drupal 7 and supports a column layout. Amazing grouping and indexing options help in organizing the content systematically on the website. Better navigation is possible thanks to the multilevel menu support of the theme. Choose from 12 different color schemes and font styles to come up with a unique design. The various custom features add to the functionality of the theme.
Web Developer Drupal Blogger Theme
An ideal theme for bloggers, designers and freelancers, this Drupal 7 theme has a minimalistic design which gives it a modern look. The responsive design supports one column as well as two column layout. Designing an interactive blog is possible thanks to the flex image slideshow. Enhanced navigation is offered by the multi level drop down menu. Advanced customization options come in handy to make changes as per your requirements.
Artist Premium Drupal Theme
With a 100% responsive design and compatibility to all internet browsers, this theme is an ideal choice for artists to showcase their skills and portfolio. Supporting a column layout, the HTML and JavaScript coding allows addition of animation. The powerful admin panel ensures easy, efficient customization.
Blogon Responsive Theme
The professional design of this theme gives it a serious air, thus making it perfect for all business needs. Created in HTML5, the theme has a clean and simple design which supports column layout and Nivo slider. The responsive design and the elegant typography ensure that the blog or website created using this theme would look good on all devices.
Developer Drupal Theme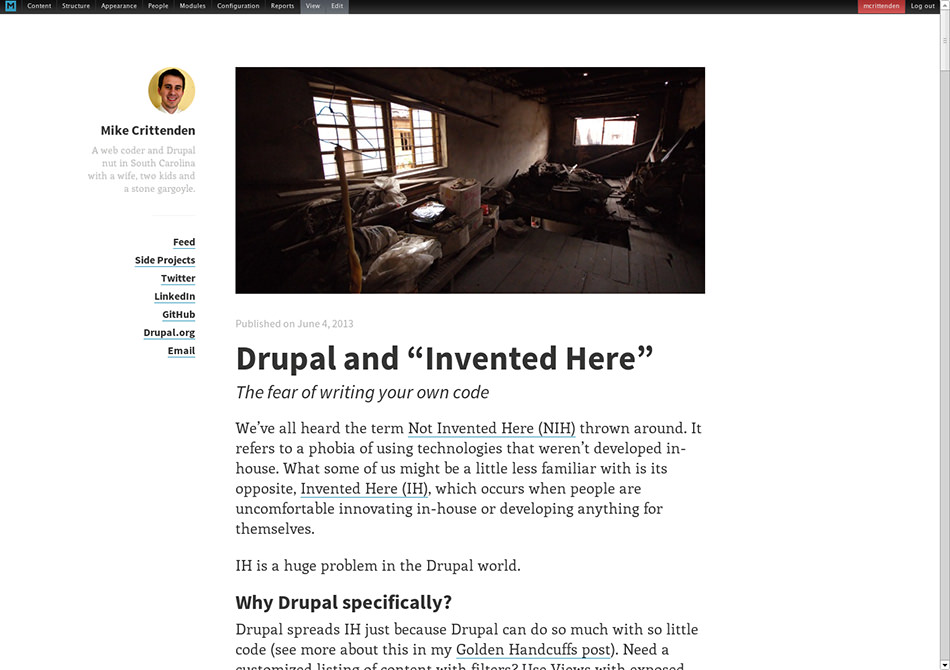 This Drupal 7 theme has a simple, responsive design which gives it a modern look. The high end customization options make it easy for you to make necessary changes to the template as per your project requirement. Integrated elegant side bar improves the navigation experience for the users and eases up the search process.
Responsive Blog Drupal Theme
This Drupal 7 theme can be used for creating blogs or online magazines and newspapers. The design supports both one column as well as two column layouts and comes in two different color schemes. You can choose the placement of the side bar and design the menus as per your needs. The social media widgets are included in the design and make for quick integration.
Classic Blog Drupal Theme
Endowed with a minimal design, this Drupal 7 theme looks quite elegant and ensures complete focus for the content. With both one column and two column layouts to choose from, you can decide on the placement of the sidebar. Flex sliders and multilevel drop down menus enhance the navigation experience. Customize the theme by changing the background image, color schemes, font styles etc.
Responsive Drupal Template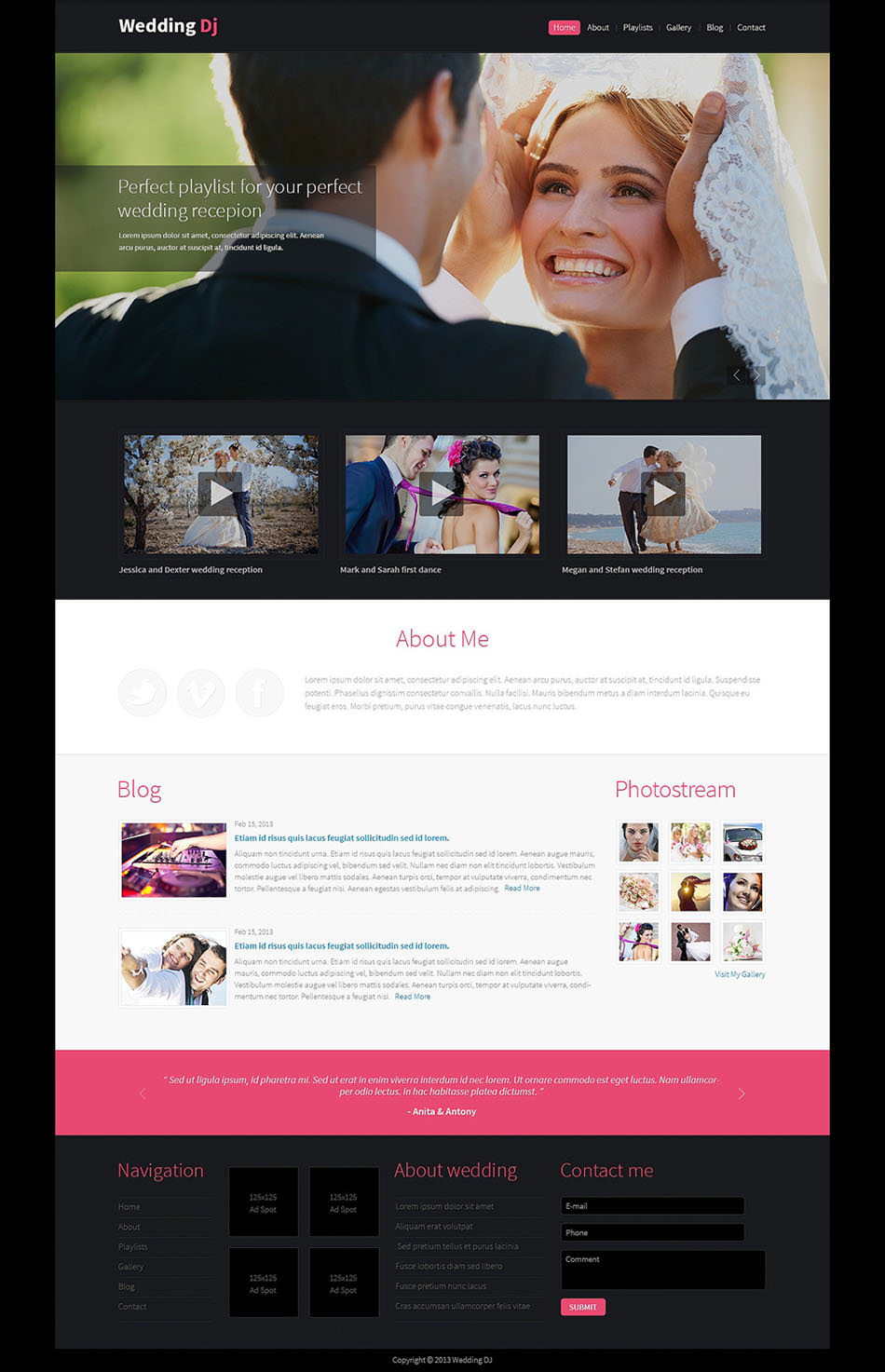 Whether you are thinking of designing a blog, a portfolio site or a forum, this template would just be right for you. Created in HTML/CSS3, this comprises of sliced and layered PSD files that ease up the customization work. SEO optimized, this template has a retina ready design and adapts to all screen sizes. The integrated widgets and thumbnails enhance the user interface.
Drupal Template for Magazine
This Drupal 7 template has been coded in HTML/CSS3 and thus offers a clean and simple design. A wide range of features like back to top button, drop down menu, integrated Google map, social media widgets etc enhance the user experience. Customize the template by choosing from various color schemes and font styles.
RealEstate Drupal Premium Theme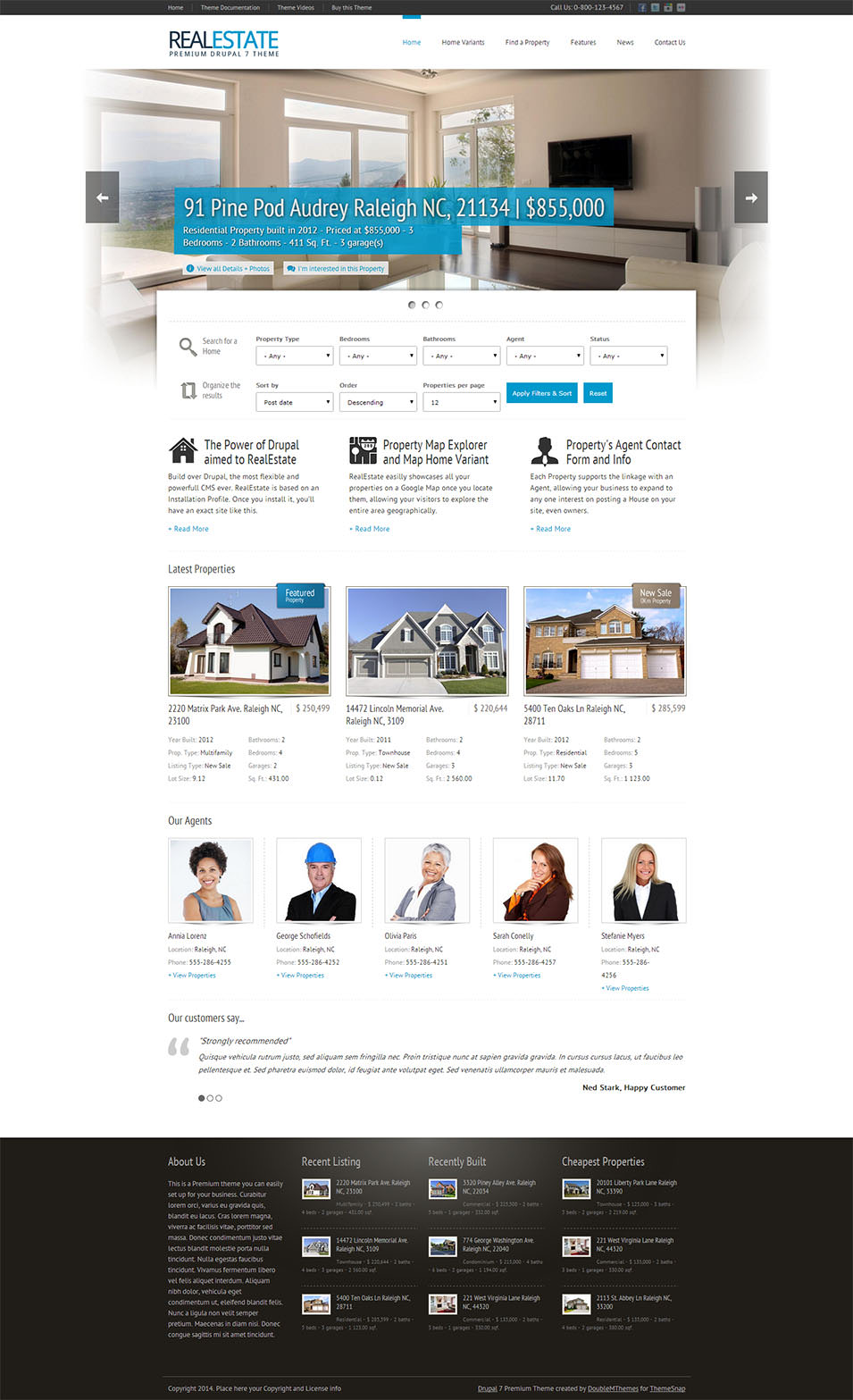 Construction
Monsterrat
TB Methys II
Angles
Template #43874
Converge
OS Photographer
TB Mitius
Forum Plus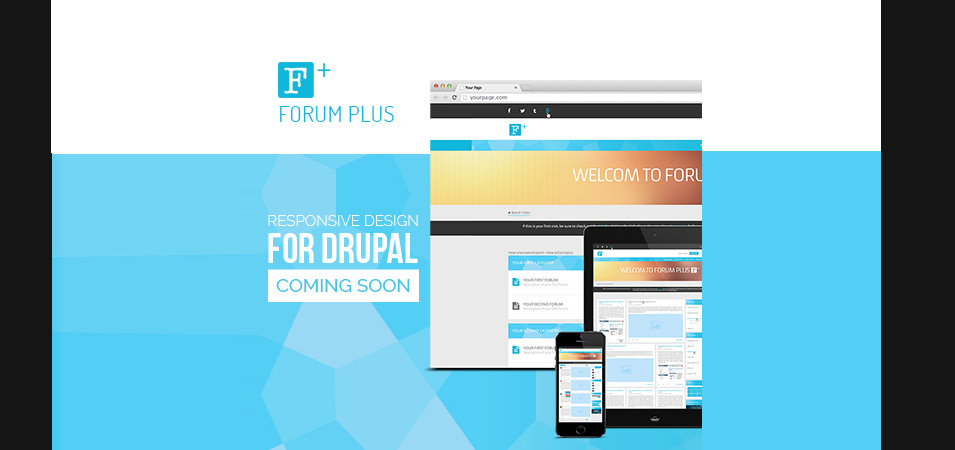 Creative
Professional Responsive Theme
Designed in HTML5, this theme has a very elegant and clean look. High end navigation is ensured, thanks to the multilevel menu support. Arrange the content in an organized manner by choosing from the one-column, two-column or three-column layout. Social media integration is made easy with the media widgets being preloaded to the theme.
Consilium
Whether you are thinking of designing a website for a corporate house or a creative venture, this professional Drupal theme would be perfect. Loaded with varied types of features and extensions, the theme would cater to all your business needs. The Mega slider supports animation, thus ensuring an attractive look. The Drag and Drop builder allows you to easily design a layout of your choice. Customization of the theme is easy, thanks to the Bootstrap framework on which it is based.
Illusion
Template #42347
This template with its contrasting color schemes gives it an abstract appeal. The content placement layout is sleek and compact which will add to the professional look of the website. Thanks to its responsive nature, accessing the site on all devices is possible. The social media widgets enable you to connect with customers through popular social platforms.
WaveX
Template #39654
With this template, you would not have to worry about SEO optimization of the website as it is SEO centric. This Drupal 7 template has been coded in JQuery and can be used to design a professional portfolio, forum or blog. The powerful admin panel and a bevy of customization features allow you to make changes to the theme.
Archi
City Magazine
You don't have to be an expert in Drupal to use this theme. It offers a number of advanced settings to create a website of your choice. With the amazing homepage slider that supports any number of images, creating an interactive website seems easy. Placement of side bars, addition of widgets, color schemes, fonts and layout style are completely in your control with this theme.
Template #46351
The flat and modern design of this Drupal template offers a user friendly interface. The responsive design ensures that you can reach out to more number of customers irrespective of what device they use. Features like drop down menu, social widgets, advanced search and user commenting enhances the user experience.
Clean Design
A rather powerful Drupal theme, this has an amazing homepage slider that has been coded in JQuery. Thus, it offers different effects and carousels that are sure to give your website an interesting look. With one, two and three column layout support, choose the layout style that best suits your page. The advanced features and settings enable you to control the whole appearance of the website.
Template #44204
The white background of this template gives it a clean and modern look. A header slider in contrast further enhances its appearance making it look attractive. The content placement area is compact that adds to the professional appeal of the theme. High end user experience is ensured thanks to features like social media widgets, polls, commenting options etc.
Galeria
A perfect choice for all business organizations and corporate houses, this Drupal theme has a minimal design and offers parallax effects. With boxed and wide layouts to choose from, you can create a unique layout style with the drag and drop builder. Add animation to your website with Mega slider. Give your webpage a distinctive look with impressive icons, interesting color schemes and varied font styles.
PinBoard
Built on Skeleton responsive framework, this is compatible with all screen sizes. This theme offers three different slider options for the homepage and the sliders support touch gestures, thus making them a perfect fit for smart devices. The theme is SEO optimized and comprises of layered PSD files that make for convenient customization. With varying color schemes and typographies for different website components, design a page as per your taste.
Kappe
SuperFine
Wego
Inspiro B
Key features of Innocompany theme includes numerous colour schemes, predefined backgrounds, 50 block regions, 2 home page variants and many other.
Fully Responsive Drupal Template
Montreal, an unique and modern Drupla 7 theme that can be used for creative single portfolios website . The theme offers various features like full screen slideshow, stunning blog layout, a contact from and working project planner.
BizSpeak
Haiku
A premium responsive Drupal theme that can be applied for corporate and portfolio websites. The theme comes with minimal and sleek design to present all your creative work and share relevant information.
Envas
Mechanic
Touxt
Porto
Photo Artist Drupal Template
Progressive Multipurpose Responsive
IT Group Drupal Template
Jollyany – Corporate Multi Purpose Drupal Theme
Travel Agency Drupal Template
TB Anis
Pipe
Crafts Drupal Template
Drupal Classifieds Bundle
TOPHIT
Ocarina
EBazar
TB Obelisk
Zufolo
Hotels Drupal Template
PinBoard
Beauty Salon Drupal Template